C
O
P
Y
R
I
G
H
T


2
0
0
8

K.
G.

L
a
w
t
o
n
All
Photos,
Code,
design,
Text.

Do Not
Copy
Anything
Without
Asking!

C
O
P
Y
R
I
G
H
T


2
0
0
8

K.
G.

L
a
w
t
o
n
All
Photos,
Code,
design,
Text.

Do Not
Copy
Anything
Without
Asking!

C
O
P
Y
R
I
G
H
T


2
0
0
8

K.
G.

L
a
w
t
o
n
All
Photos,
Code,
design,
Text.

Do Not
Copy
Anything
Without
Asking!

C
O
P
Y
R
I
G
H
T


2
0
0
8

K.
G.

L
a
w
t
o
n
All
Photos,
Code,
design,
Text.

Do Not
Copy
Anything
Without
Asking!

C
O
P
Y
R
I
G
H
T


2
0
0
8

K.
G.

L
a
w
t
o
n
All
Photos,
Code,
design,
Text.

Do Not
Copy
Anything
Without
Asking!

C
O
P
Y
R
I
G
H
T


2
0
0
8

K.
G.

L
a
w
t
o
n
All
Photos,
Code,
design,
Text.

Do Not
Copy
Anything
Without
Asking!

C
O
P
Y
R
I
G
H
T


2
0
0
8

K.
G.

L
a
w
t
o
n
All
Photos,
Code,
design,
Text.

Do Not
Copy
Anything
Without
Asking!

C
O
P
Y
R
I
G
H
T


2
0
0
8

K.
G.

L
a
w
t
o
n
All
Photos,
Code,
design,
Text.

Do Not
Copy
Anything
Without
Asking!

C
O
P
Y
R
I
G
H
T


2
0
0
8

K.
G.

L
a
w
t
o
n
All
Photos,
Code,
design,
Text.

Do Not
Copy
Anything
Without
Asking!

C
O
P
Y
R
I
G
H
T


2
0
0
8

K.
G.

L
a
w
t
o
n
All
Photos,
Code,
design,
Text.

Do Not
Copy
Anything
Without
Asking!

C
O
P
Y
R
I
G
H
T


2
0
0
8

K.
G.

L
a
w
t
o
n
All
Photos,
Code,
design,
Text.

Do Not
Copy
Anything
Without
Asking!

C
O
P
Y
R
I
G
H
T


2
0
0
8

K.
G.

L
a
w
t
o
n
All
Photos,
Code,
design,
Text.

Do Not
Copy
Anything
Without
Asking!

C
O
P
Y
R
I
G
H
T


2
0
0
8

K.
G.

L
a
w
t
o
n
All
Photos,
Code,
design,
Text.

Do Not
Copy
Anything
Without
Asking!

C
O
P
Y
R
I
G
H
T


2
0
0
8

K.
G.

L
a
w
t
o
n
All
Photos,
Code,
design,
Text.

Do Not
Copy
Anything
Without
Asking!
When You Need A Truck (or car) What Should You Do ?
Rebuild your "Once-upon-a-time-Good-One"?
(or)
Mortgage Your Future For A New One?
We Rebuilt A 1989 4WD Ford F150 300-cube Inline-6 Engine
And ended up fixing many other serious problems!
So, after all, "Was It Worth It?"

OH, Yes, after all the pain was over, most definitely! Read on to see why...

This entire website ©2008 K.G.Lawton.
---
Best viewed with any graphic browser. Text Browsers will miss photos but read descriptions and text.
If you are an American with disabilities and have trouble reading this website, please contact the webmaster.

But, to start from the beginning...
An old snake-eater friend of mine invited me to help explore some interesting "desert digs" he had found. The offer was great, but the vehicles in my driveway belonged to my wife and daughter and were much too citified anyway to take into the rough outback.
("O.K., Dad, just where've you had my truck!?)"
So I decided to get myself a reasonable outback truck but couldn't afford nor justify a new one. Besides, getting all the "bugs" out of a new vehicle is not what you want to work on in the outback.
Finding what I wanted, and could afford, proved to be difficult. And I made two big mistakes that you might avoid by reading this little adventure of mine. If it can help you learn by avoiding the mistakes I made then it's worth my time to post this page.
After hunting quite awhile for a vehicle to go "into the outback" with, I settled on a few basic preferences that I wanted in my outback vehicle. My list emphasized the fewest number of things that might go wrong, and a basic set of creature comforts and engine preferences. Those choices dictated an older truck, but not "too old", maybe in the late '80's or so:
It had to have four-wheel drive ("4WD") to navigate in rough country.
It had to be a short wheel base ("SWB") factory "HiBoy" to allow for short turns and higher clearance (No after-market modified suspensions).
It had to have fuel-injection, not a carburetor, to avoid vapor-lock in the heat.
It had to have Air Conditioning ("A/C") for summer travel comfort.
It had to have an Inline-4 or 6 cylinder engine; lighter front end, not so likely to get stuck.
It had to have sufficient torque and power for both highway speed and off-road power.
It had to be reliable. Absolutely, positively, reliable. Rule number one: "Reliable"!
It was not to have any explosive-device in the steering column or dash! (No "Air Bags", period!)
It was not to have power windows nor power door locks.
It had to have room for me to "sleep over", either in the cab or the cargo space.
It had to have generous cargo room for prospecting and camping equipment, besides the sleeping space.
It had to provide security against the elements, rain, snow, sun, etc.
It had to have some way of securing expensive equipment when I'm away from it.
It had to have beefy steering and suspension components.
It had to be a "Big-3, Made in the U.S.A." vehicle. (Just one of my hangups).
It had to be something I did not have to worry about scraping past sagebrush and trees.
I'd really like the seat belts to not keep tightening up every time I moved or the truck bounced.
Go ahead, you make a list for an "outback" vehicle. Then just try to find it.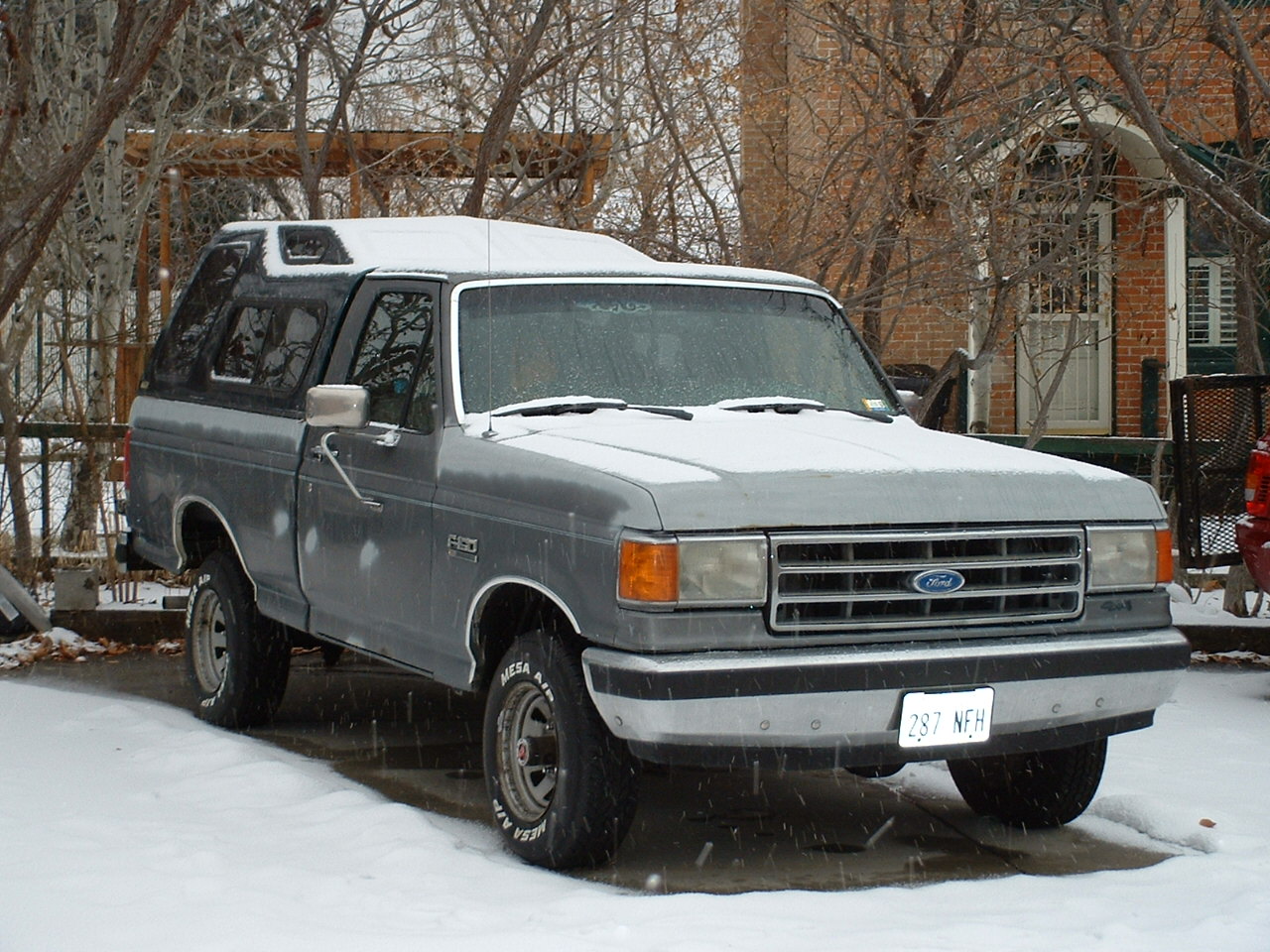 The topper was alongside the roadway, for sale by a farmer. Proper size tires were purchased at Big-O.
So, after a couple of years looking at everything from Ford Jeep and Chevy, I found a little 1989 Ford F-150 6-cyl 300ci ("Inline-six", or "Big Six" as it's known) 4WD with a 5-speed manual transmission. It had A/C, Cruise Control, a basic 1989 stock radio, a good bench seat, good windshield, the dash had no sun-cracking, the door locks were smooth, the Ford suspension and steering was beefy and in good condition. The tires were lousy, mismatched and oversized, but that was OK they were going to be changed for stock ones that the truck was designed to use anyway.
I found this truck
While the lead mechanic at the local Ford dealership was working on it in the dealership repair bay. The engine was out of the truck, bolted onto an engine rack, and the mechanic told me it had "A fresh overhaul".
Some various pre-purchase repairs (including clutch/brake pedal problems, which you'll see later) were done by the Ford mechanic. I visited the garage several times during this process while the mechanic was working on the truck. The owner of the garage walked thru the repair bay several times, nodded hello, so I figured the truck was a dealership item. As it turned out, the mechanic was the actual seller.
several other after-purchase repairs (including a complete brake job) were done later at the local "Big-O". You will see photos of that brake job, front and rear, later
Remember the two mistakes I admitted to? Believing the Ford mechanic when he said the engine had "a fresh overhaul", and taking brake repairs to Big-O were my two mistakes. A pity, because I had counted the Big-O guys as friends before. And I had taken a lot of business to the Ford dealership for this mechanic also.
Over the next several months after purchasing this truck ("As IS") I spent probably fifteen-hundred dollars on repairs. For instance the brakes which did not work (although the State Safety Inspection had been signed off by the Ford Dealership) front drive U-joints that were dry and ready to fall apart, two injectors were leaking fuel into the engine compartment because the injector seals were shot, and various gaskets on top of the engine which were either leaking pressure or sucking air, neither of which was supposed to be happening. Those were expenses that I had not anticipated, on the basis of being told the truck engine had "A fresh overhaul". It wasn't until the following winter when I turned the heater on that I discovered the leaking heater core, which matched the leaking radiator I had added "stop-leak" to during the summer. I replaced the tires back to stock specifications instead of keeping the four mismatched oversize uglies that came with it. They had either been salvaged from the prior owner's barn or perhaps the scrap pile at the Ford Dealership, who knows.
This truck (anyway this was the story I got from the mechanic at the dealership) was "a trade-in from an old farmer" who wanted a new truck. This one had been stored in his barn for the past two years. OK, I believe that because there were wasp-nests in every crack and crevice of the bed, gas tank door, both cab doors between the hinge-edges and the fender-panels, underneath the bed and in all the tie-down sockets in the top of the bed. But I knew that before I bought it, and there was an old "AQHA" (American Quarter Horse Association) sticker in the rear window, so the farmer story sounded reasonable and probably was.
I drove the truck perhaps a couple thousand miles in the past two years, changing the oil and filter three times in those miles and paying for a lot of repairs (besides the brake job) at Big-O. Still, my little wife kept complaining about the smell of the oil, even after I had changed it, and she didn't like how the engine ran. It had to be shifted down into 4th to struggle up Sardine Canyon. But then my 351 V8 Automatic F-150, a heavier truck but with a larger engine, also shifts out of overdrive in that canyon. So I thought it might be reasonable to have to down-shift the 6-cyl's transmission also.
The one thing I did have constant reservations about was the oil pressure. The original in-dash gauge didn't work, the needle staying at the same place all the time. So right after buying the truck I installed a mechanical oil gauge. Oil pressure would creep up to maybe 55 lbs pressure cold, but then after warming up for awhile pressure would drop to 25 lbs at 55 mph, then probably 10-12 lbs at idle, maybe less, as it was hard to tell numbers on the bottom end of the gauge. The Ford Dealership mechanic said that was normal, "the big-6 engine was OK at 8 lbs idle pressure". I still didn't relate to that, but accepted it as coming from the "Ford experts". Similar opinions were found at Ford-Trucks.com regarding oil pressure.
To put the continuation of this "T-Ruck Rebuild" story in perspective, my Wife grew up in the mountains of North Carolina and Tennessee, which was and still is, bootleg country. Her dad was a professional mechanic, pilot, and airframe mechanic, and she grew up passing him wrenches and parts, working on modified engines for cars with white-lightening tanks welded into secluded places. Her mother told me that my Wife got engine grease on every piece of clothing she ever owned since she was three years old. The first fight we ever had was when I was unwittingly screwing up the gap on a set of solid lifters and she told me about it in front of my friends while I was under the hood. I should have known then that she was smarter than me.
So anyway, Little Wife thought each new oil change in little truck "smelled funky" and the engine didn't run properly. She wouldn't allow me to take the truck out on the desert. So when I got ready to go remote by myself she absolutely insisted I either take her red Jeep Grand Cherokee Overland (W-A-Y too fancy for where I go,
"Don't get it dirty, don't scratch it, don't take if off the road...",
Or I could take daughter's F-150 4WD XLT, which was also W A Y too fancy for where I go.
"OK, Dad, where've you had my truck this time?"
So, I just forgot about the desert trips for awhile. Had too many upkeep and repair jobs to do on the house anyway.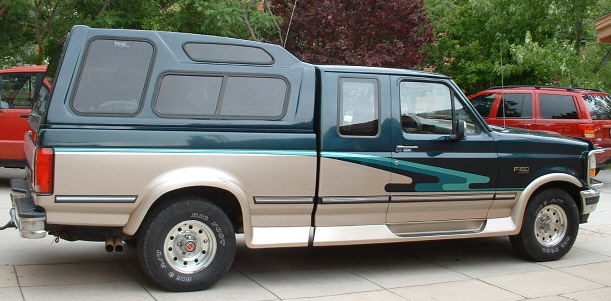 The problems with the little truck had become so irritating that I was about to give up on it, get rid of it and go bite the bullet for my losses. That choice was not particularly attractive. But my Wife was adamant that I wasn't going out on the desert with the little truck. I kept procrastinating, hating to give up on the "Little T-Ruck" which met all the items on my list, if it would just work properly. Besides, I hated to admit the truth that I hadn't been careful enough when buying it.
Then a couple weeks ago little Wife insisted I take the little truck to a "real machine shop" and have them open the engine and see if it was reasonably reliable to go out on the desert. Darn, am I proud of her? You bet! How many wives would tell their old hubby to do that? Probably none. So anyway I checked with the local repair shops, with my friend who owns the parts house in another town, and all said they would only take their own engine to one machinist in the state: Chris Sorensen in Tremonton. So that's what I did.
But, for the rest of this story, I'll let the photos and brief explanations of the photos speak for themselves.

So Chris opened up the engine of the little '89 Ford in his machine shop....
...Ho-Leeeeeee-Sheeete, "Fresh Overhaul my butt" How did it even run?!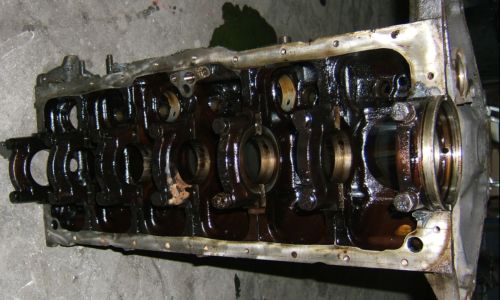 View of the block bottom-end after removing pistons and crank. This was after two days of cleaning the entire engine after separating the crudded-up components. The crank was so scored it could not even be machined for re-use!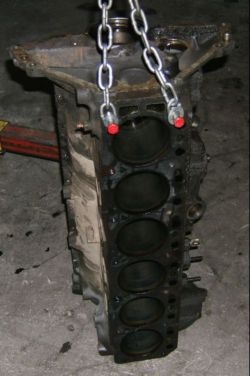 This is the block after cleaning, then taking the head off and the pistons out. See all that black stuff, it's carbon, on top of the block, between the block and the head... Not supposed to be black there...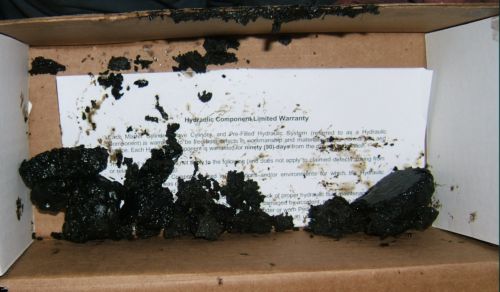 This is some (just "some", not even close to "all") of the sludge that fell out from under the rocker arm cover when it was removed.

This is the head after removal from the block and before soaking in the vibrating solvent tank.


This is the head after removal from the block and after soaking in the vibrating solvent tank.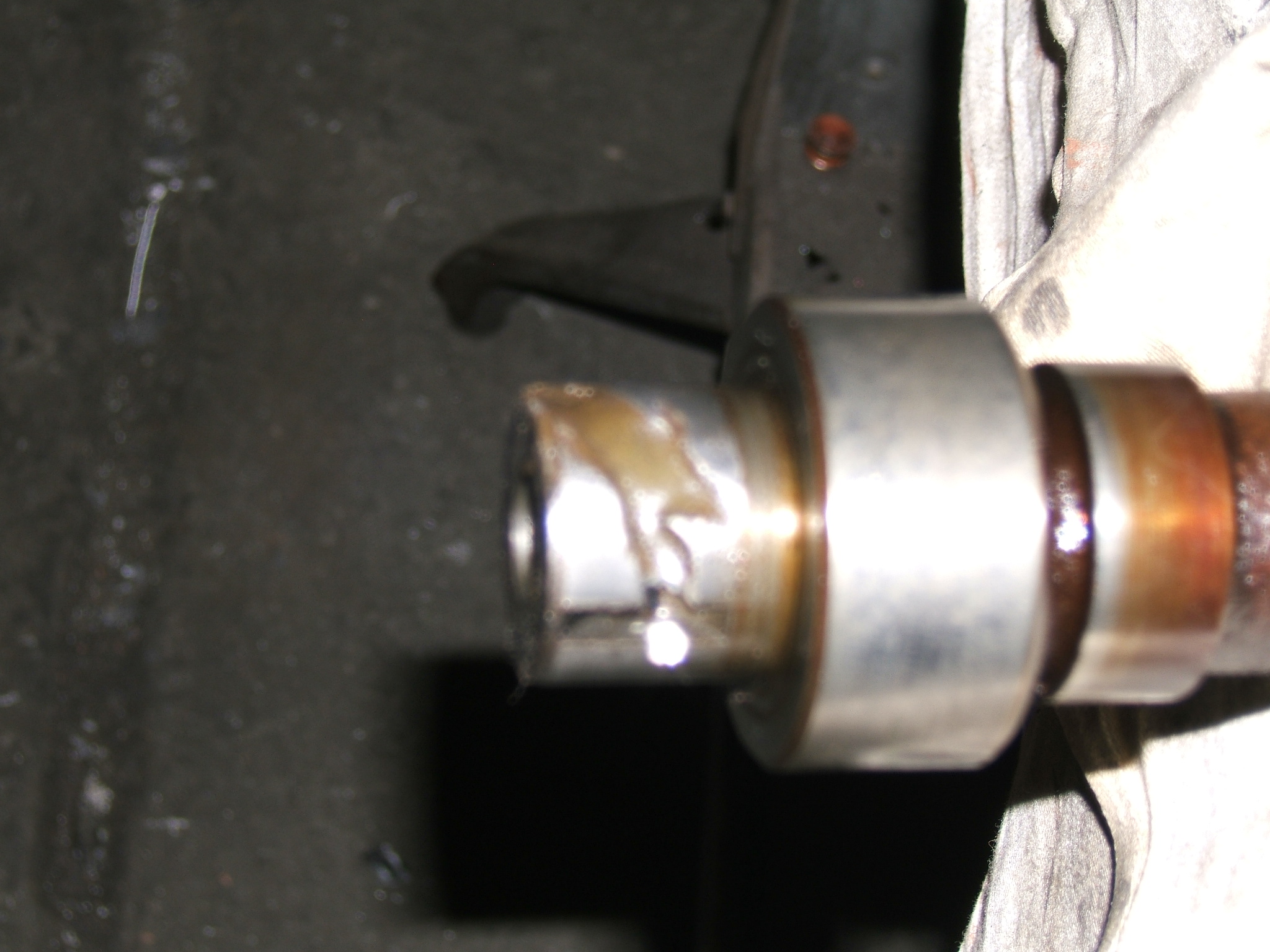 Drive Gear end of original camshaft. Someone (probably whoever "overhauled" it) tried to remove or replace the drive gear by using a torch, which melted a gully into the end of the camshaft. Quite a "fresh overhaul" you did, Mr. Ford Dealership mechanic!.

A few shots Chris took before he phoned me with the news:
The photos speak for themselves. He probably thought; "What the #311 is this pilgrim trying to pull on me.....", because I had told him the Ford Dealer mechanic said the truck engine "Had a fresh overhaul". Can't blame Chris for taking photos, he probably thought he just opened a nightmare. Actually, that's just exactly what he opened, a mechanical nightmare. That rosy color on the parts is severely burned oil, the black stuff is cooked-on, caked-on, hardened sludge crud consisting of burned oil, dirt, metallic particles and sundry other crud that has been there for many, many, years. I've always heard that "farmers never change the oil, just add more when it gets low". But, on the other hand, maybe this was just an example of a Ford mechanic's "fresh overhaul", who knows.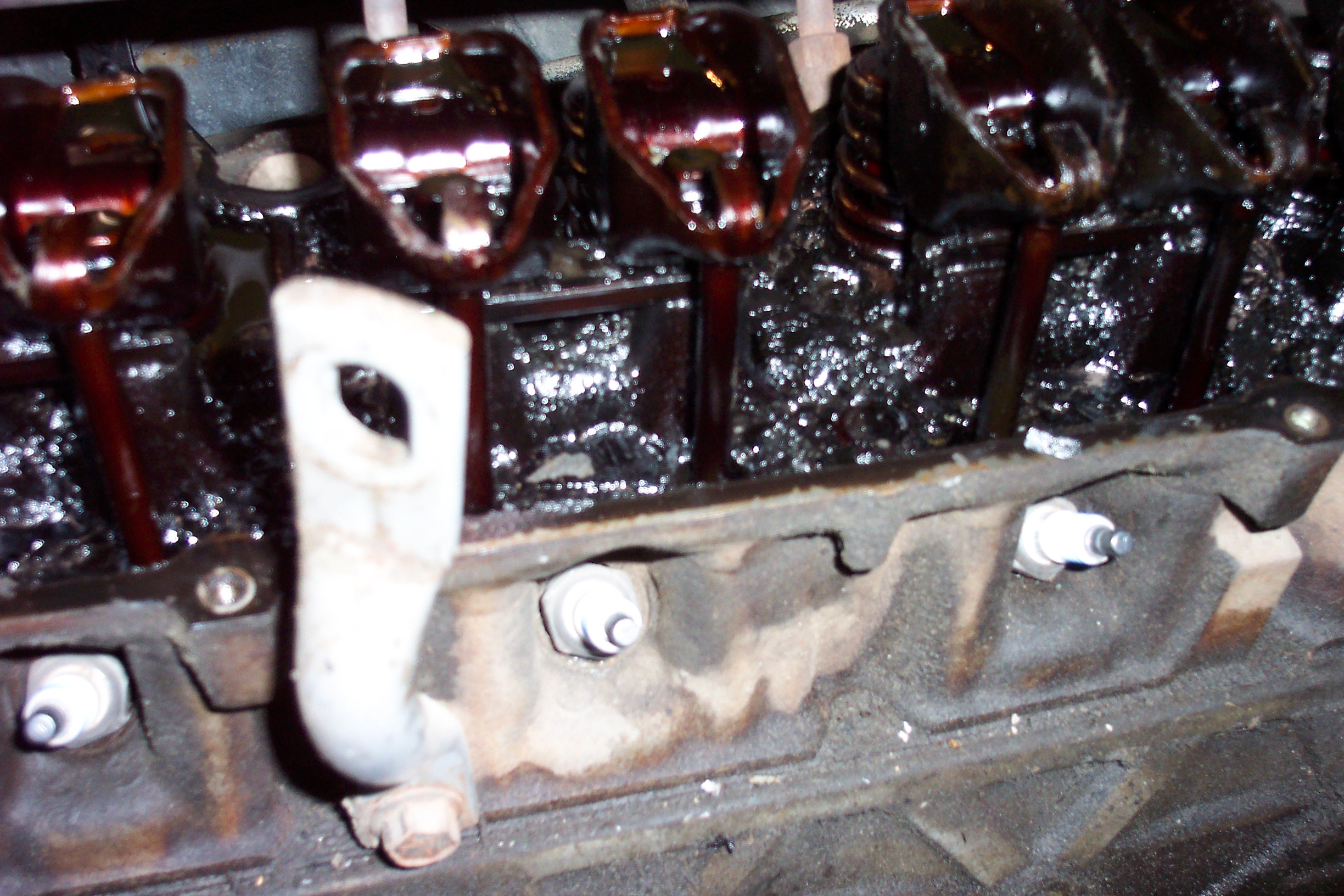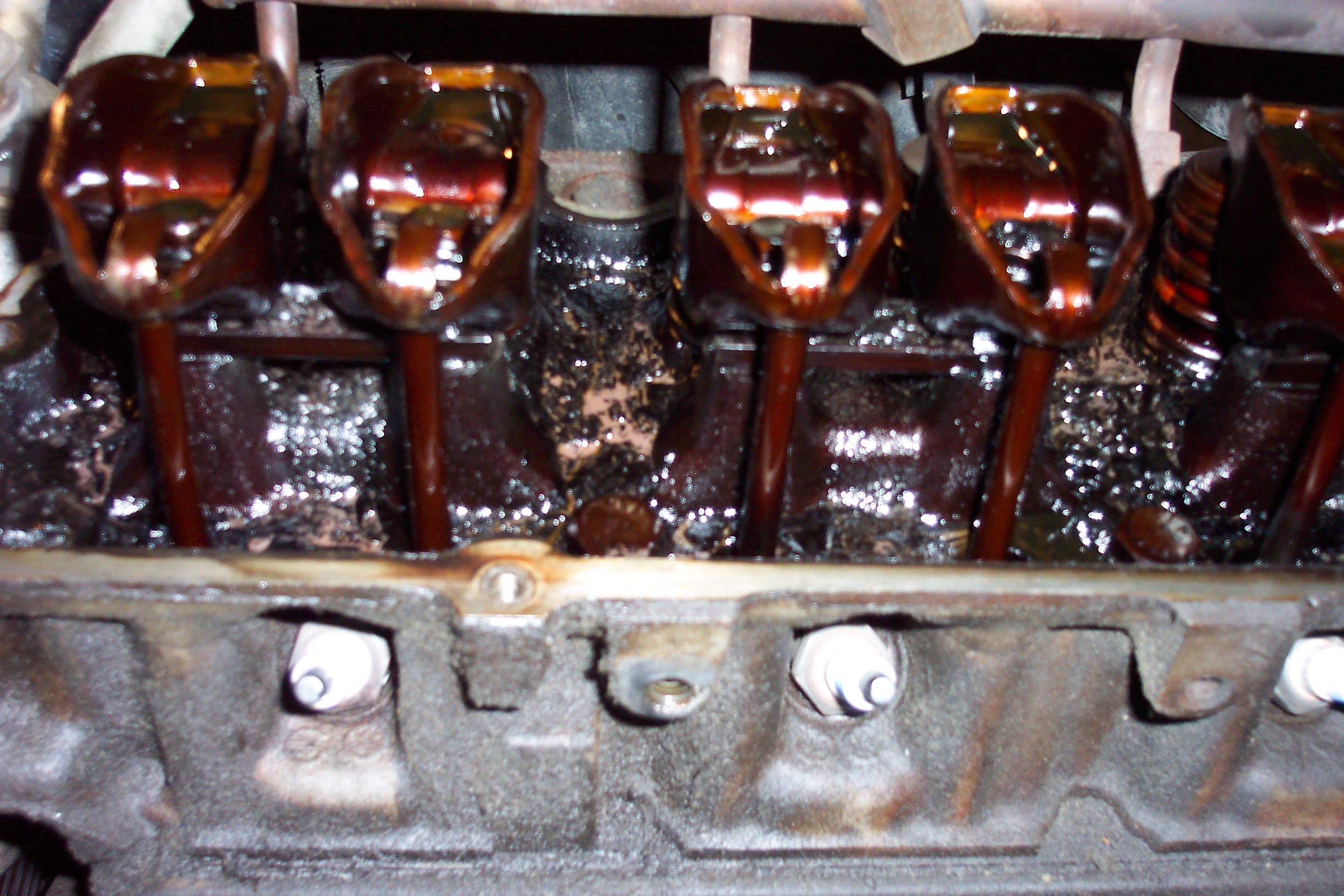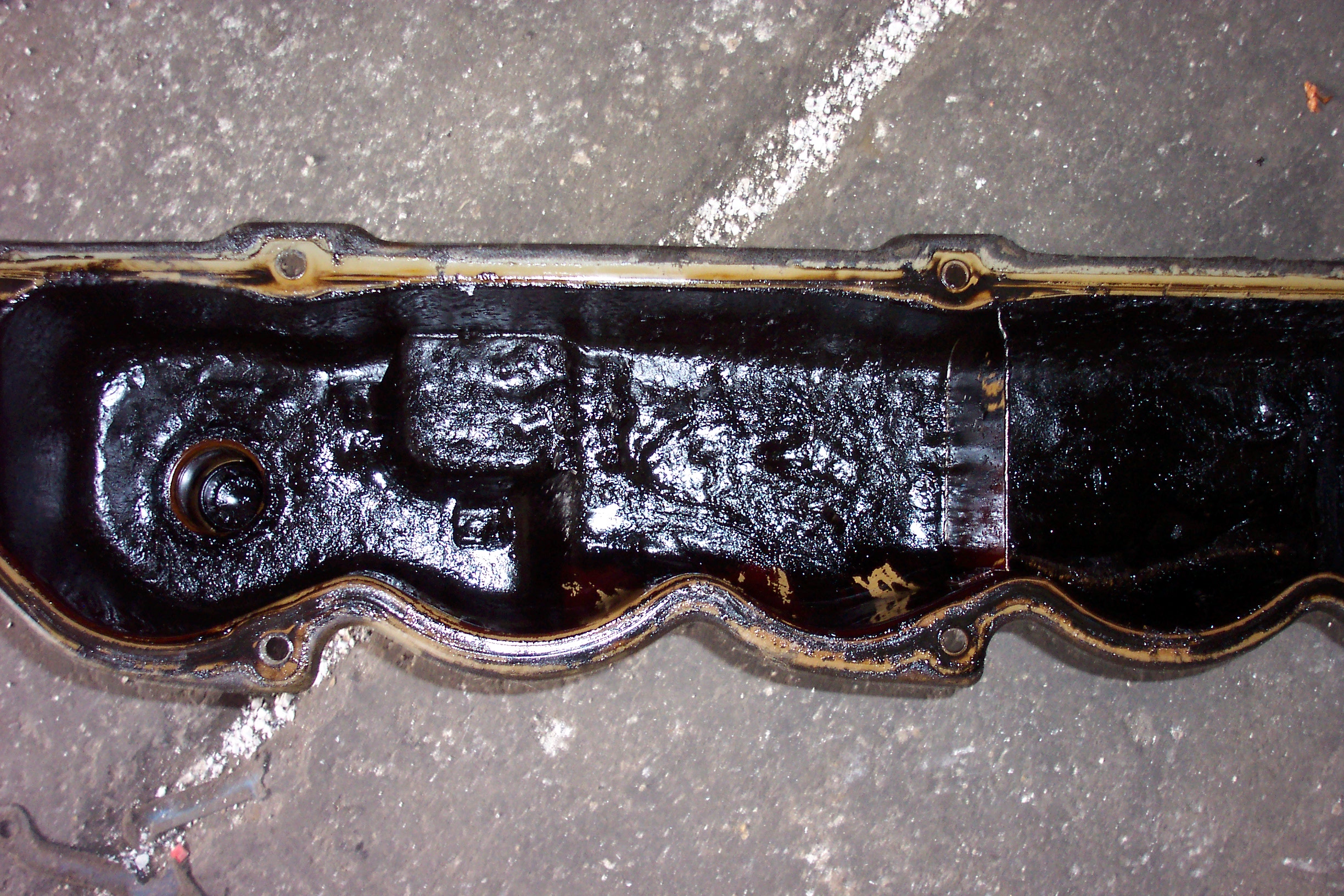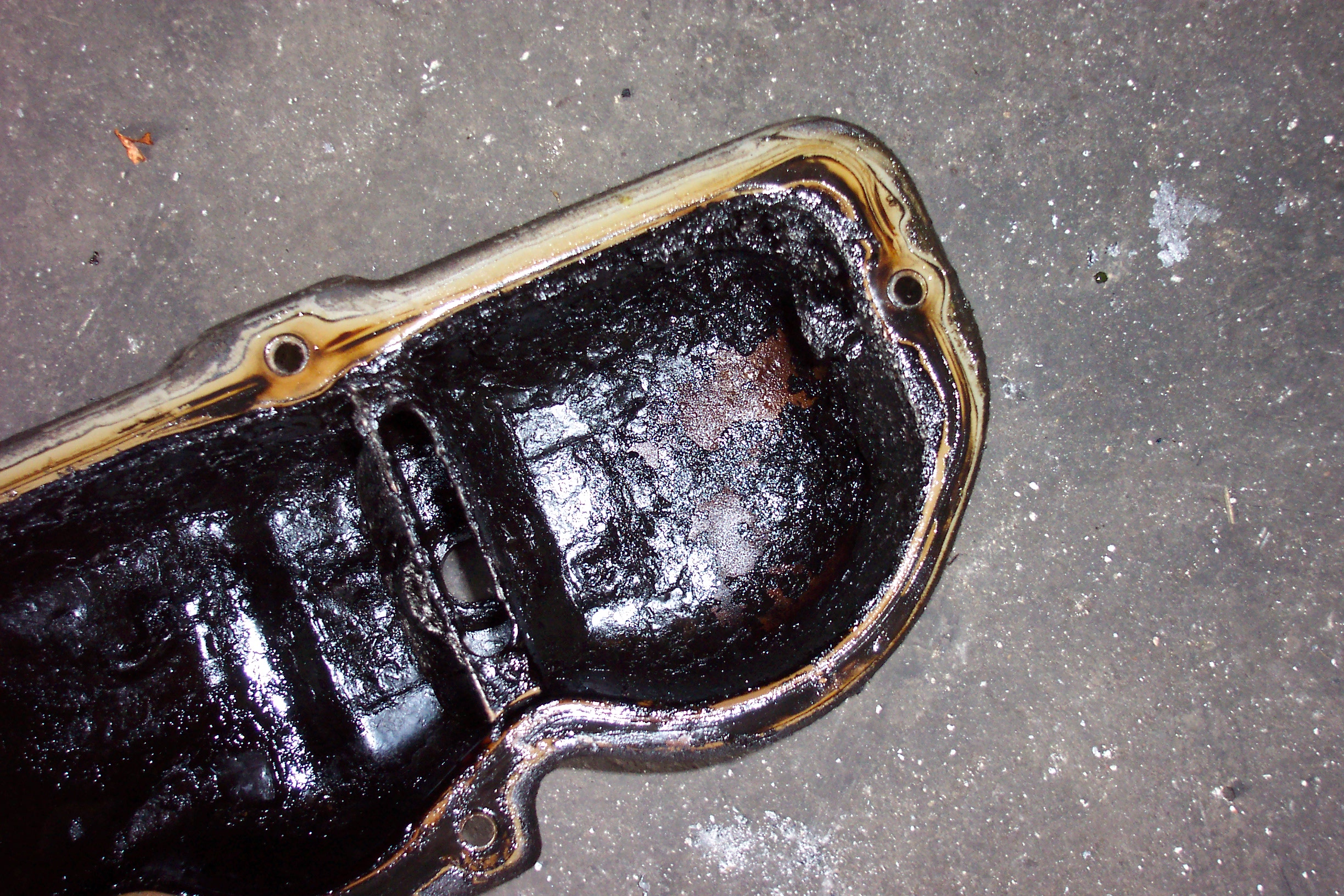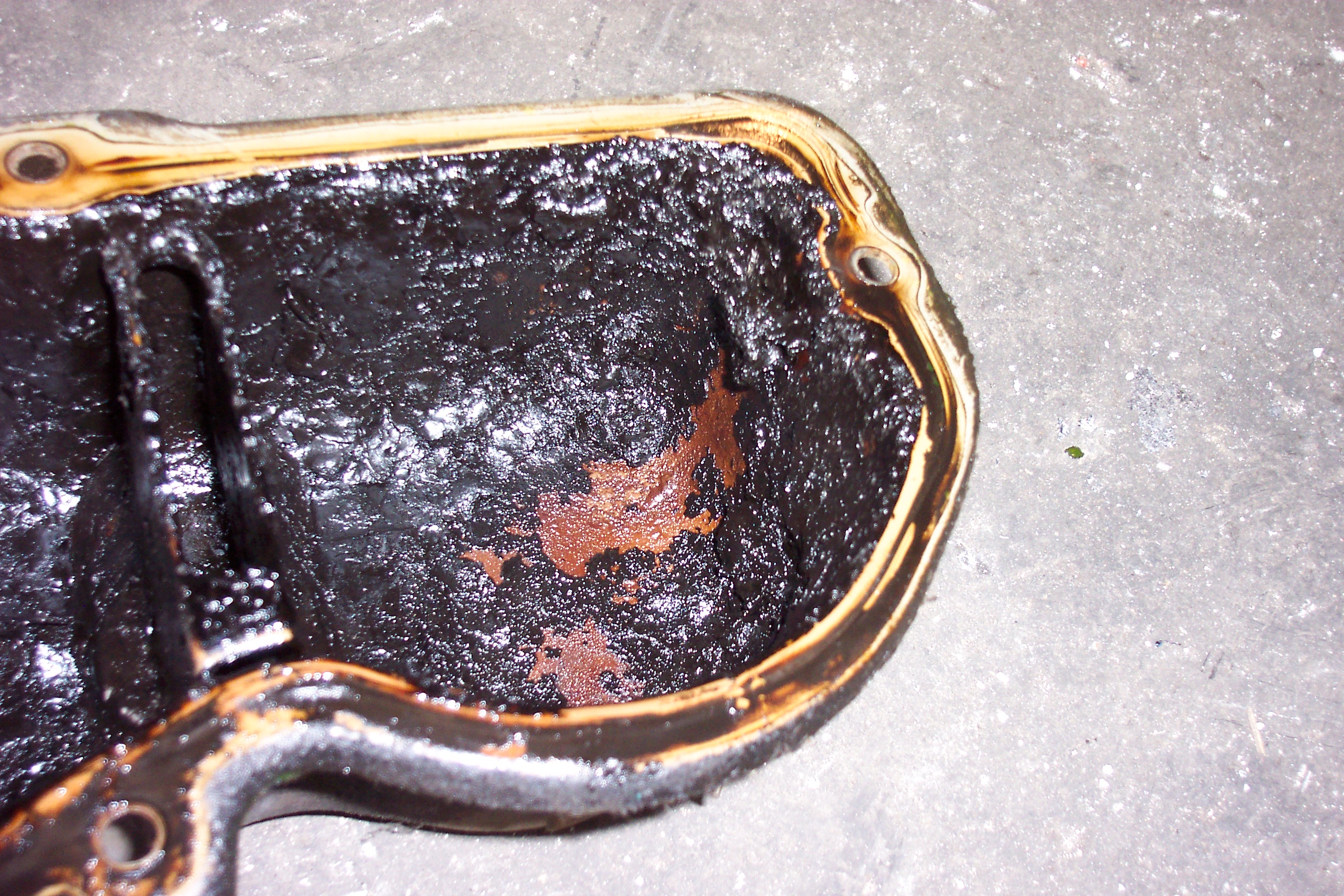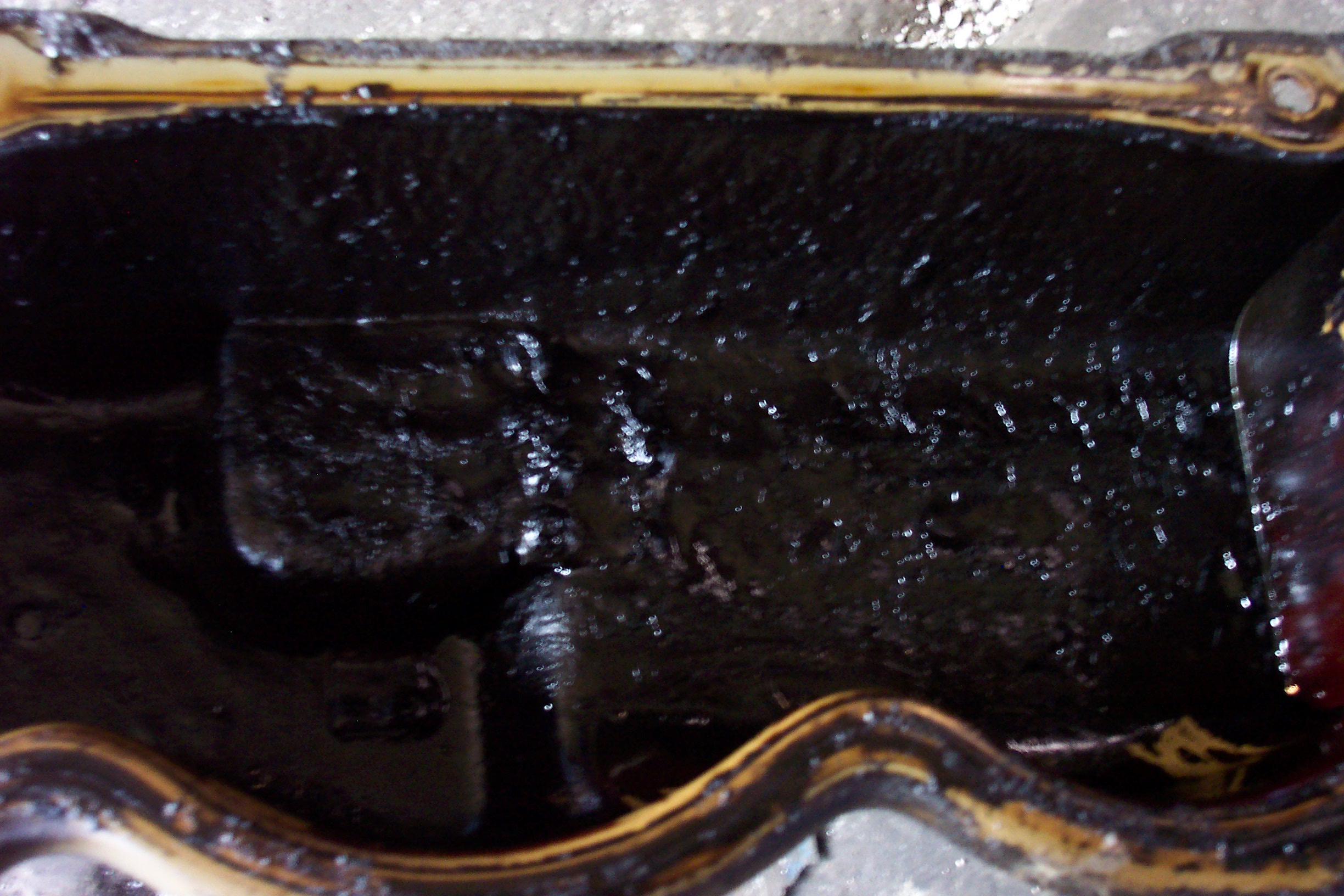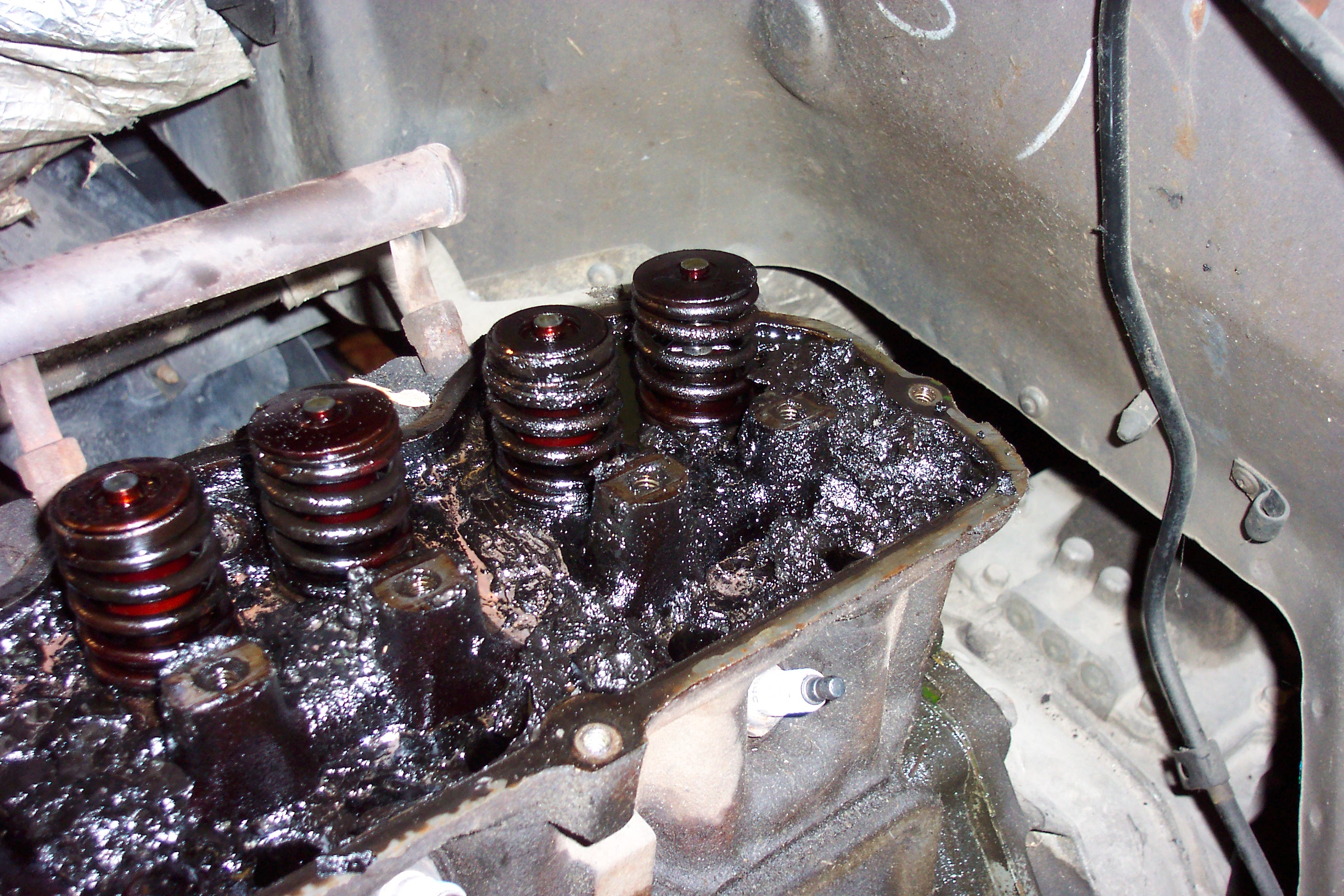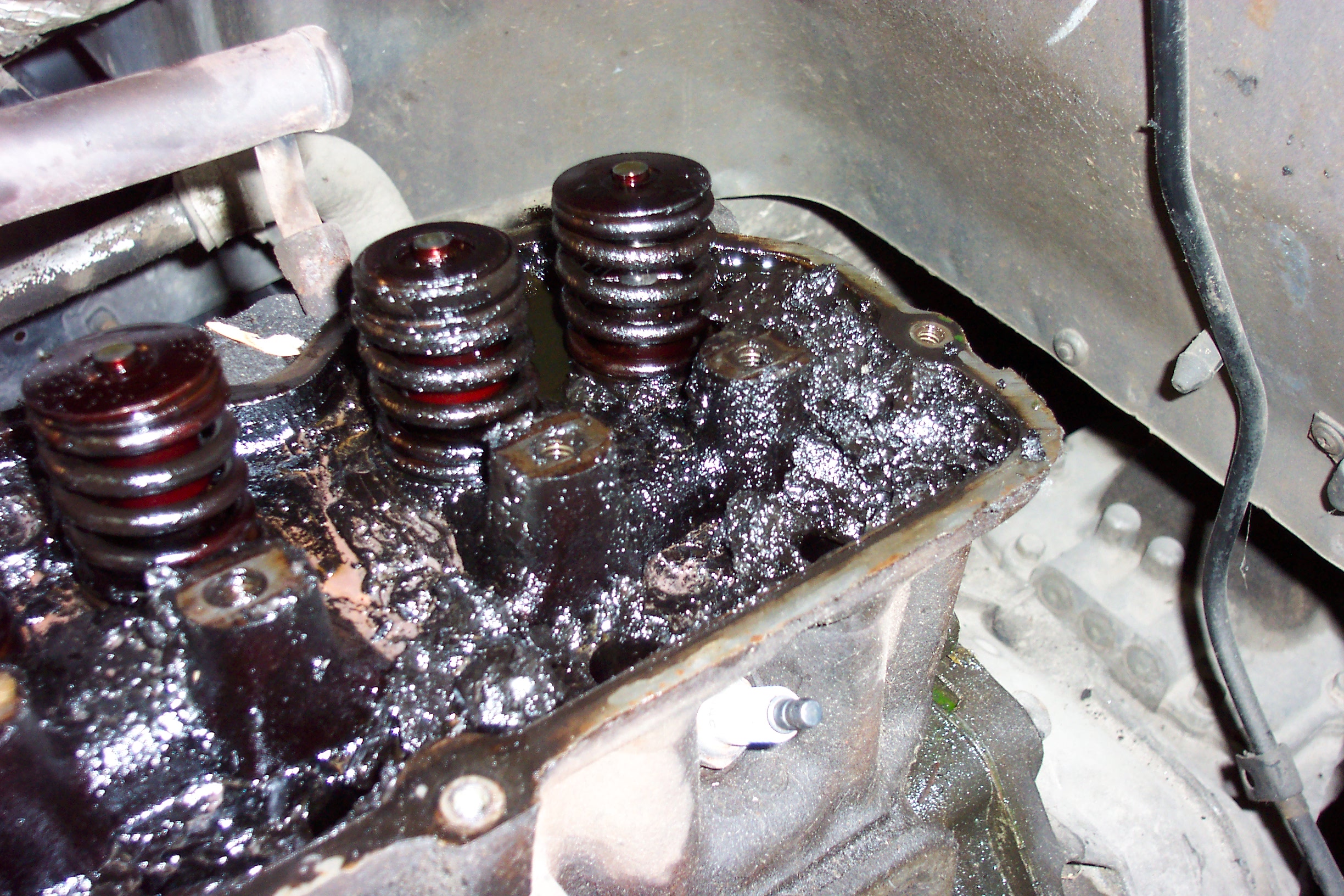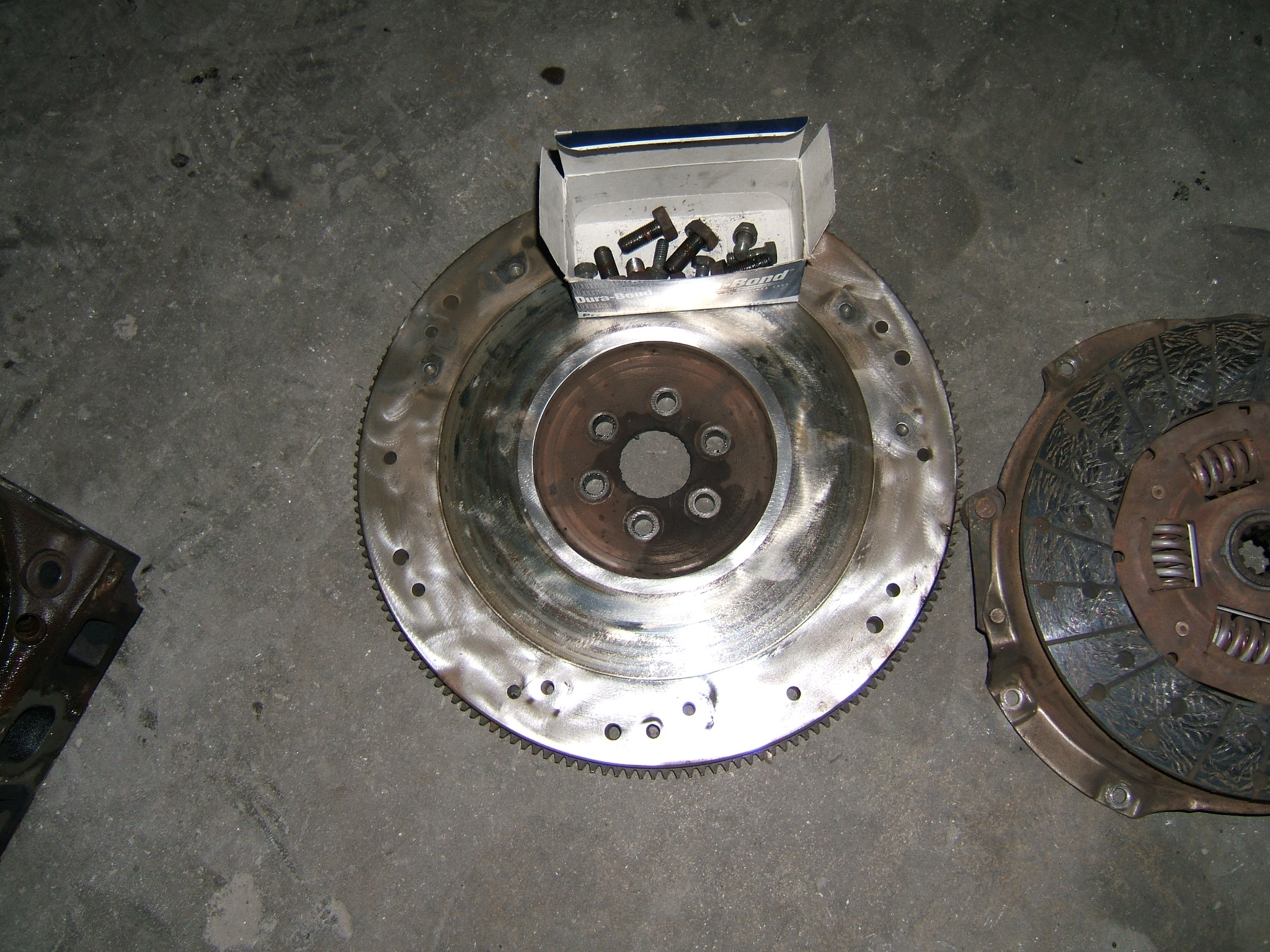 Before we finish Chris's shots, here is a pic of the flywheel and clutch assembly. The flywheel had been gouged so badly at some prior time, (which had to have been seen by the Ford Dealer mechanic,) that it could not even be dressed up to prevent shaving the face of the new clutch plate. So it and the existing grooved clutch was discarded in favor of new parts. In fact, we had to replace everything between the engine and transmission except for the bell housing!

OK, the above photos explain the Ford mechanic's definition of "A Fresh Overhaul". And that doesn't even start to talk about the "Safety Inspected" brake system, failing U-joints, tires, and dash warning light for the brake system which had been disconnected, and the ford mechanic's non-repair on the clutch pedal assembly. You'll see some of those stories on down the page.

But now, on with the good part of this story!
Every Cloud Has A Silver Lining...(Sometimes)

---
Chris Sorensen saved this truck for me. Read on to be amazed!
---
After I had left the truck with the machine shop I got a call from Chris the next day with two questions and a statement: I could tell his voice was a little tight on the phone. First he asked if the engine was the same now as when I bought it, the answer being "yes, why?" (No answer to that until later). He then asked; "How many miles have you driven it since you bought it?" The answer was, as close as I could guess, "About two thousand, why?" He asked "How many times have you changed the oil in those two thousand miles?" The answer was "Three times, oil and filter, why?" "Well", he said, "You could have changed it a hundred times and it wouldn't have helped it one bit!" He went on to say that he had taken some photos of the mess, just for the record. And he said that when he drove it into the shop he could tell the rear brakes were not working. I drove right up to the shop, to see what he was talking about. In the days following, I dropped by almost daily to take photos and discuss the rebuild. Some of the photos are below for your enjoyment.

Enter Chris Sorensen, "Mister Wizard"!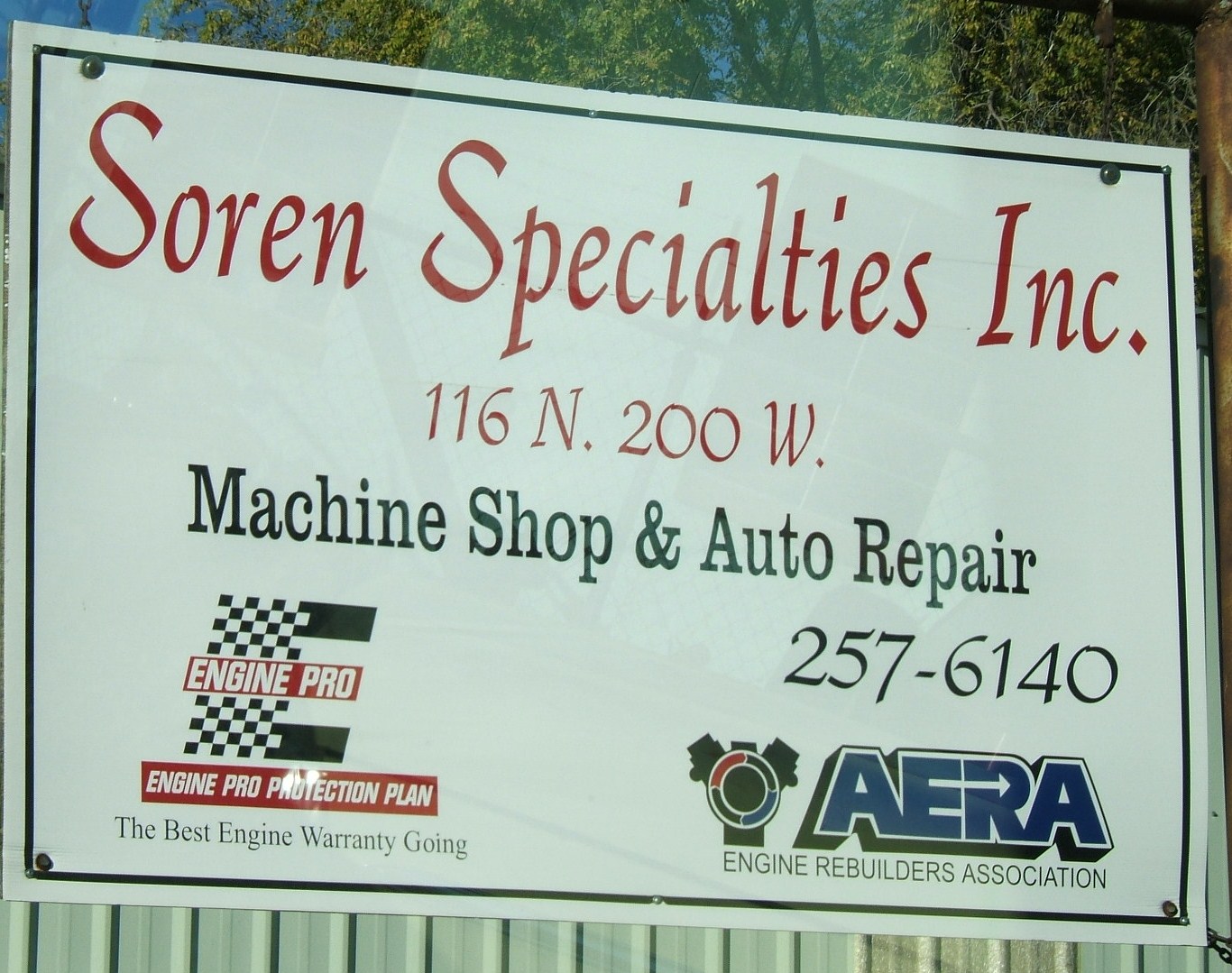 Chris Sorensen's Machine Shop, Tremonton, Utah.

See that Engine Pro Logo on Chris's Sign?
Just click on This Link to see what it means!
And that "AERA" Logo? Check that one out Right Here!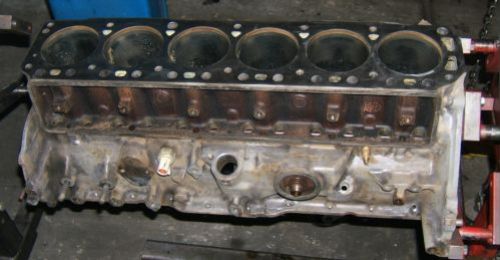 Block after basic cleaning but before any machine work. The crankshaft was so grooved that it would stop my fingernail every tenth of an inch as I slid it across the journals. Chris couldn't use it because it would have required excessive re-grinding to get it machined smooth for new bearings.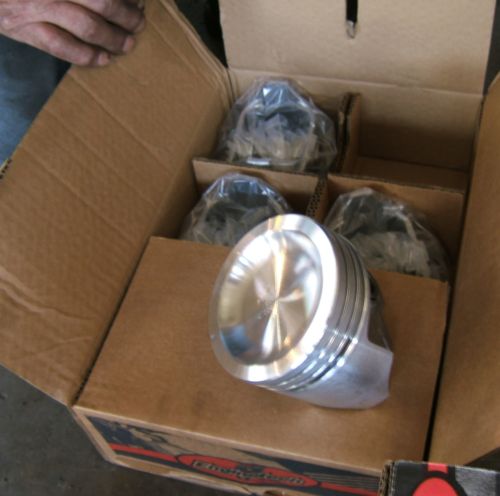 New Comp Cam pistons arrived before the other components. Aren't they just too pretty!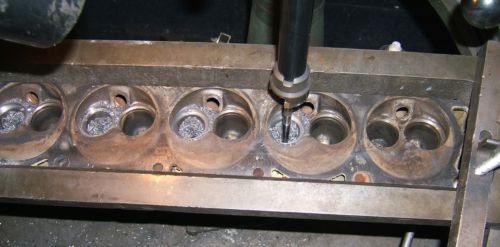 Valve Seats in process of being refinished.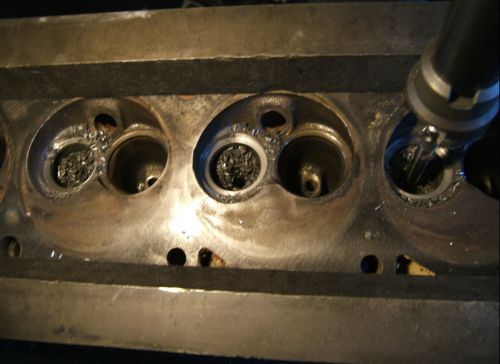 Another view of valve seats being reground.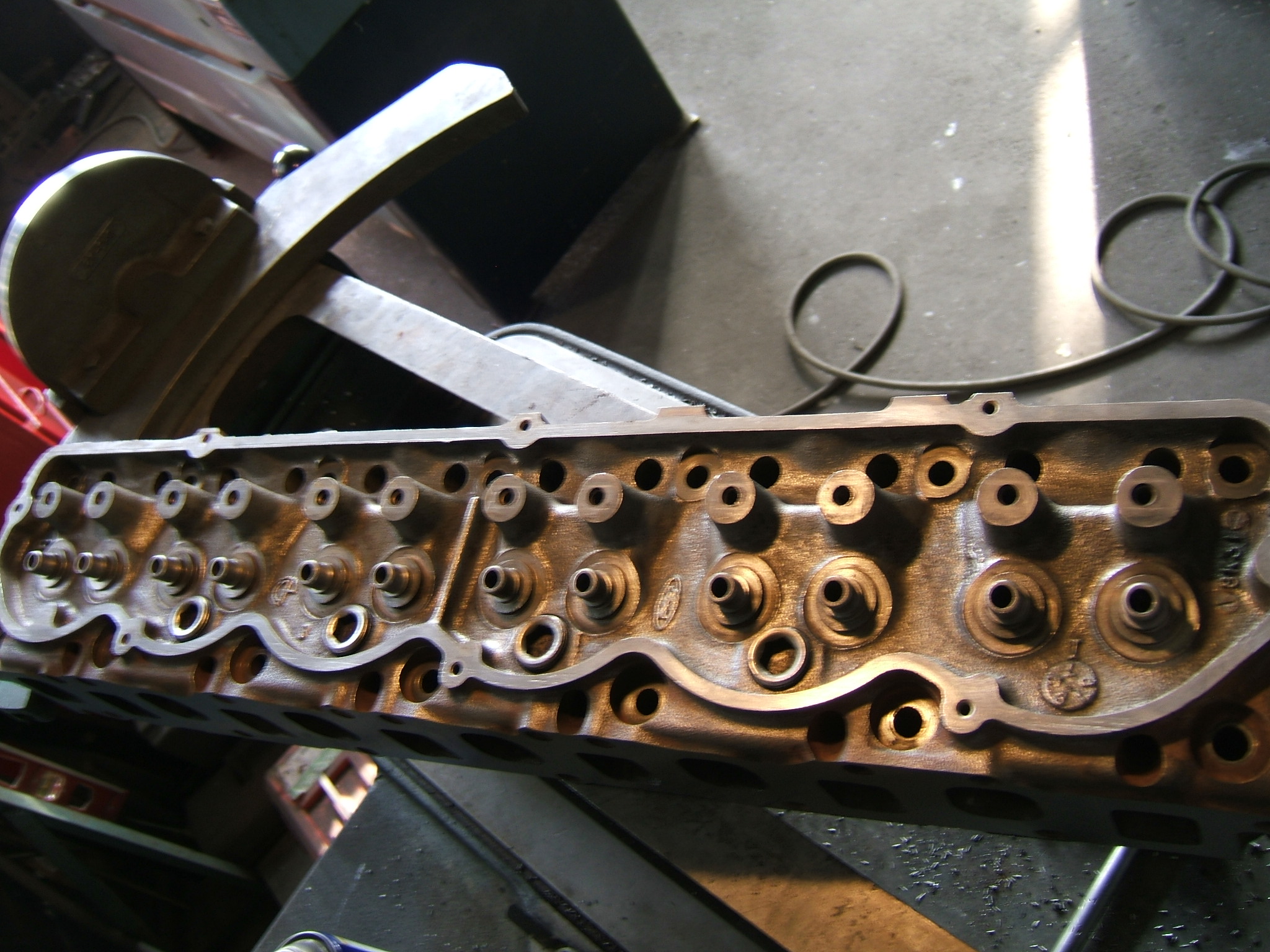 Head top machined for valve stem seals, not the original Ford "umbrellas".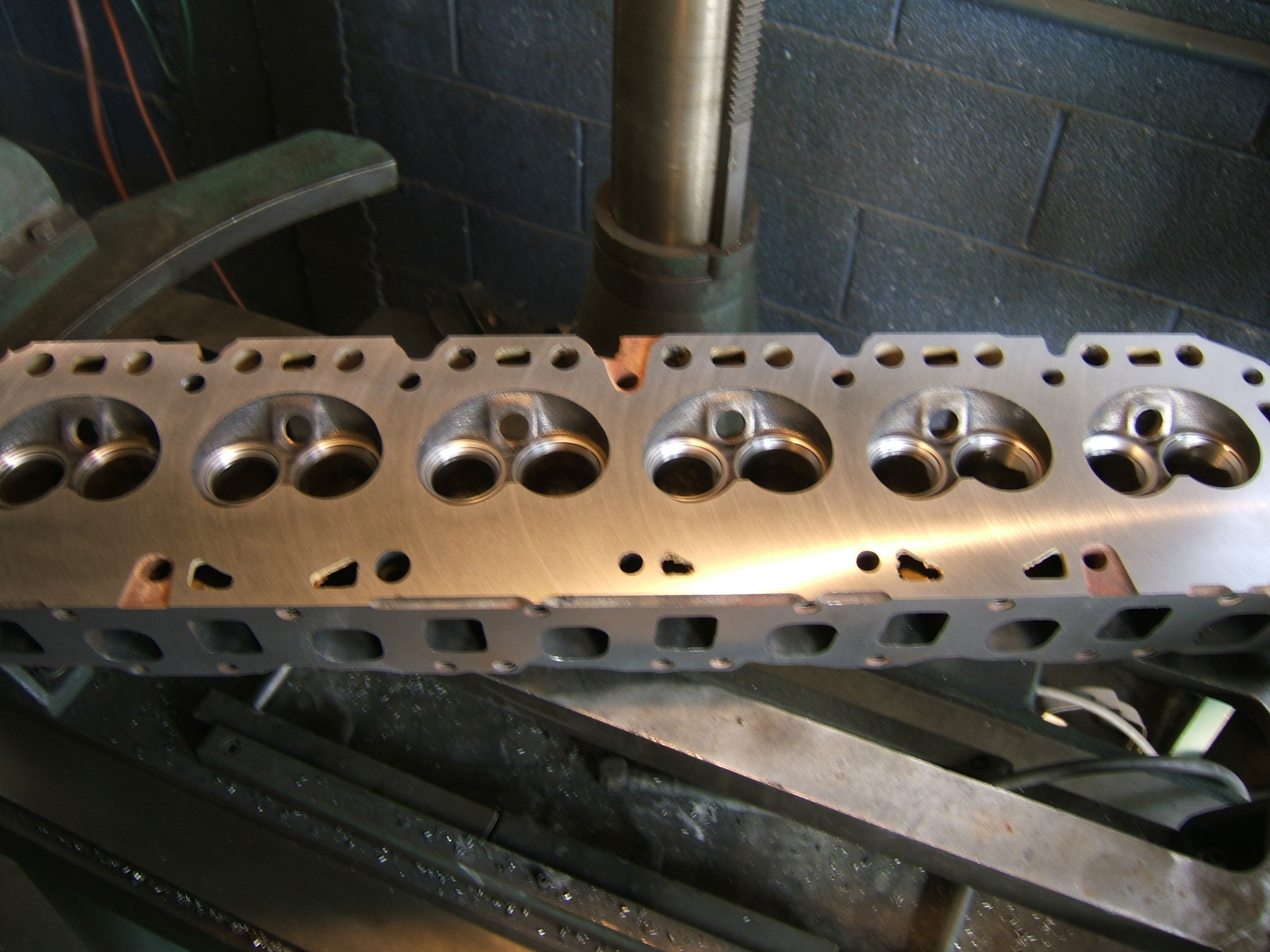 The head, shaved .020 and waiting for incoming upgraded components (Camshaft, lifters, Valves, hardened push-rods, roller-rockers, crankshaft...) to see if it can stand another .010 for a total of .030 shaved.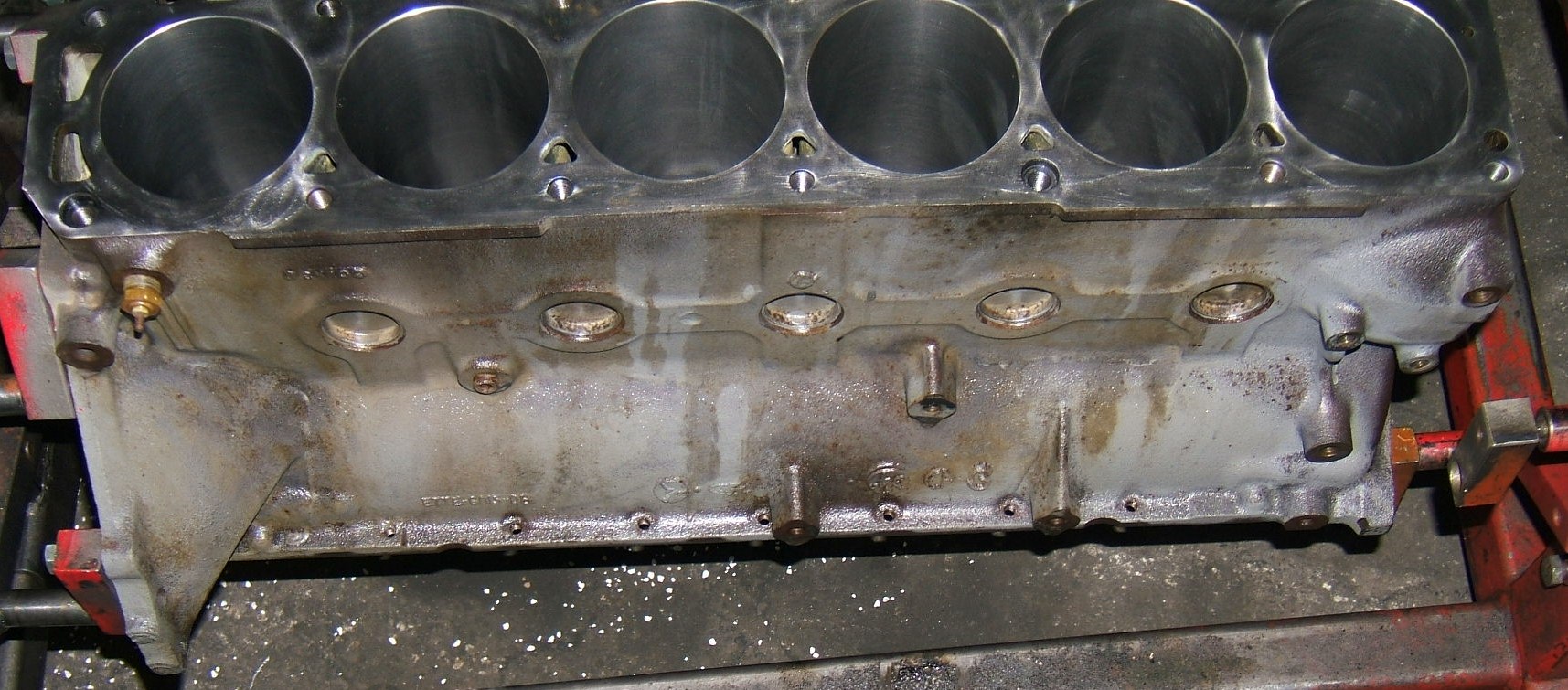 Today the cylinders have been honed. A beautiful job. Chris really takes pride in his skills.


Exhaust ports honed, the surface had .005 irregularities that Chris shaved to a mirror surface to match the exhaust manifolds.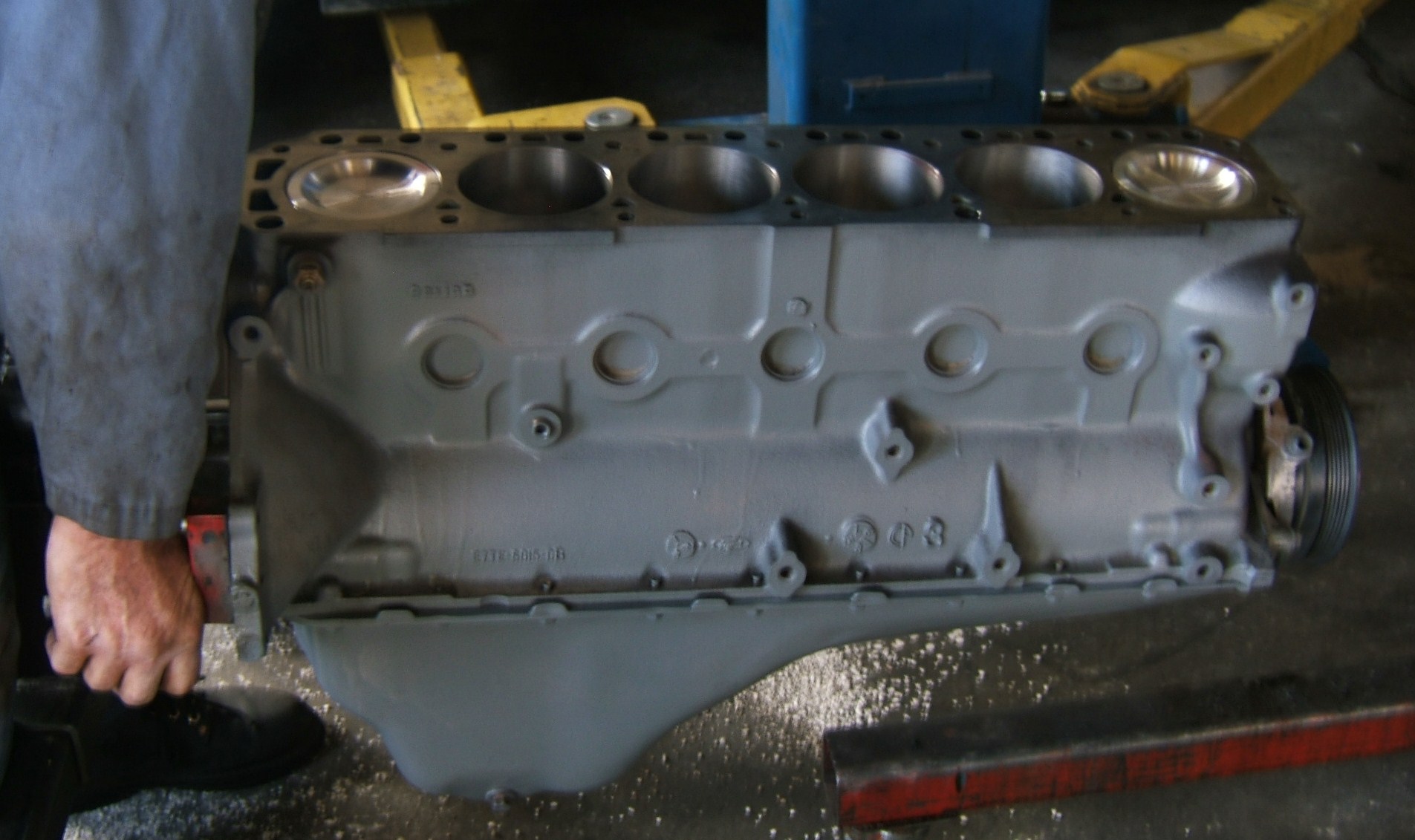 I went up to Chris's Shop on the 6th, and he had the bottom part of the engine put together. It was upside-down for painting the block but he turned it over for me to take a look. Don't those pistons look great! And ask me if I love that battleship-grey paint! Looks like a genuine piece of machinery finally coming together.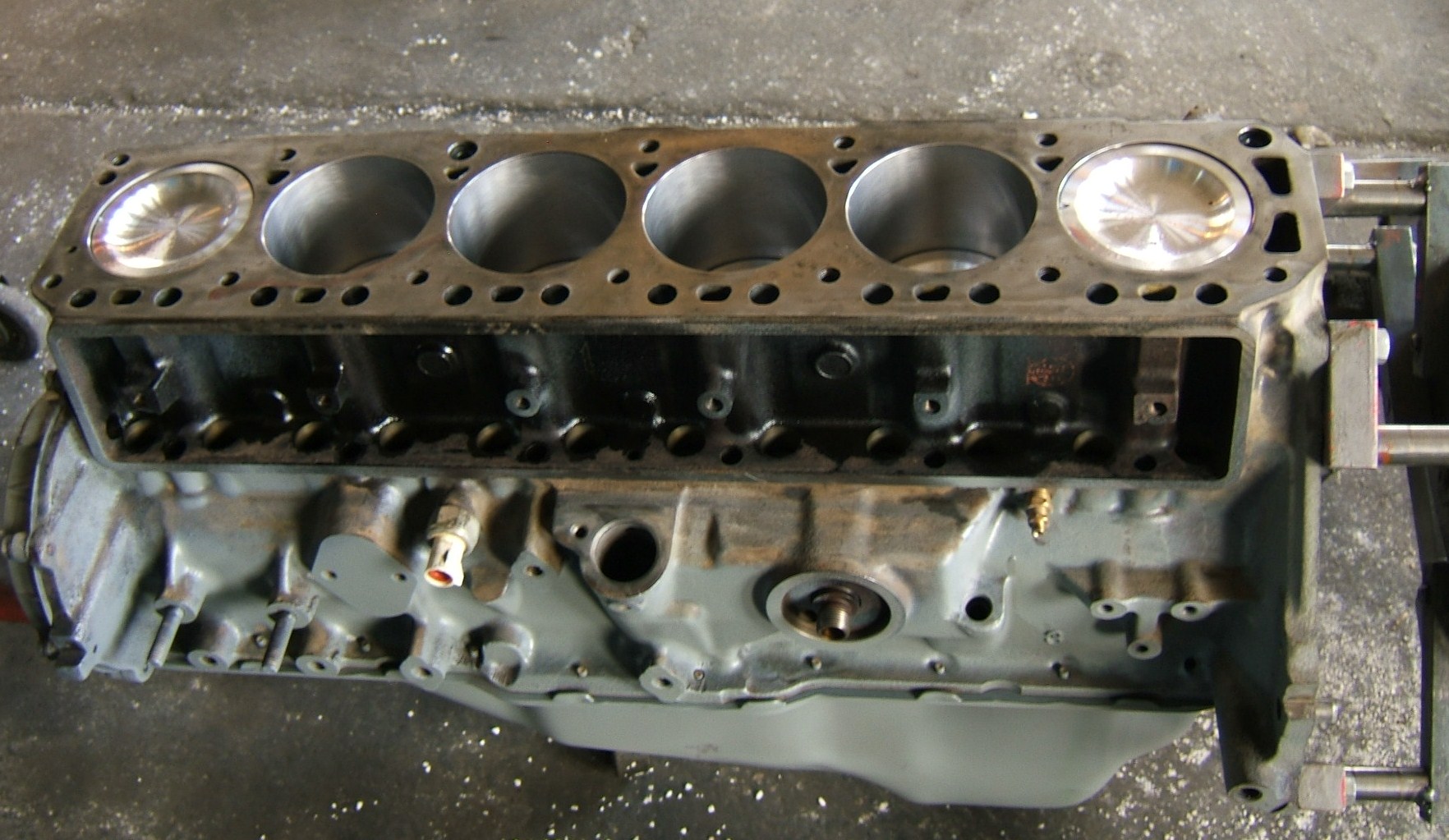 Another view of the bottom end.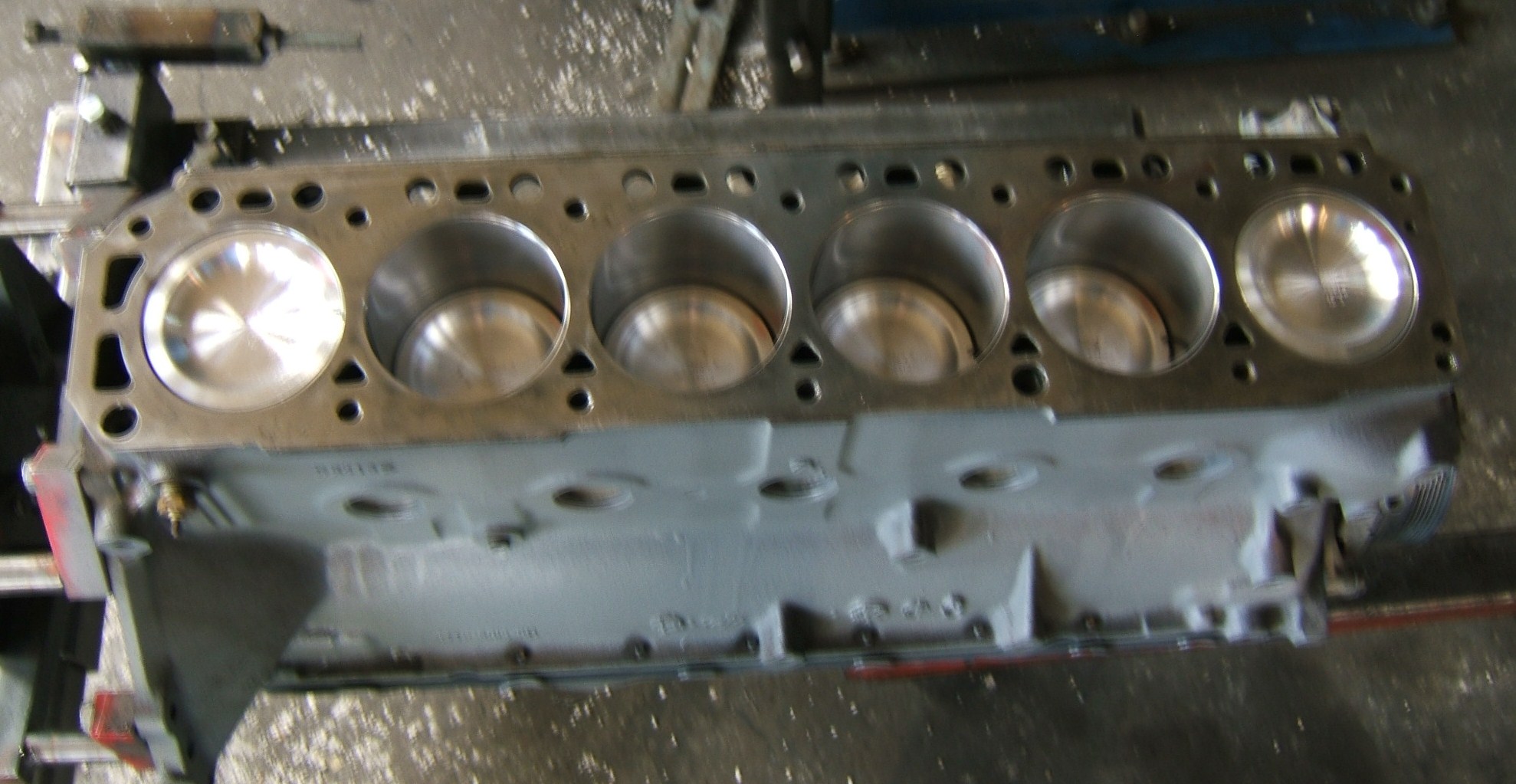 Another view of the bottom end.
So now we're waiting for the valves, pushrods, roller-rockers and other parts to arrive on Tuesday 14th Oct. When the head goes together I sure want a photo of that baby before it gets all buttoned-up!

Chris phoned to say the Roller-Rockers had arrived. I drove up to see them...

"OH, My Heavens!"

The roller rockers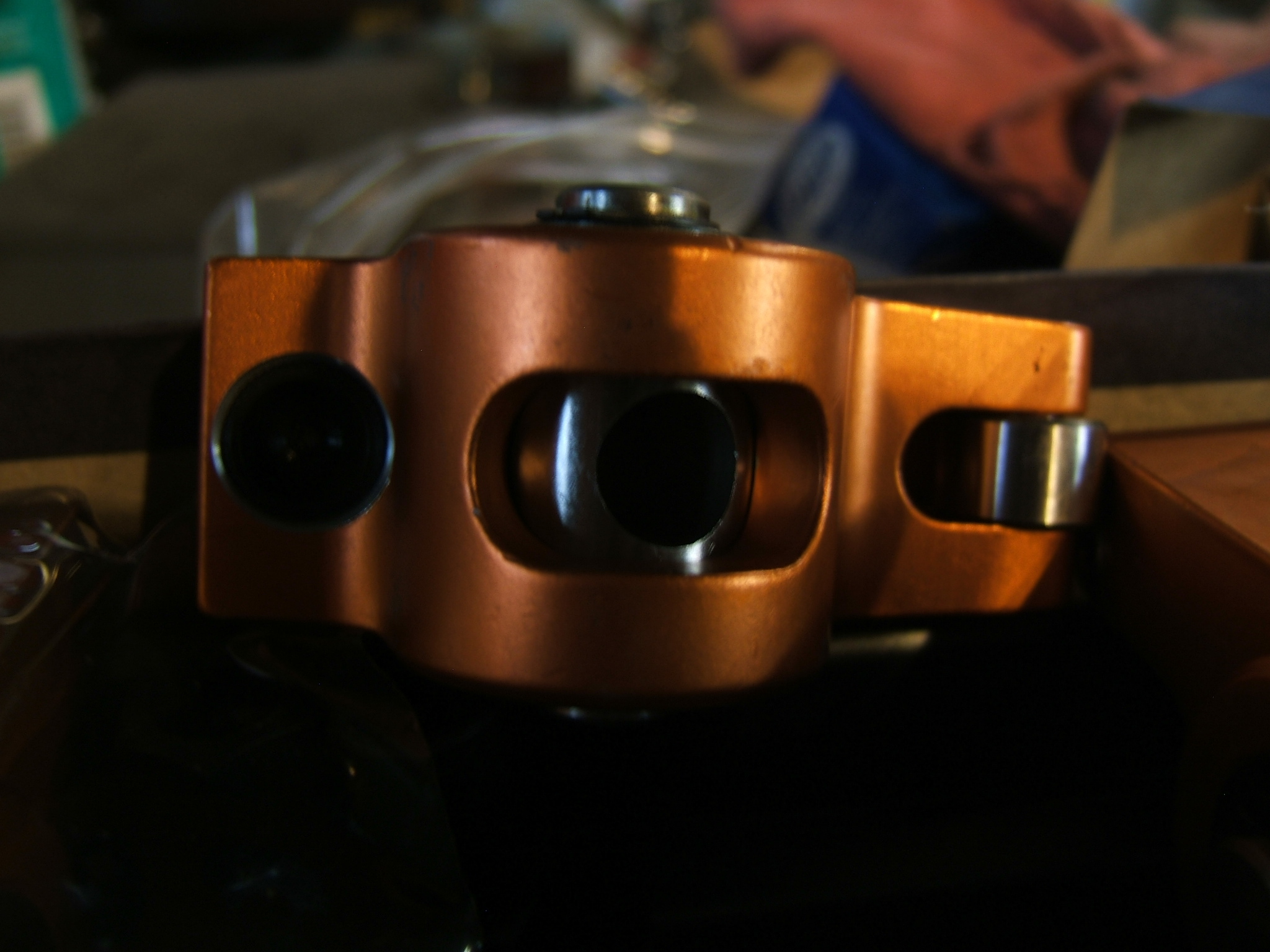 Roller Rockers again. Can you tell I'm happy with them?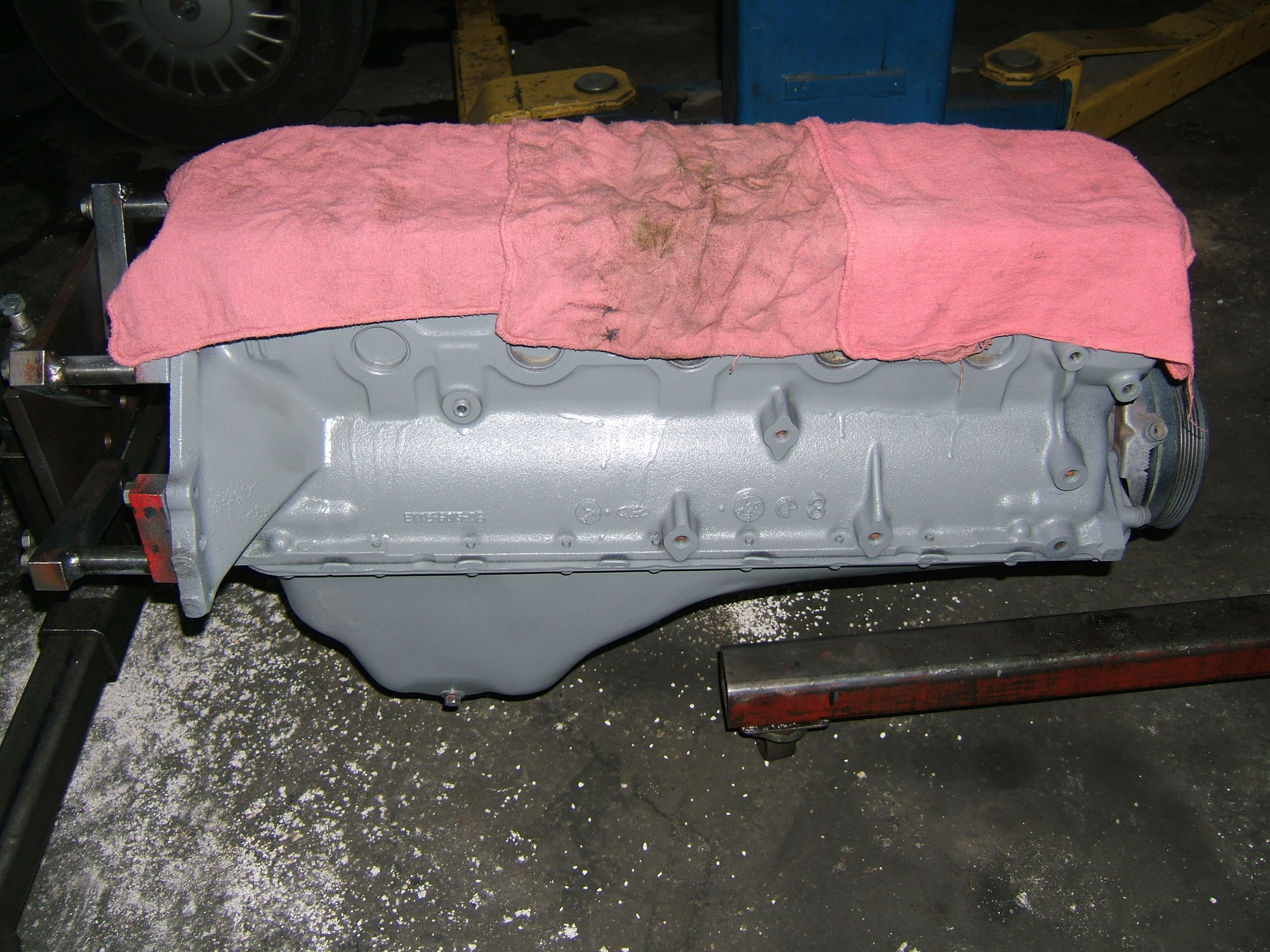 Bottom end waiting patiently for head. Do love that Battleship Grey Engine Paint. Reminds me of a piece of my prior life!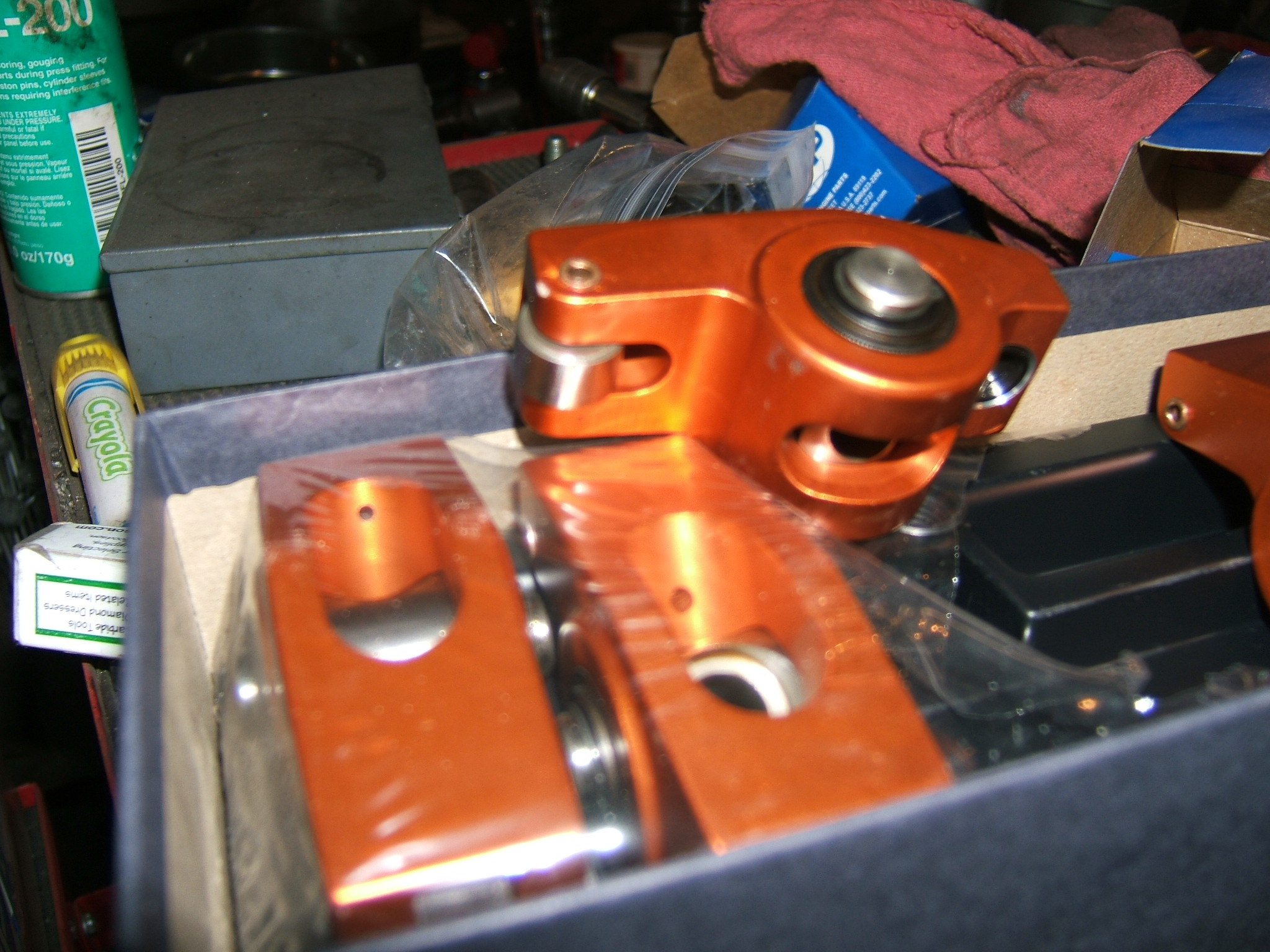 Another closeup of rockers. I asked Chris if he could find a glass rocker arm cover, so we could see all that pretty work he was putting up there. He said I'd just have to be content knowing it was there. Darn.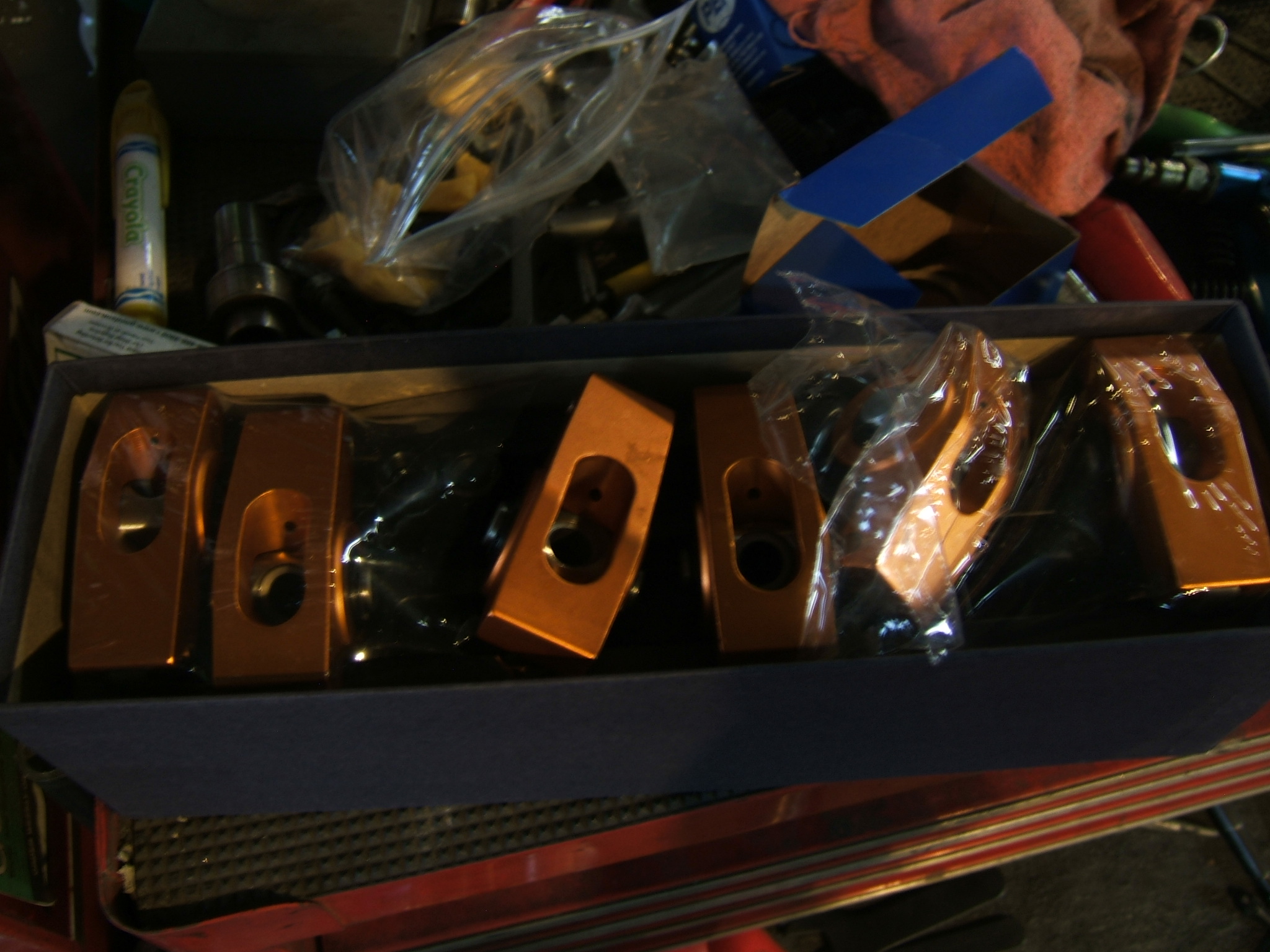 Rocker Arms again. Now, what was that old saying; "Six In A Row, Will Go!"?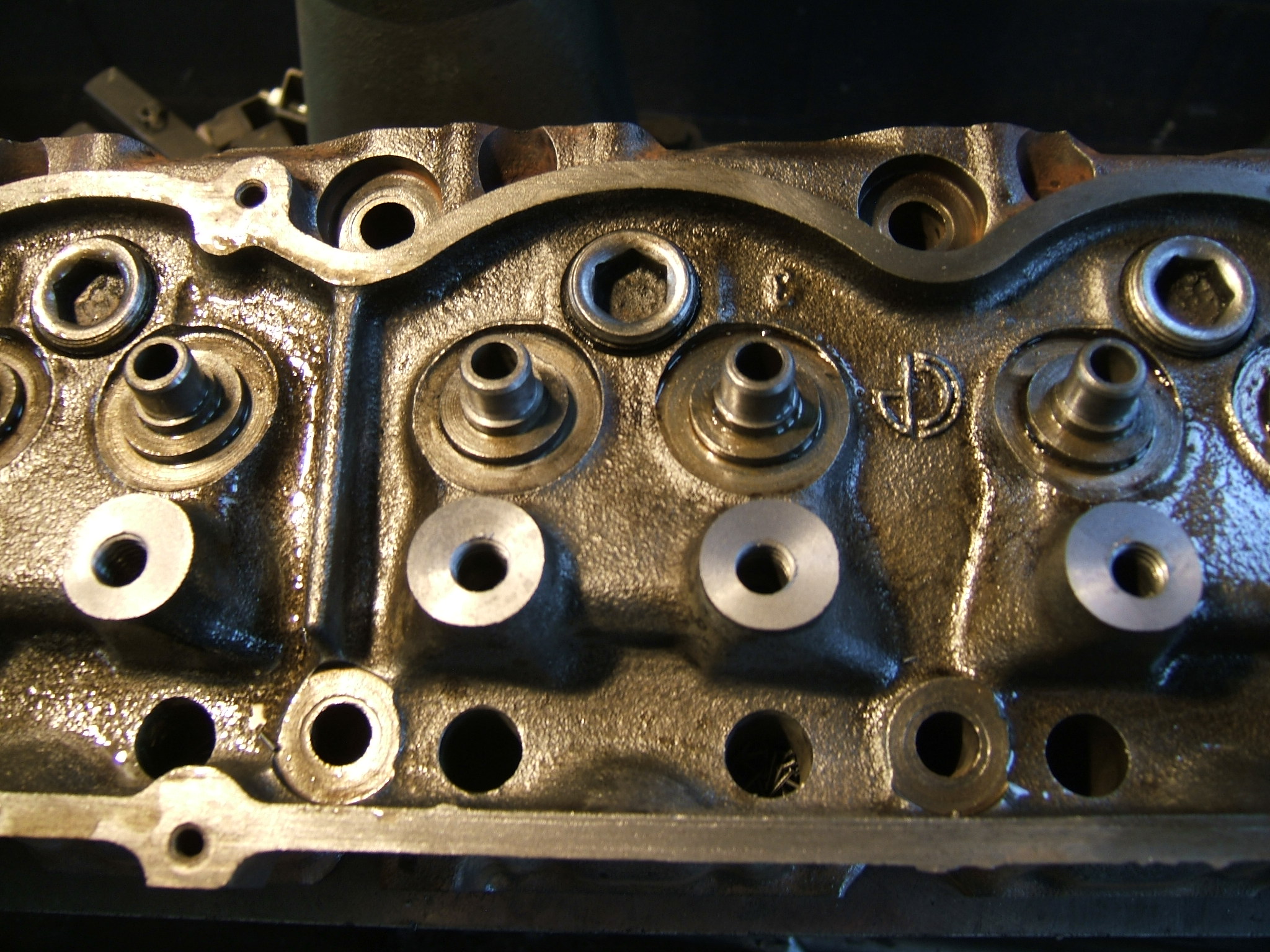 Closeup of mill work on head, getting ready for new rockers and other topside changes. Darn, that Chris does do some fine work! Go ahead, scroll back up to the top and see the scuzzy mess he found when he took the rocker arm cover off of the "fresh Ford Overhaul" and all the crud fell out on his floor. Doesn't even look like the same engine, does it!
Well, you can bet Chris is making me a happy camper now.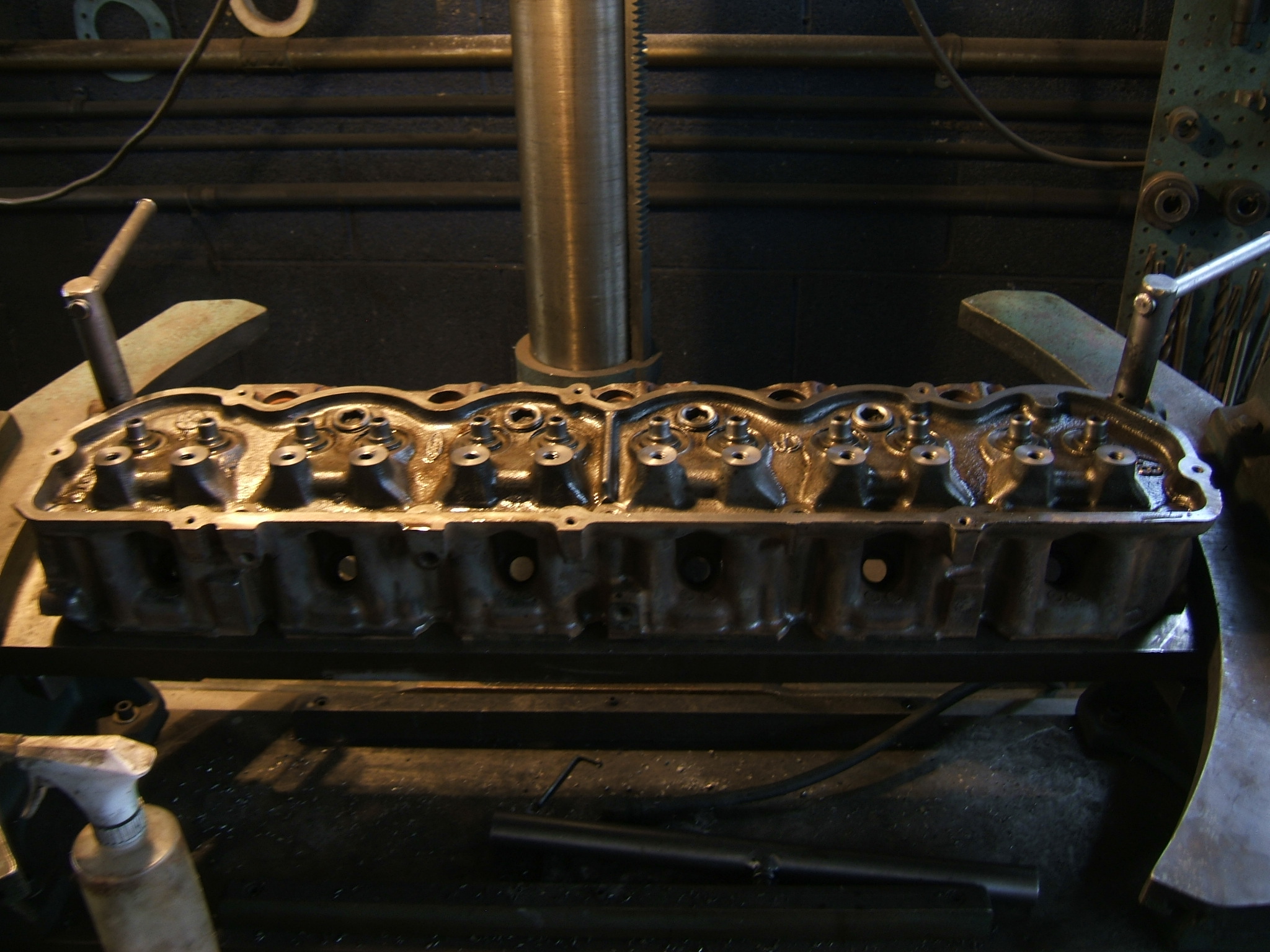 Same view as above, just not a closeup.

Stay tuned, Chris said more parts may be here tomorrow and he'll be configuring the head...
Sure enough, 12 October Chris was putting the top end on the engine.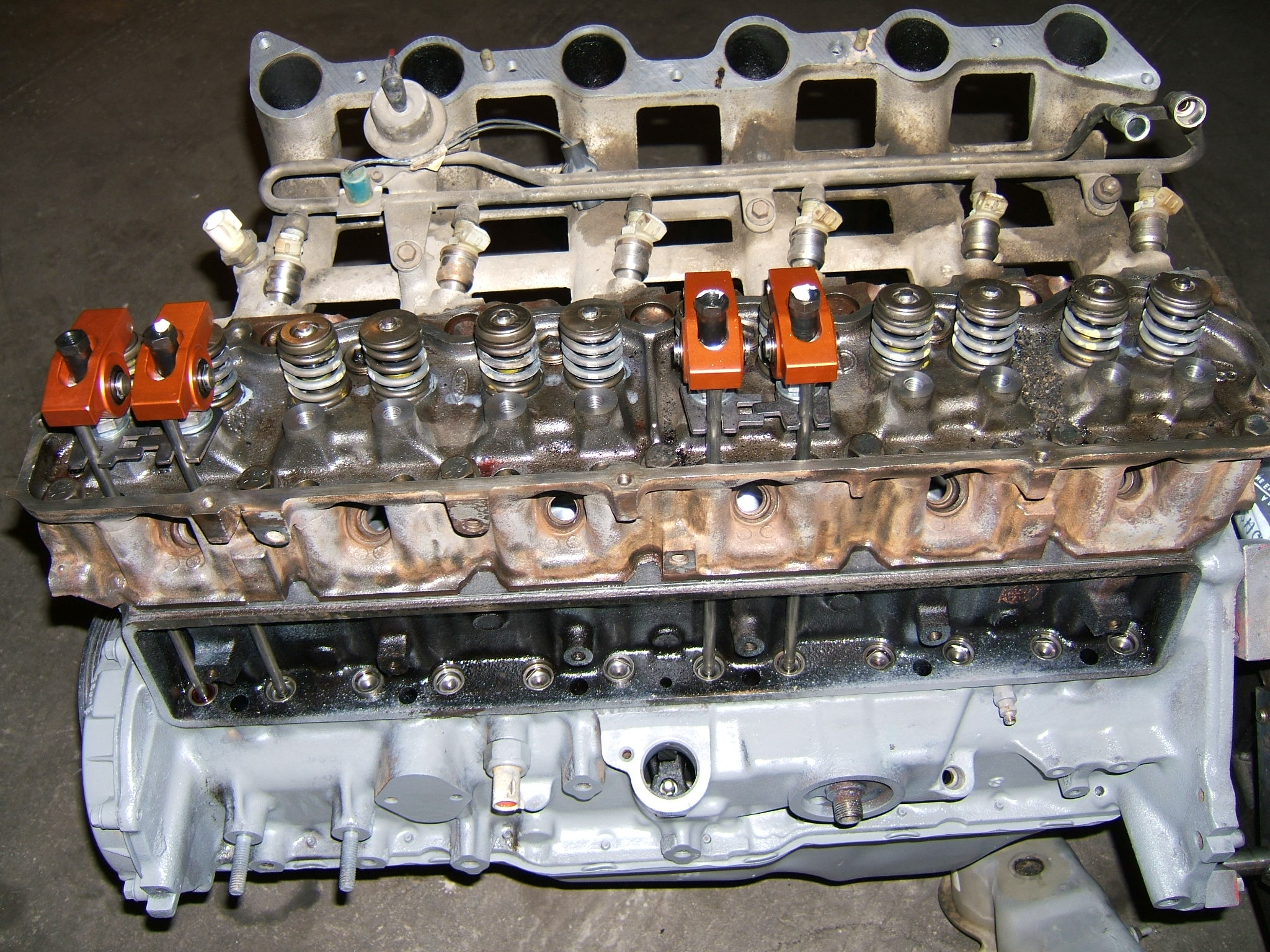 Upper parts came, Chris got his measurements and adjustments figured out.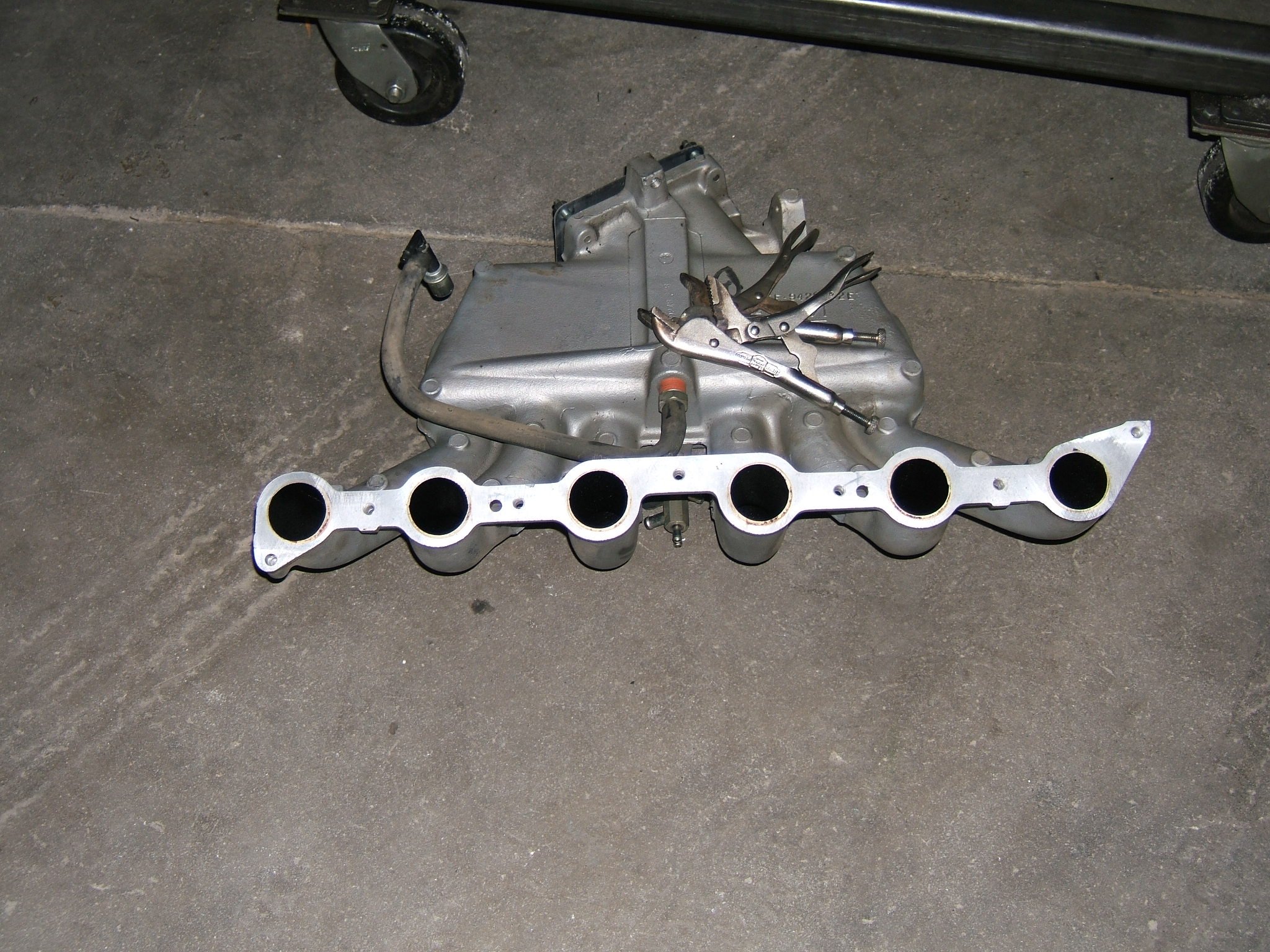 We're making progress, this job is getting closer to done.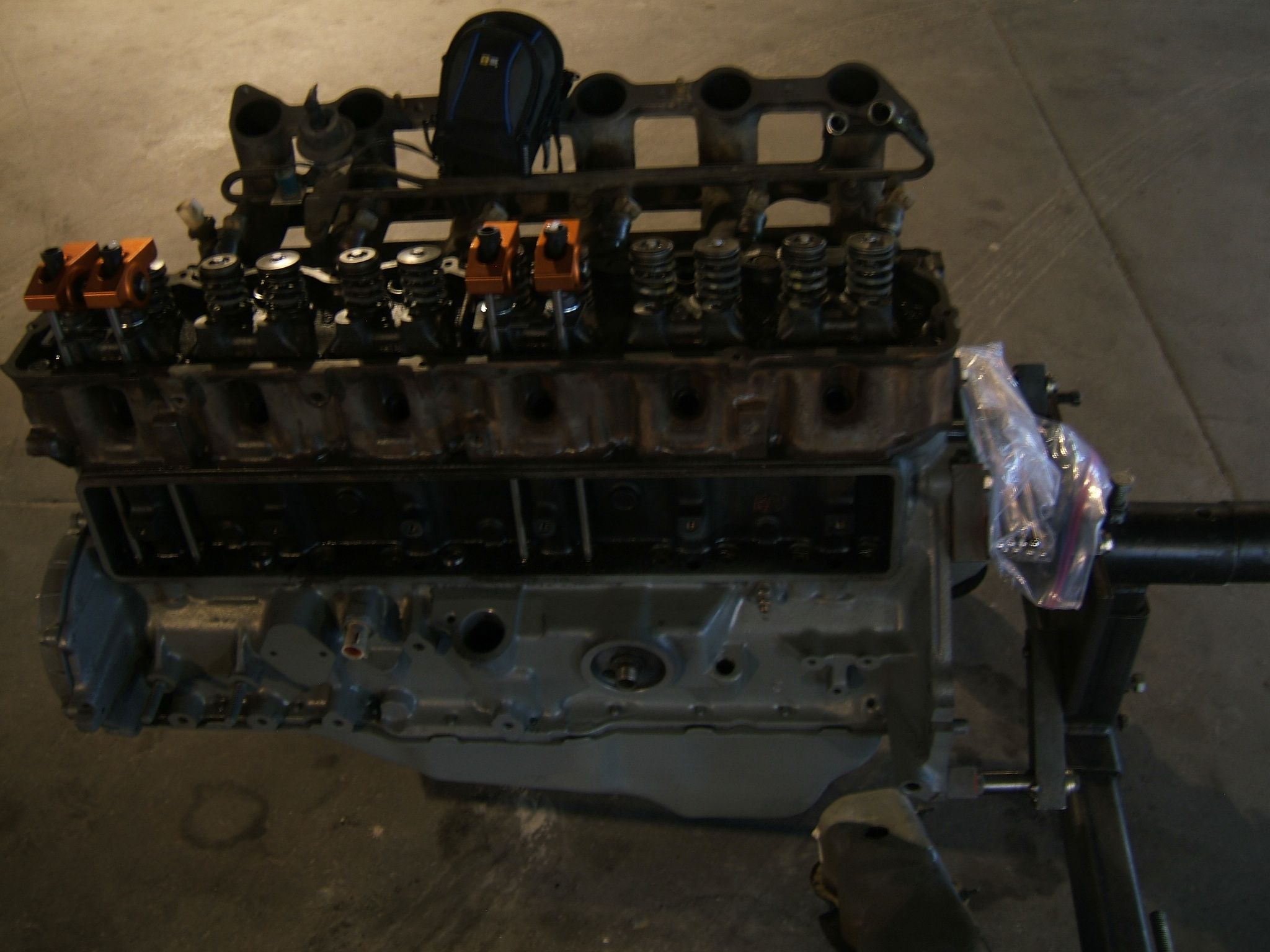 Another view of engine being put together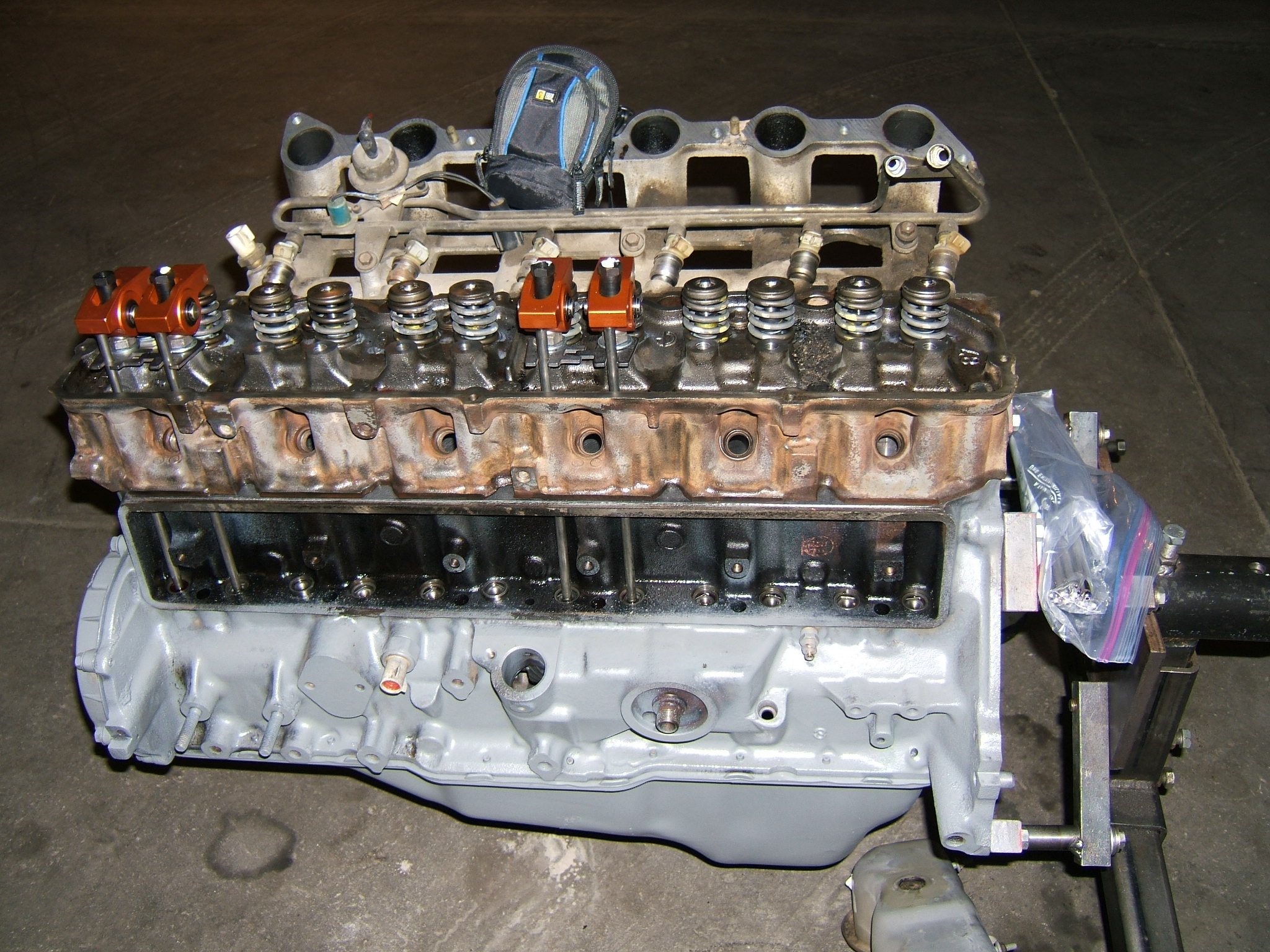 Rocker Arm Cover has to be modified because of the higher lift cam and taller mounting studs of the roller rockers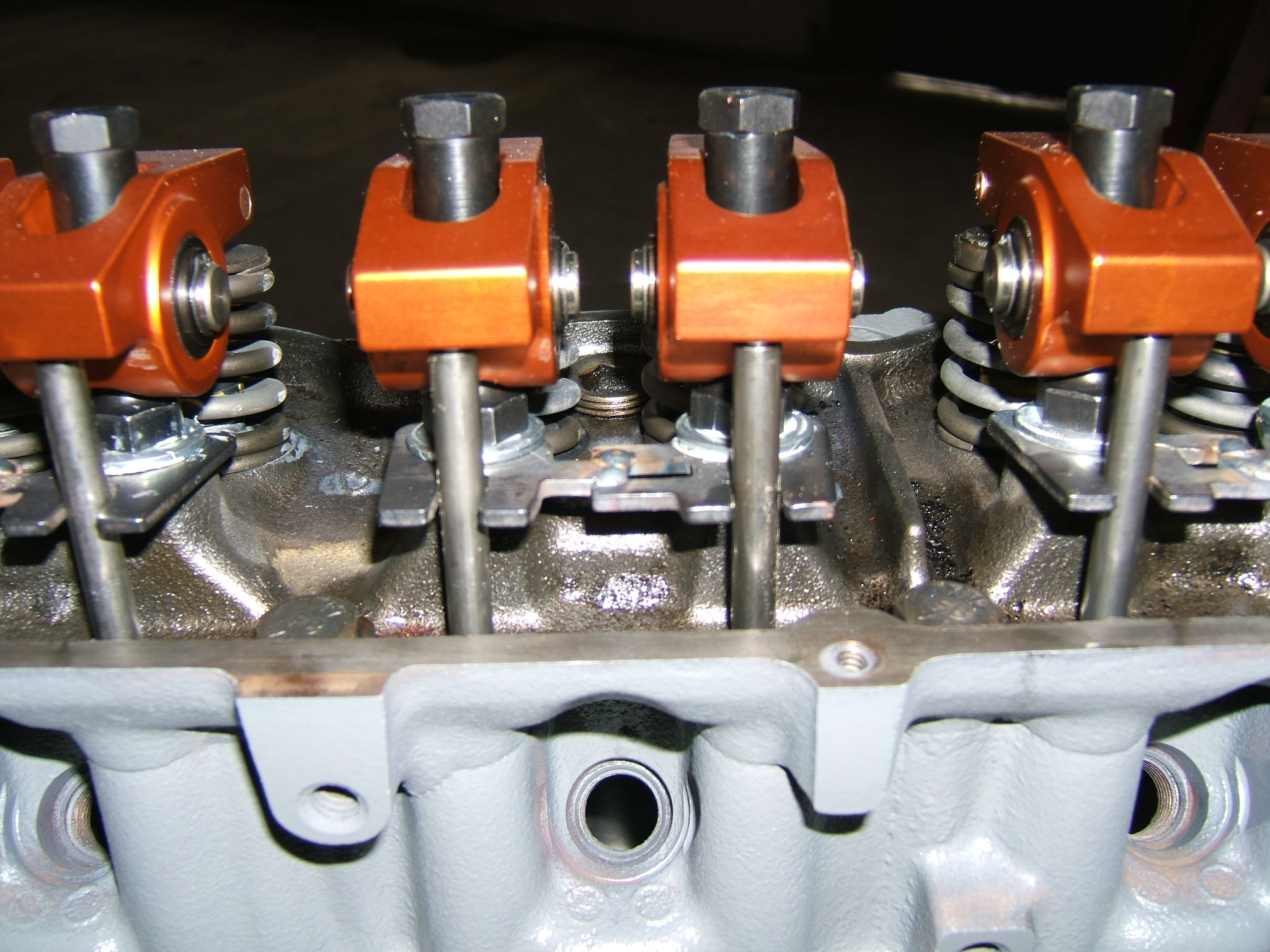 Closeup of Roller rockers with pushrod guides tig-welded in alignment by pairs. I've never seen this technique before, it's a Chris Sorensen special.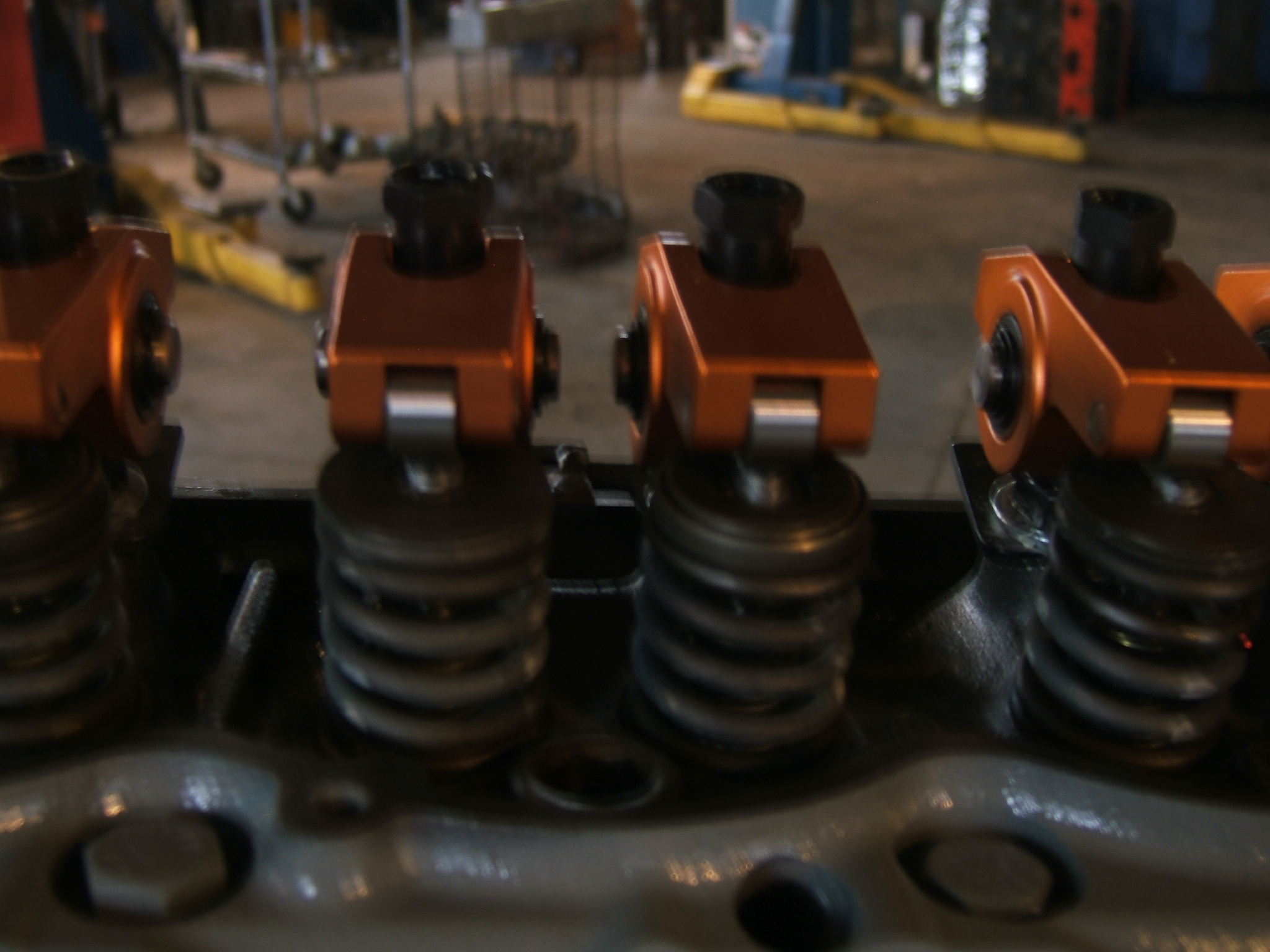 Closeup of Roller rockers, valve side

Stay tuned, Chris is on a roll now...
Last night Chris brought the truck back into the shop, for Frank to install the new heater core and master brake cylinder. He also had the engine ready to fine tune but he will do some more work inside the bell housing with the clutch and linkage and then try to find out why the Ford mechanic had disconnected the brake warning light in the dash. Just one mystery after another here. I'll be happy to see the engine back into the truck and getting fine-tuned. And I'll bet Chris will be also! For sure this wasn't just another "normal, stock" rebuild job, was it!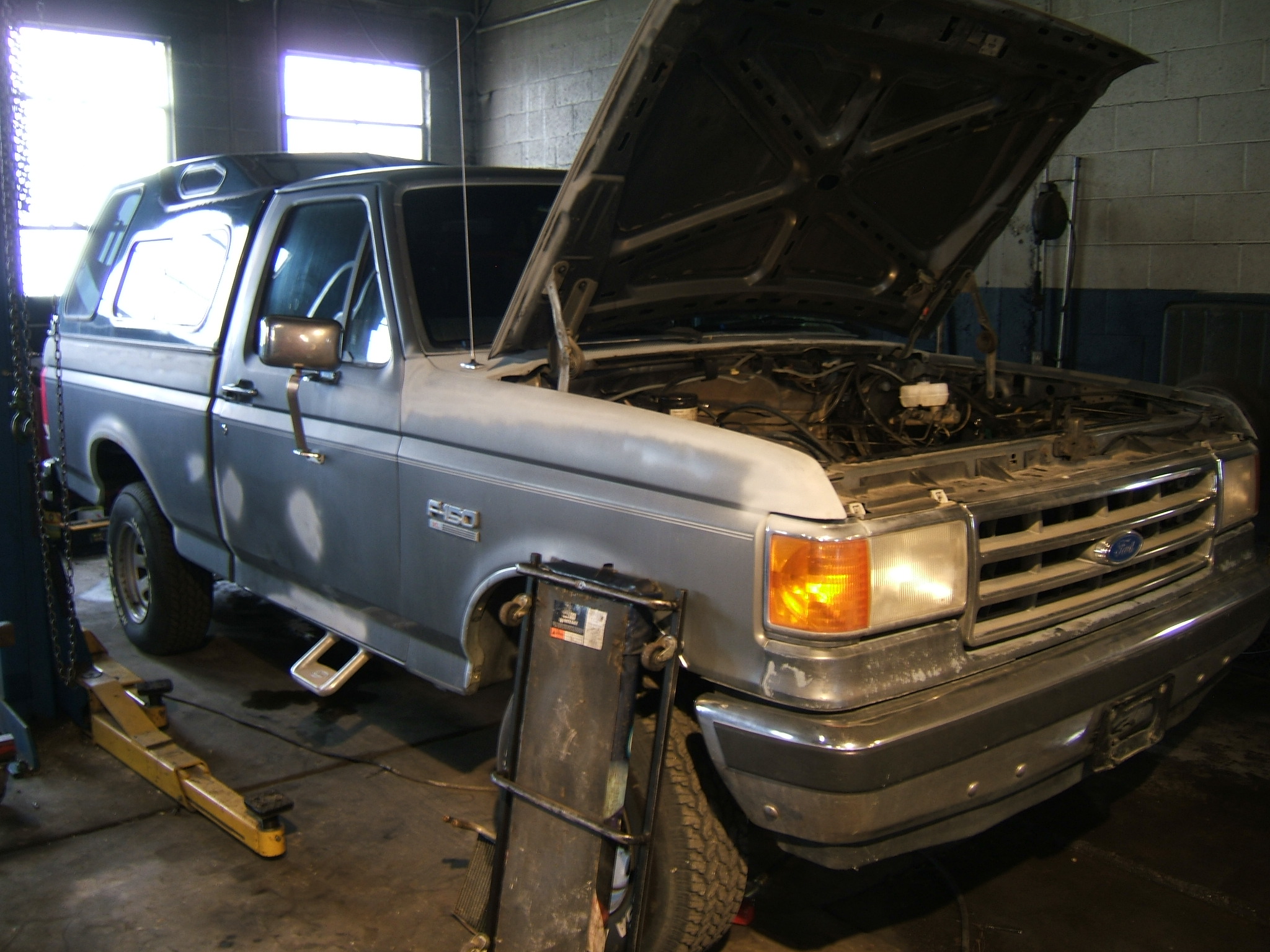 Getting ready to put everything back together.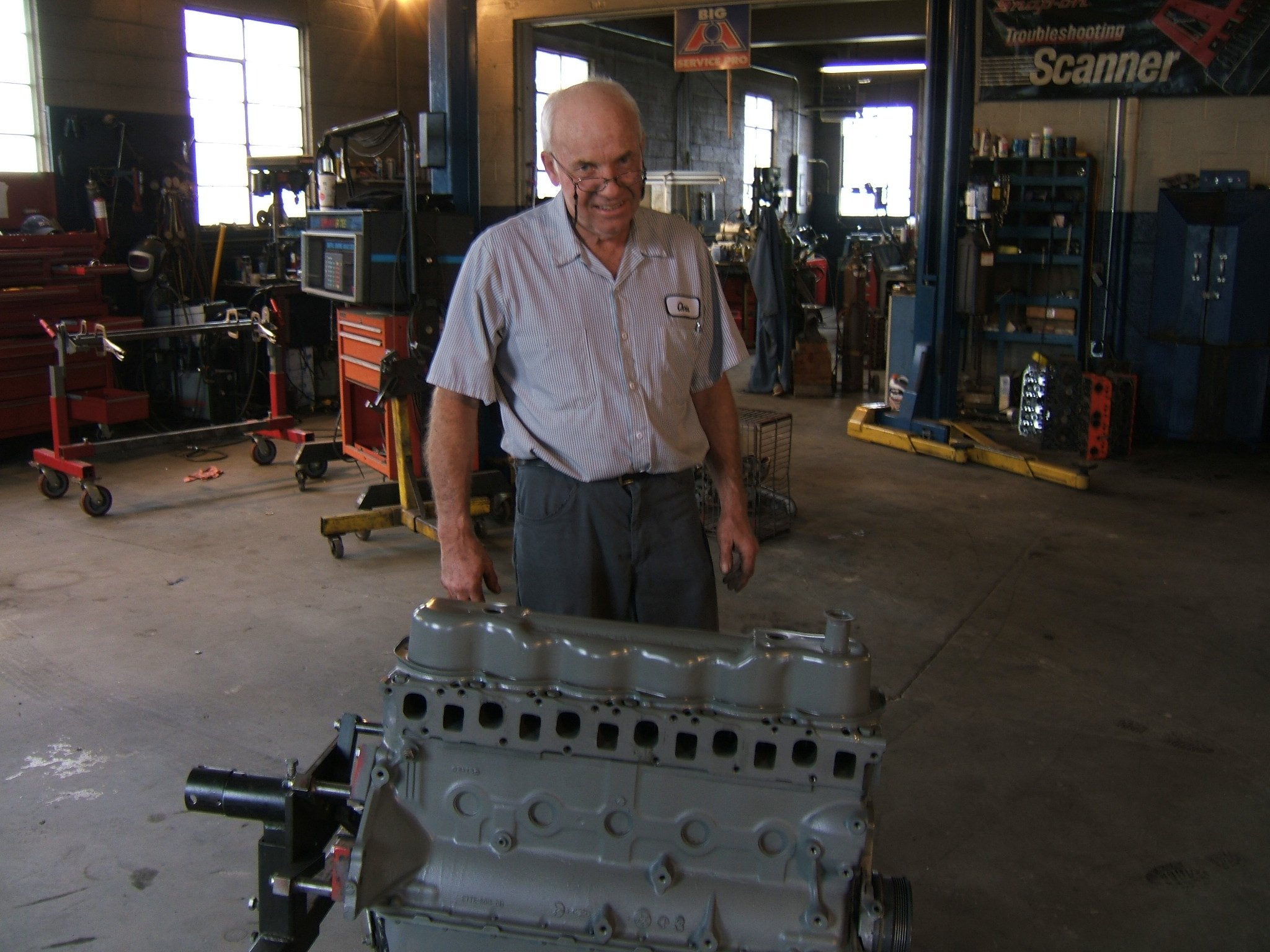 Chris is ready to lift the engine back into the truck.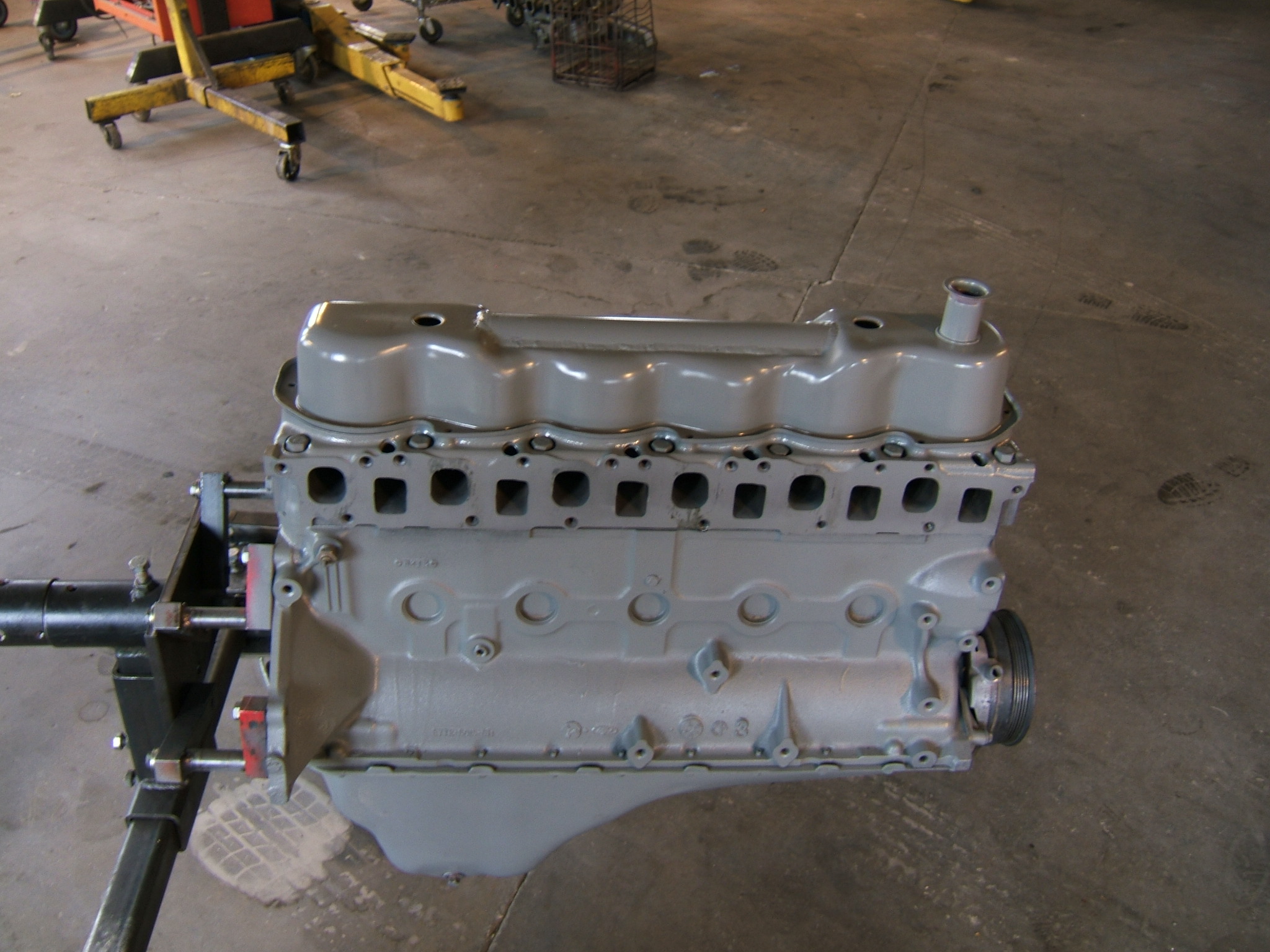 Same color as brand new, but much, much better. Ford only puts out engines like this in their dreams! See that modified rocker-arm cover? The raised tunnel is to accomodate the higher profile rockers.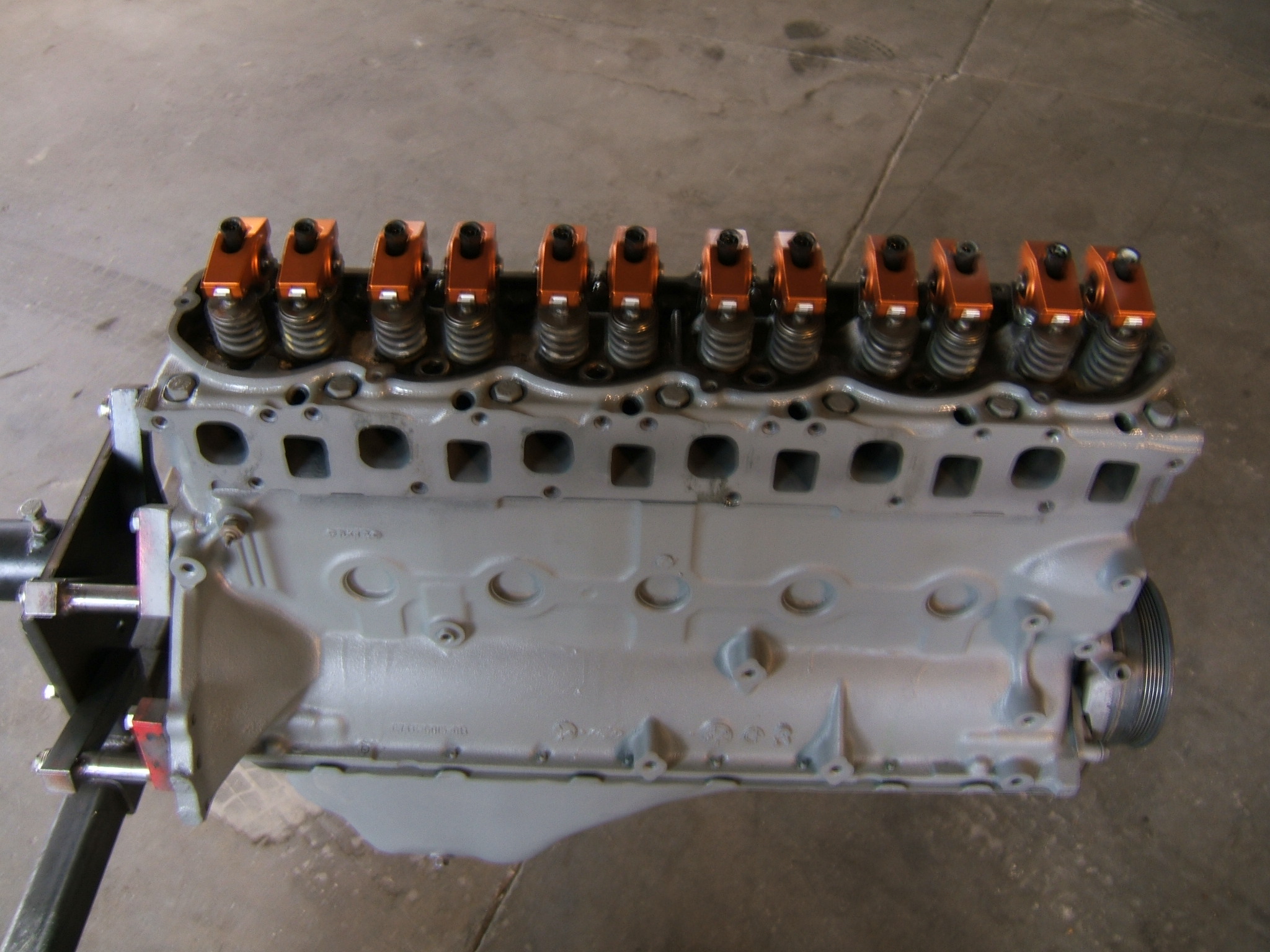 You know, it's just a thought, but; "What If..." What if Ford had of built them like this in the first place, and kept them in their public offerings, would they still be going broke today?
I don't think so!

I think there would be a loyal following that would have turned around the National balance of payments problem in the vehicle industry years ago!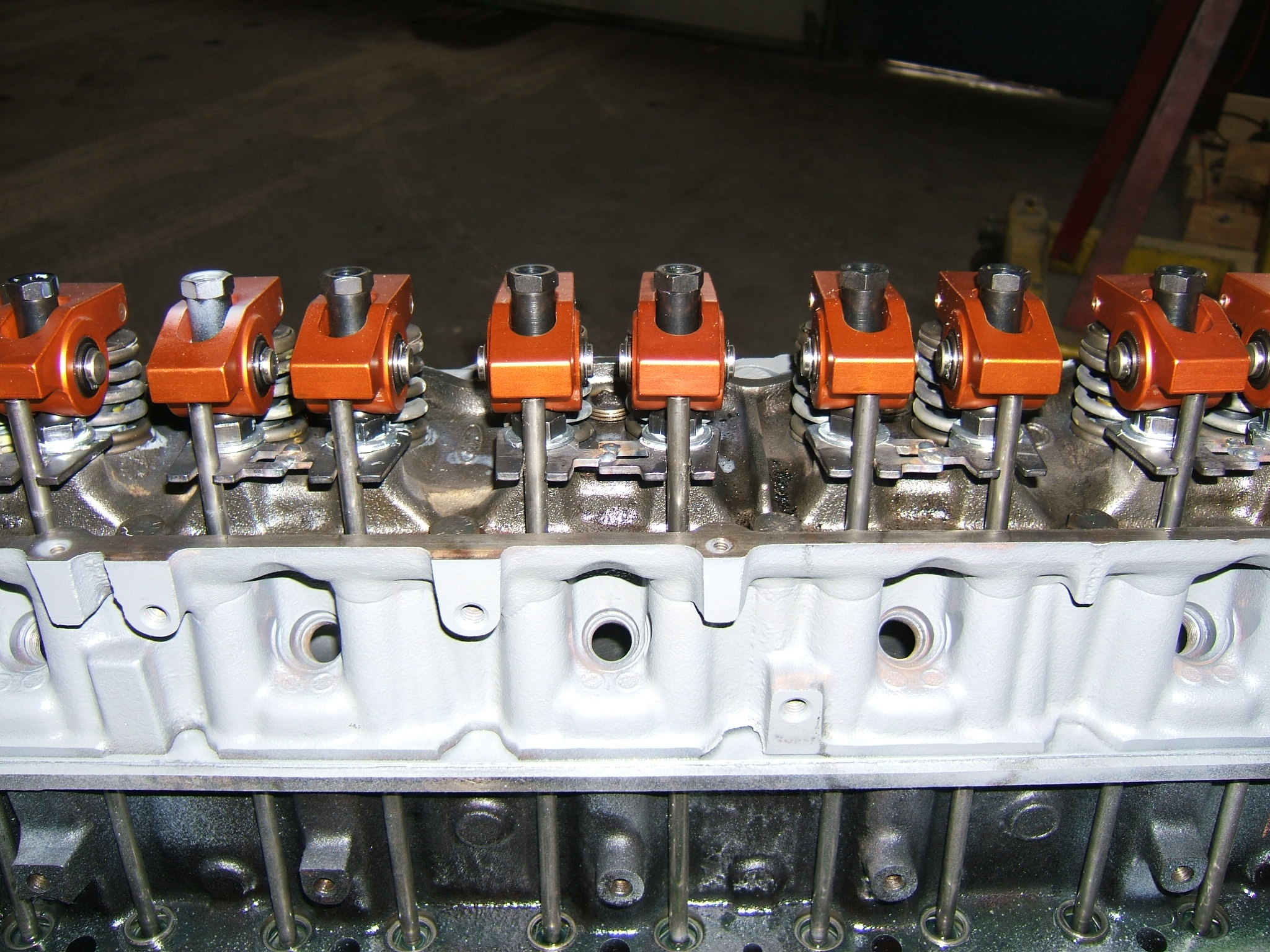 If you don't believe that, why not take a trip up to the Ford Trucks Inline-6 Forum and see all the loyalty to the "Big-Six".

Stay tuned, Chris is on a roll now...
Today he planned to bring the truck in for replacement of the heater core, radiator, and master brake cylinder. By then he will likely be ready to reinstall the rebuilt engine. I'm ready, and I'll bet he is also! But then, on the other hand, this wasn't just another "normal, stock" rebuild job, was it!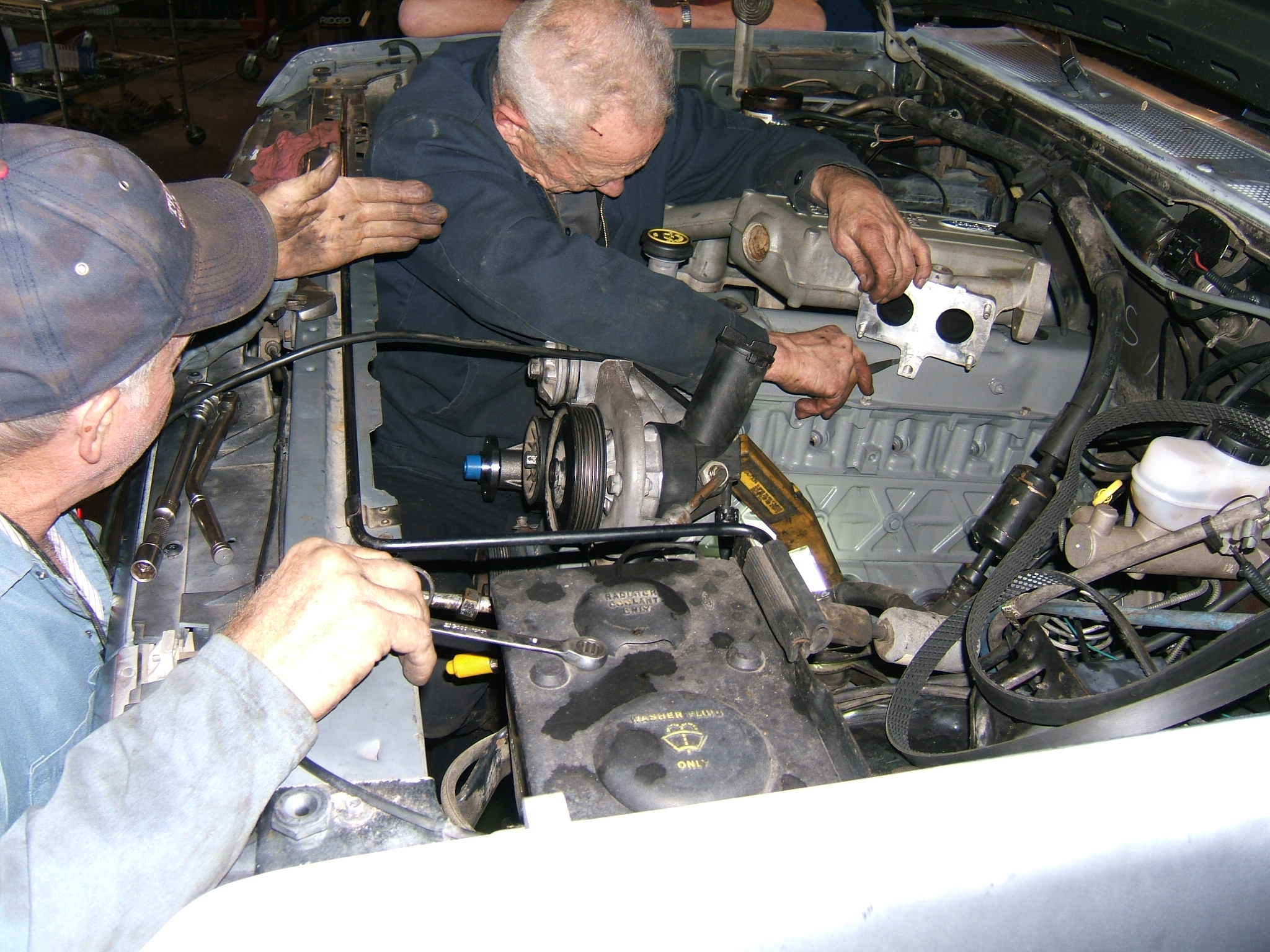 Engine being replaced. Chris and Frank really like to get into their work, literally...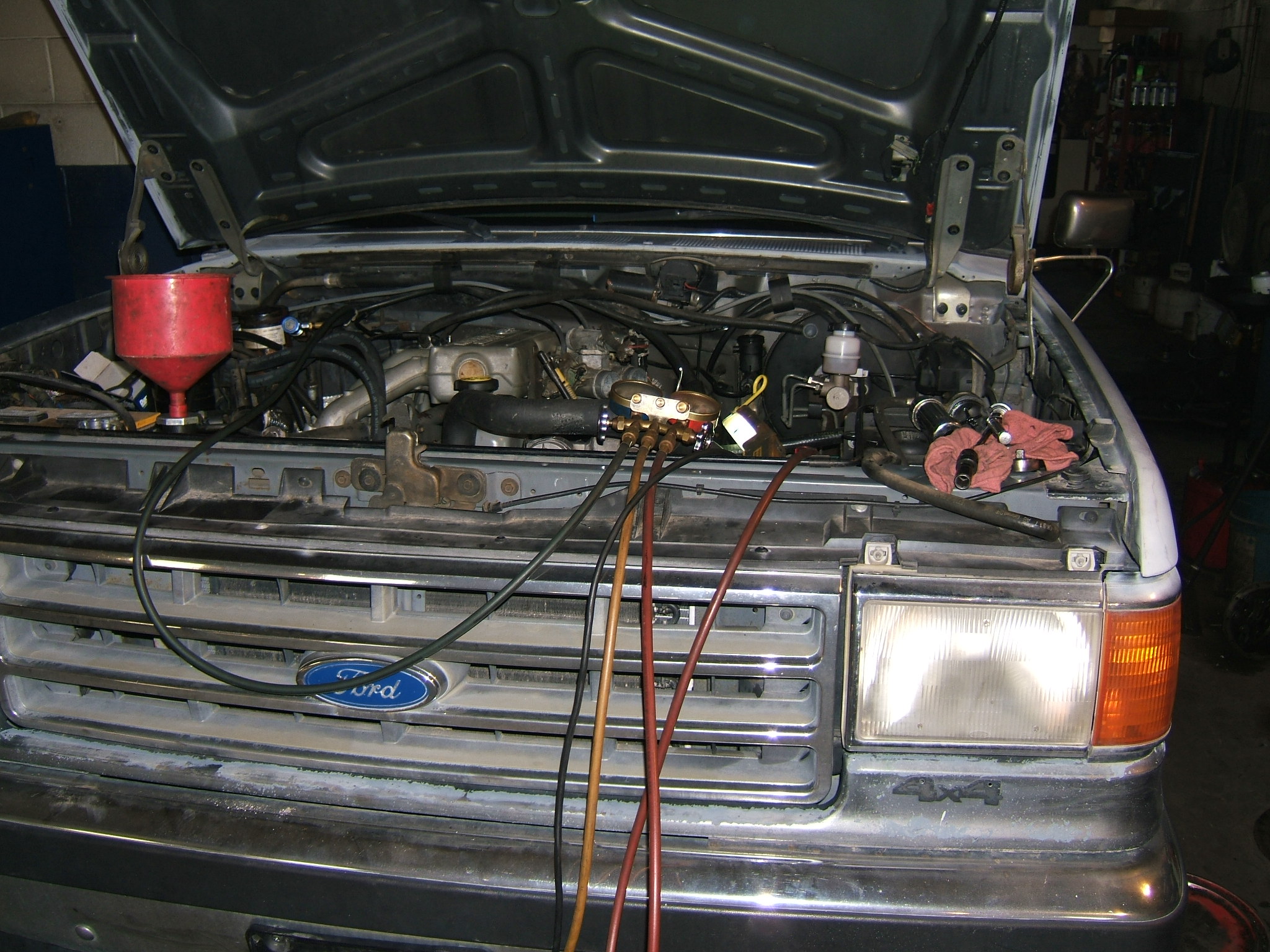 Chris and Frank have the engine in, Frank is checking the A/C system while filling the cooling system. That new radiator sure is pretty.
Chris went to start the truck so he could move it back. The clutch would not disengage because the clutch/brake pedal support assembly was flexing too badly. Remember that bushing the Ford mechanic replaced when I bought the truck? Apparently it worked for the existing weakened clutch, but not for the increased pressure of the new clutch assembly.
Frank will have to fix the problem, and I know it involves removing the dash, so I'll come back in a day or two.

Well, now, wouldn't you just know it...
Compliments of the ford dealer mechanic
Now Chris and Frank have to actually fix it!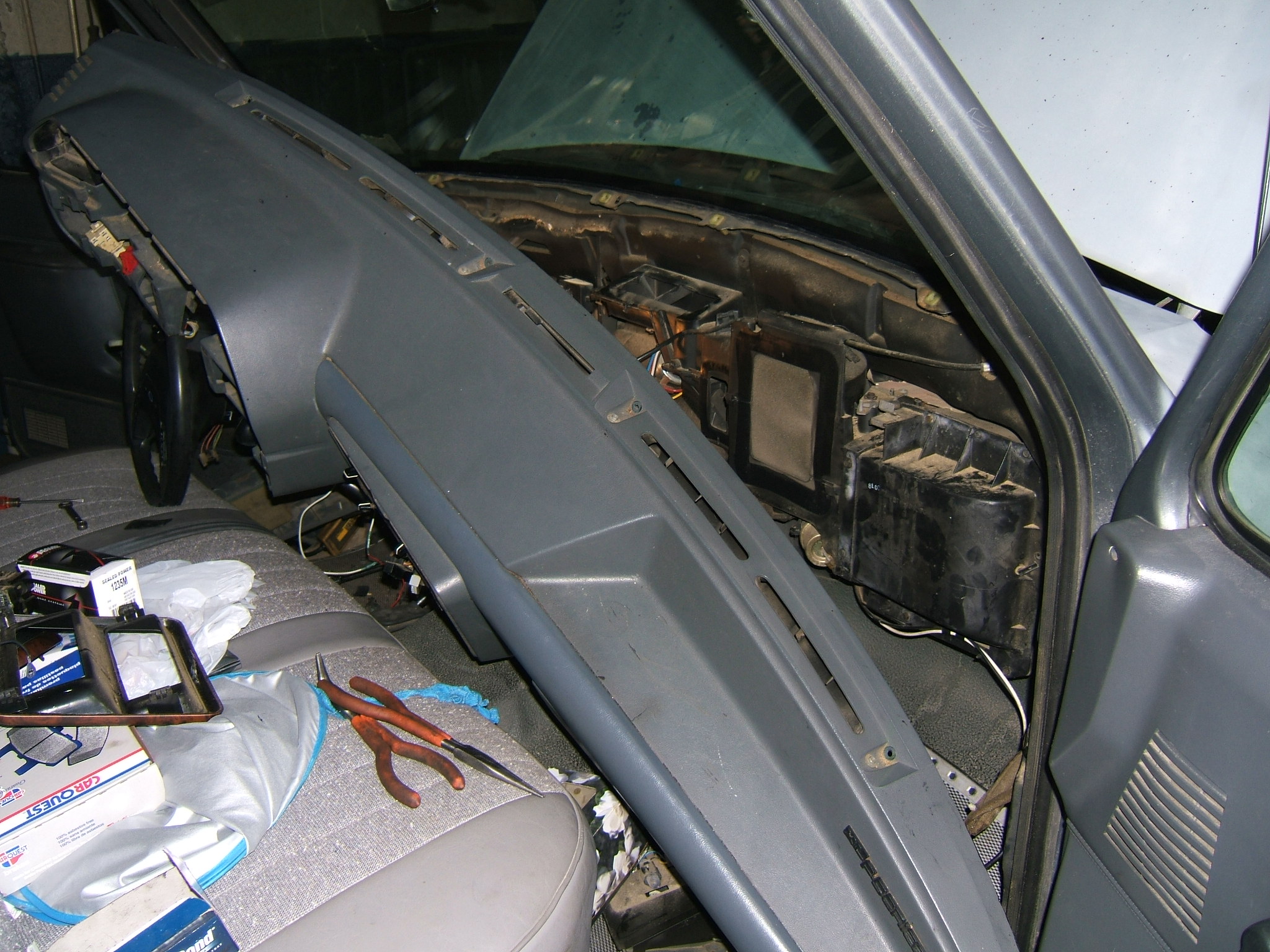 Before buying the truck I insisted the Ford mechanic fix the clutch. It flexed and squealed under the dash. So I watched the ford mechanic install a bushing under the dash. It mostly quieted the squeak, but you could still hear a slight flexing, which ford mechanic said was normal for that truck. It became worse quickly. Just more ford mechanic bullshitte, as it turned out.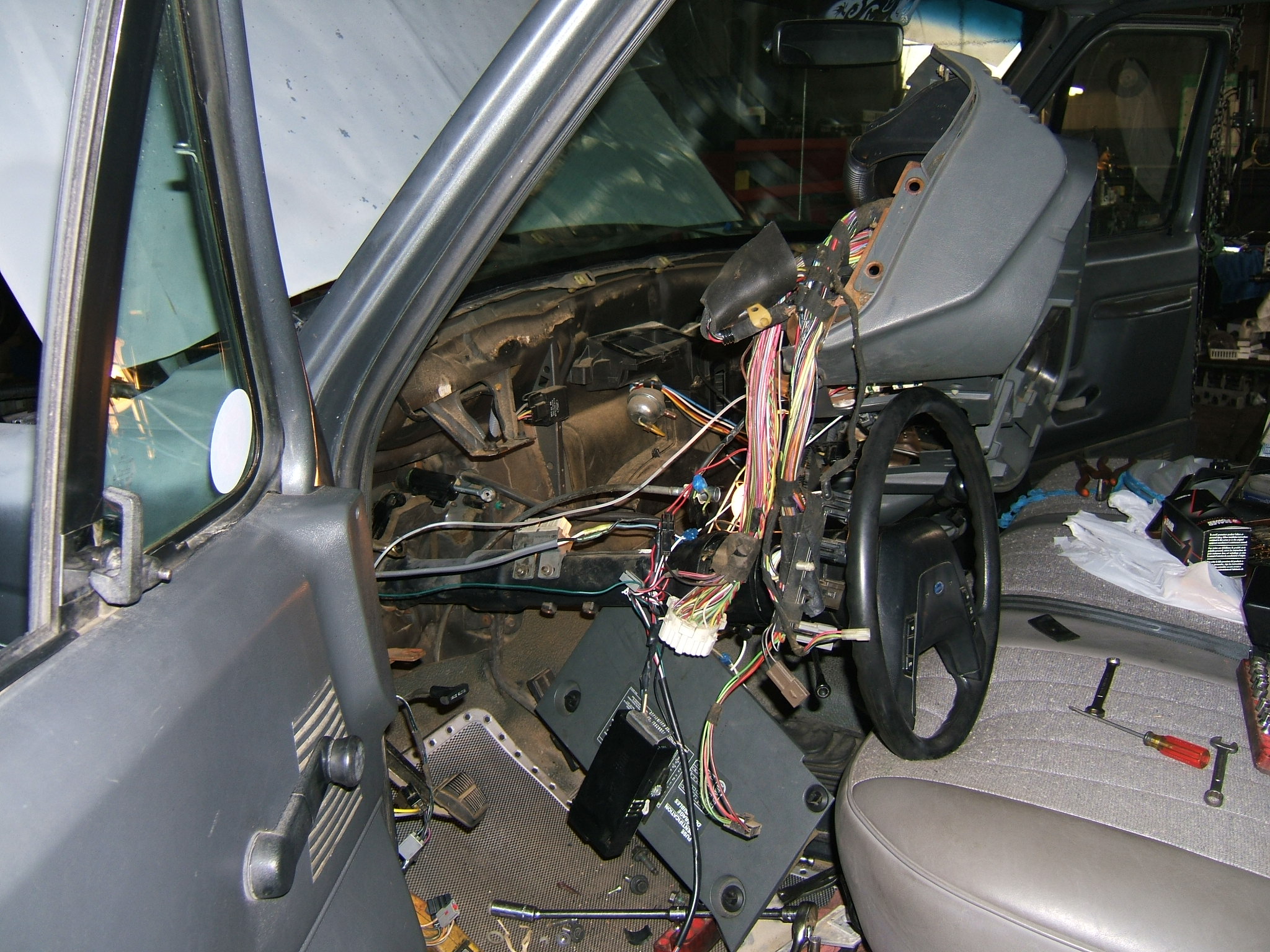 Clutch pedal assembly repair

Clutch pedal assembly repair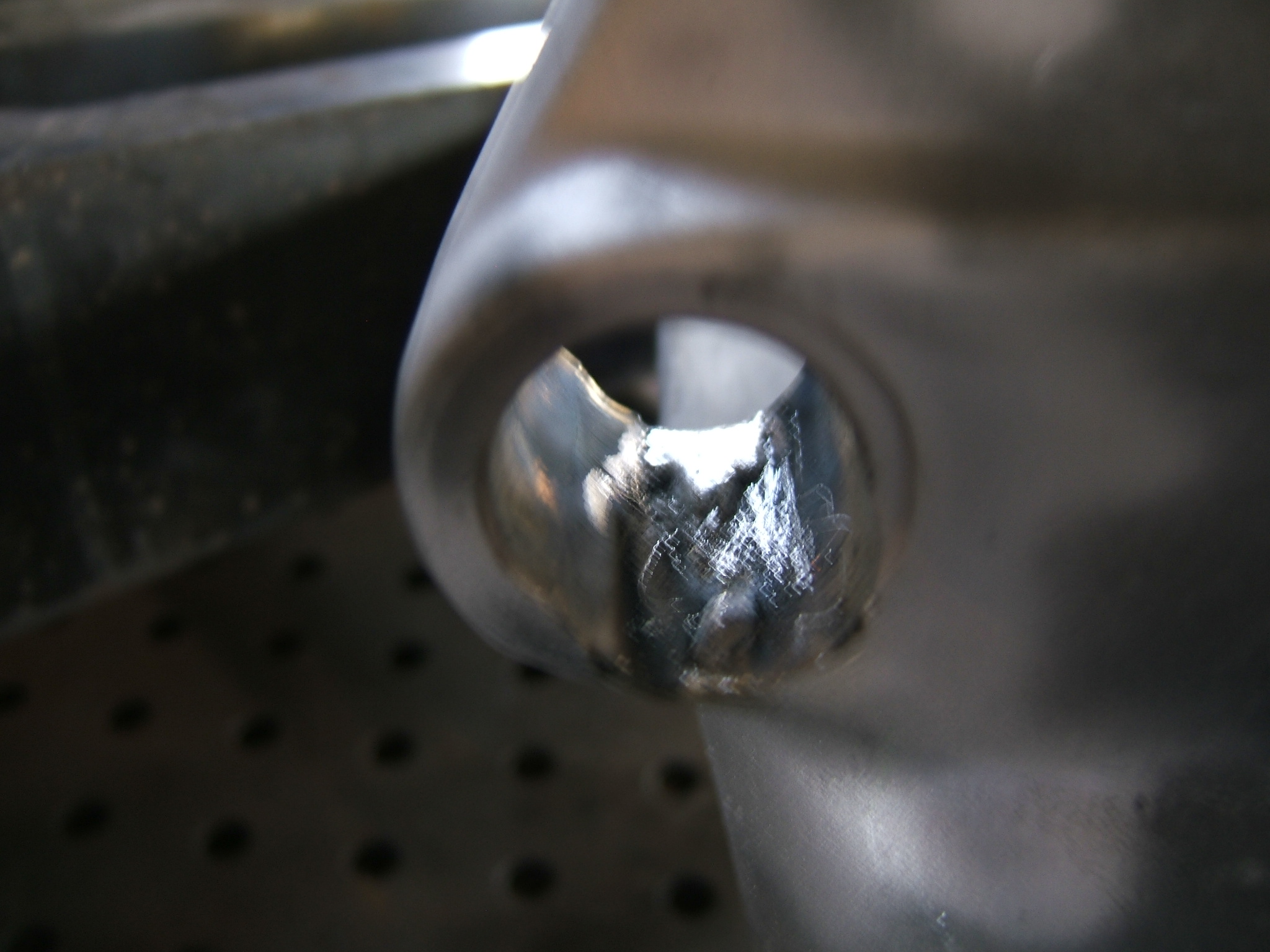 Chris tried to lay weld into the worn out portion of the support bracket, but was unable to get the pattern he wanted. So he has to fabricate this part of the bracket, weld it back on, and then drill it out to accept the bushing properly. If this had failed out on the desert I would have lost not only the clutch but also the brakes because the support rod would have been on a bind.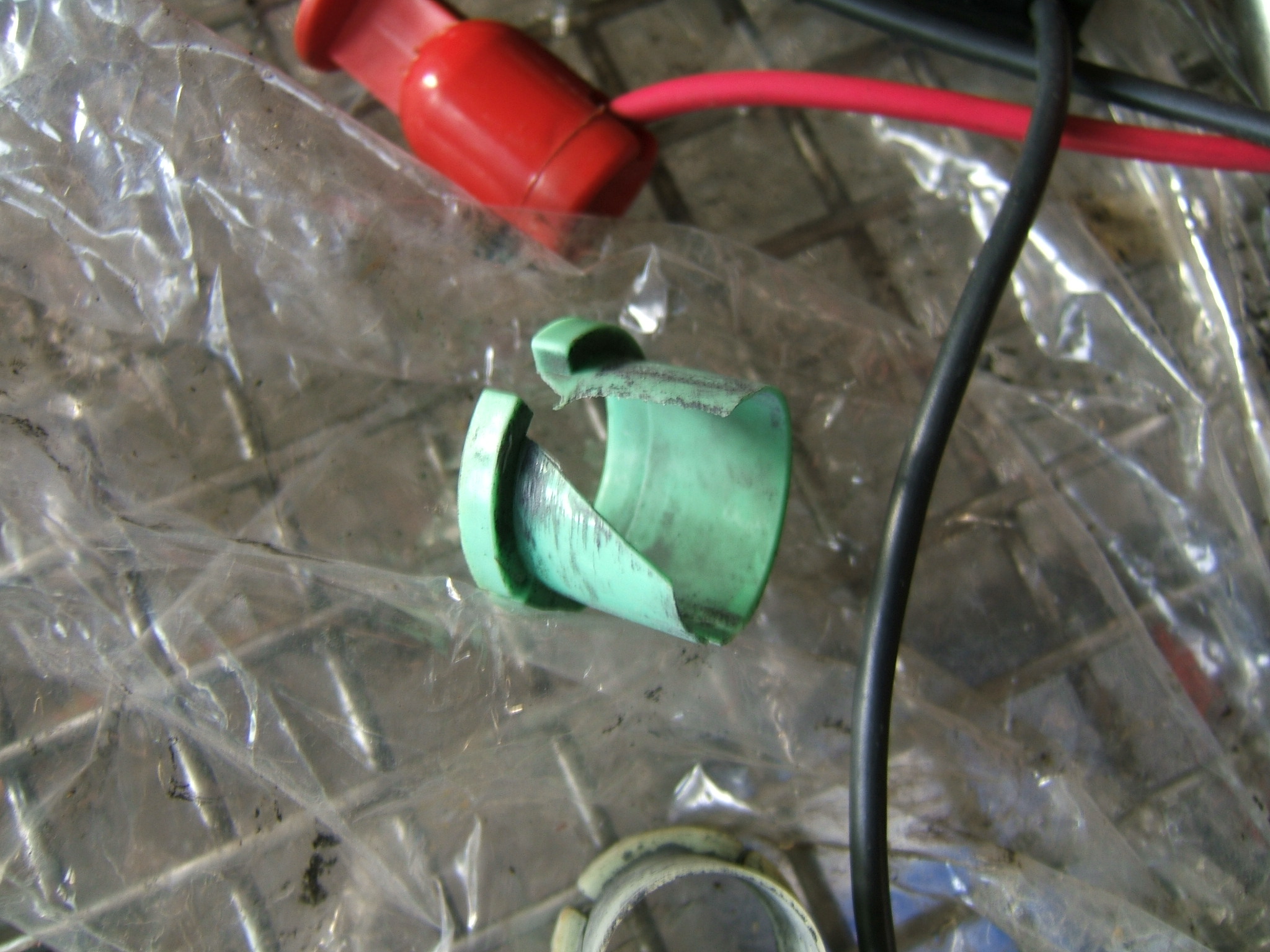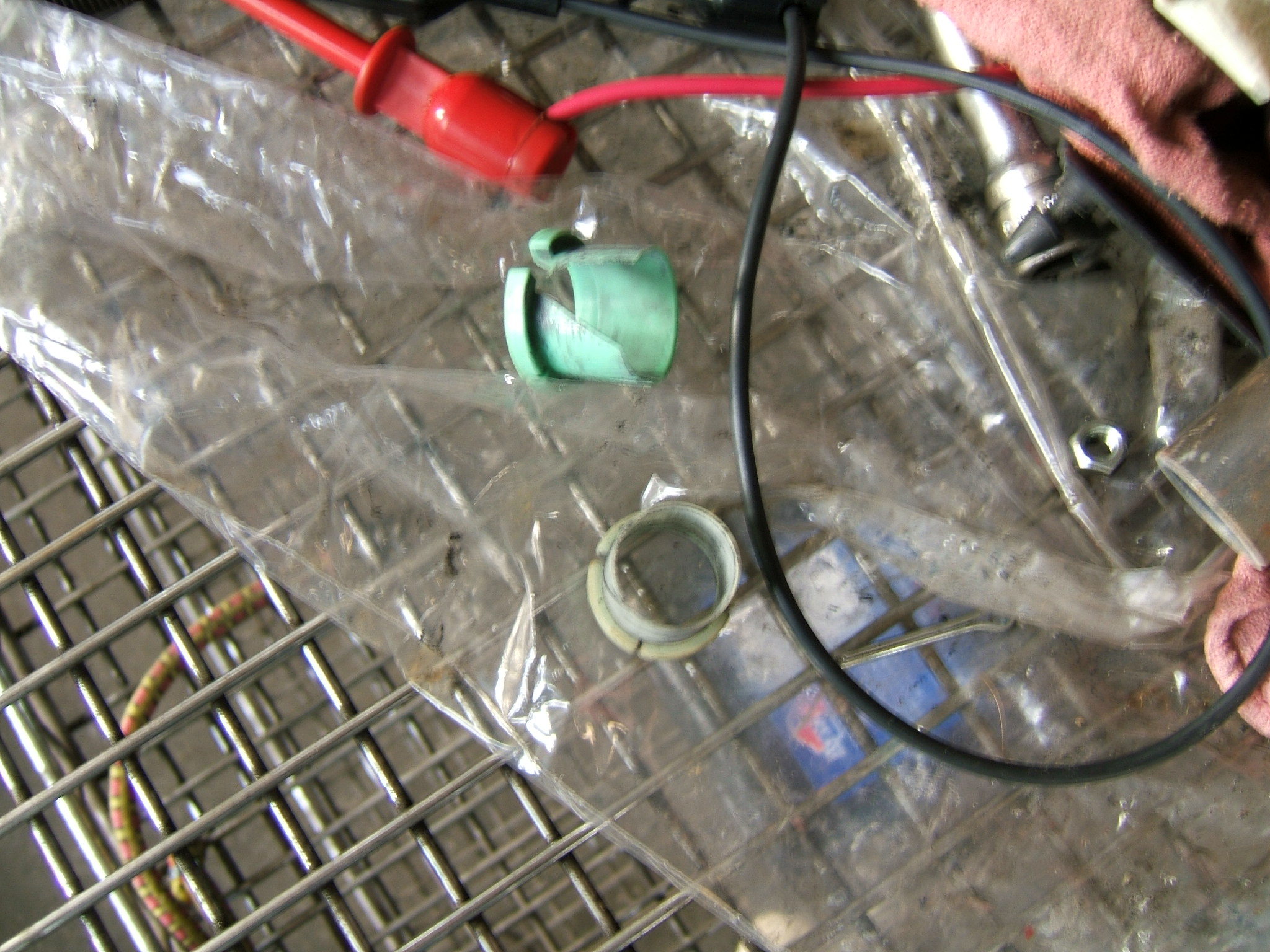 Clutch pedal assembly repair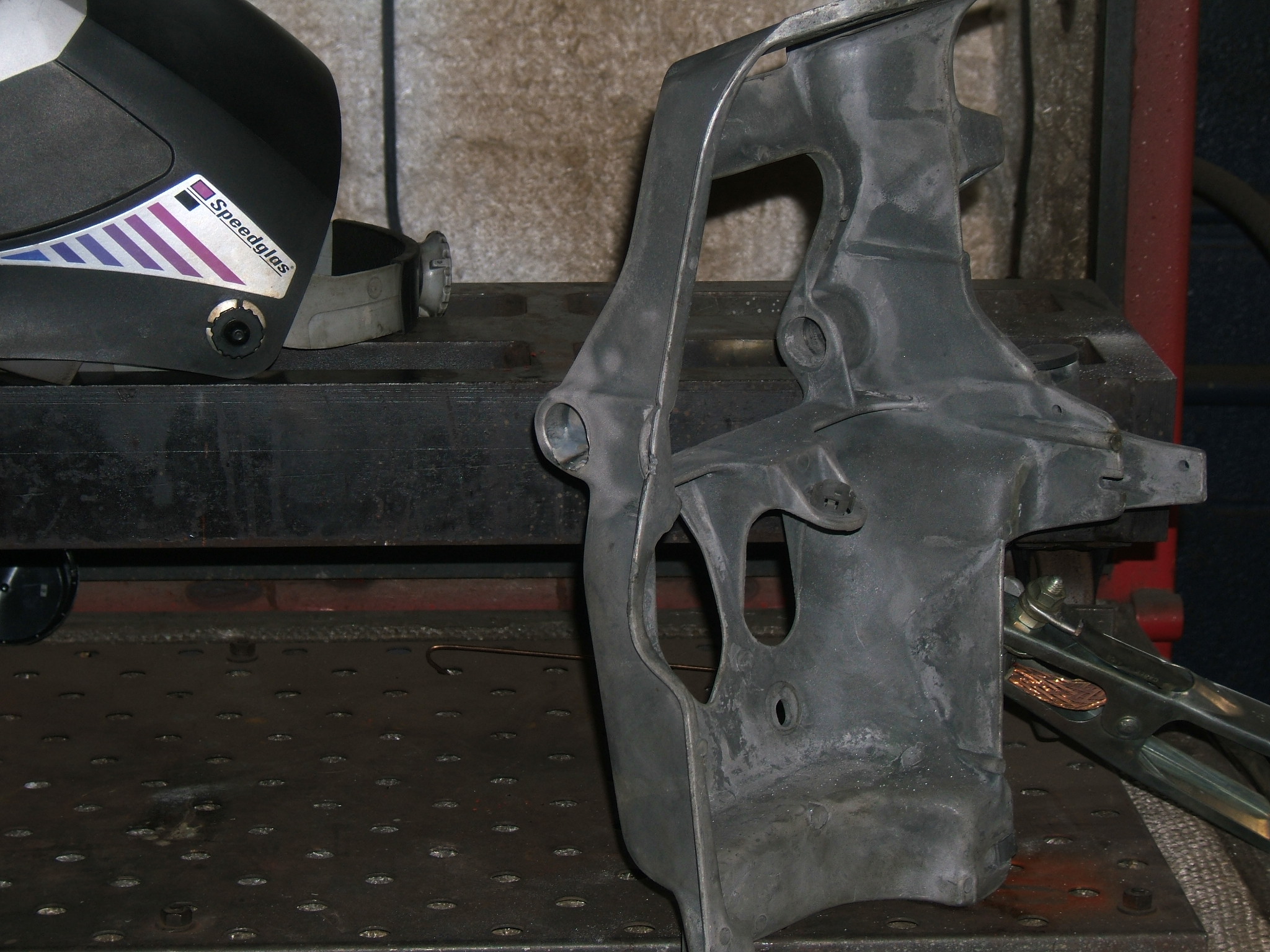 the two holes hold the clutch/brake pedals in line. The holes were so worn out that the support rod was nearly to break through on the closest hole. At that point, there would have been neither clutch nor brakes. Was this serious defect the reason for disconnecting the dash light of the ABS braking system?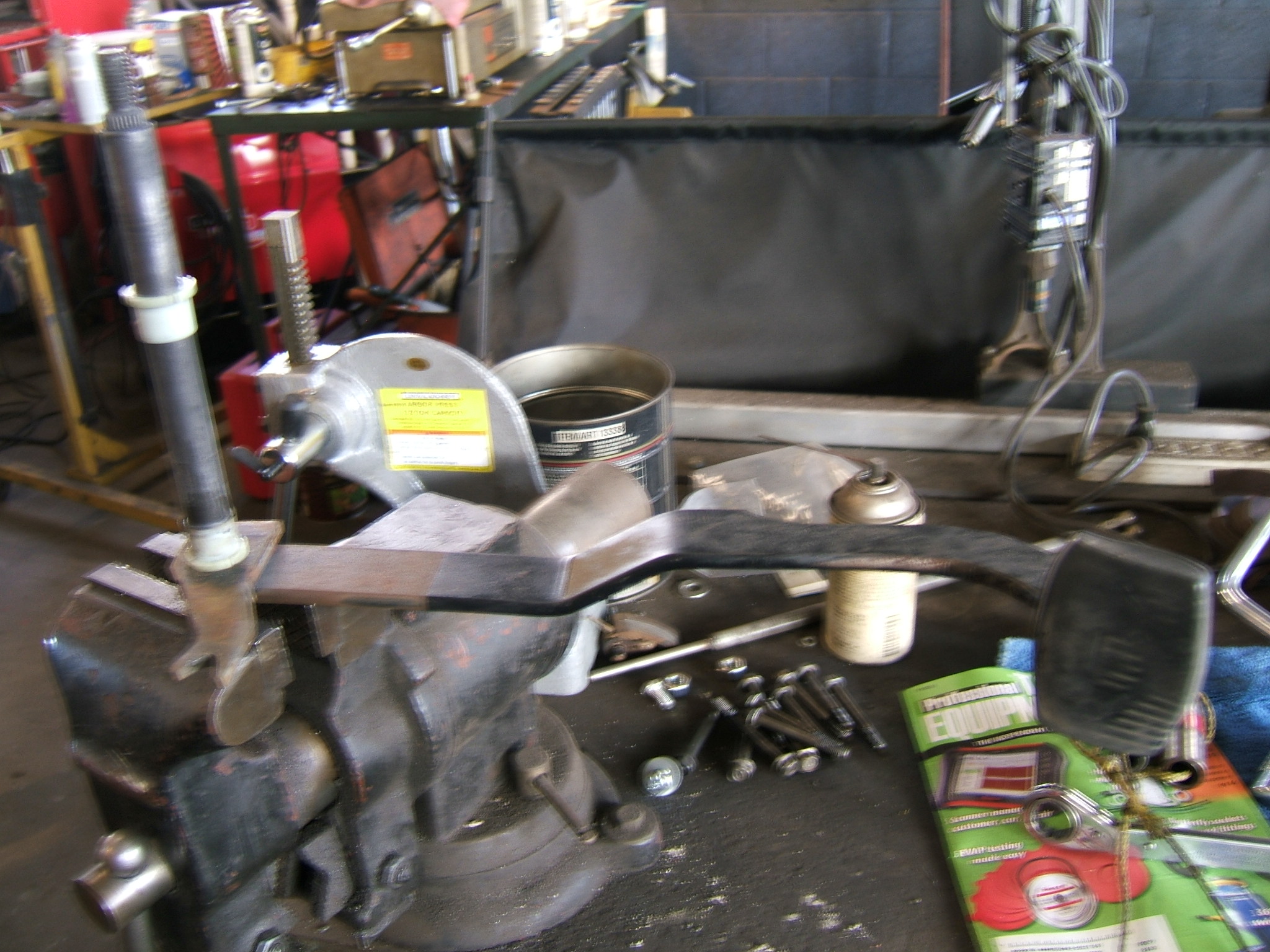 Clutch pedal assembly repair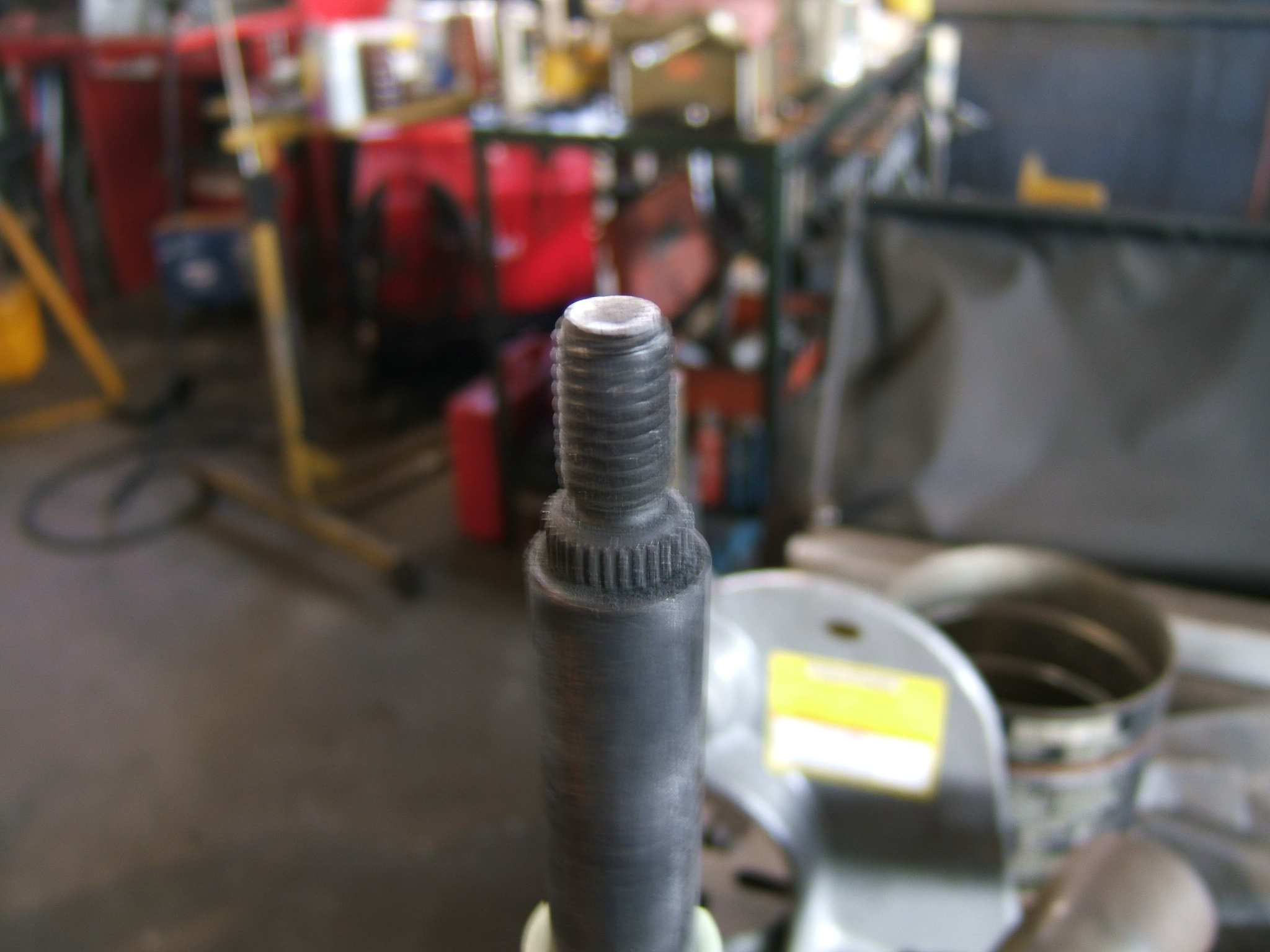 Clutch pedal assembly repair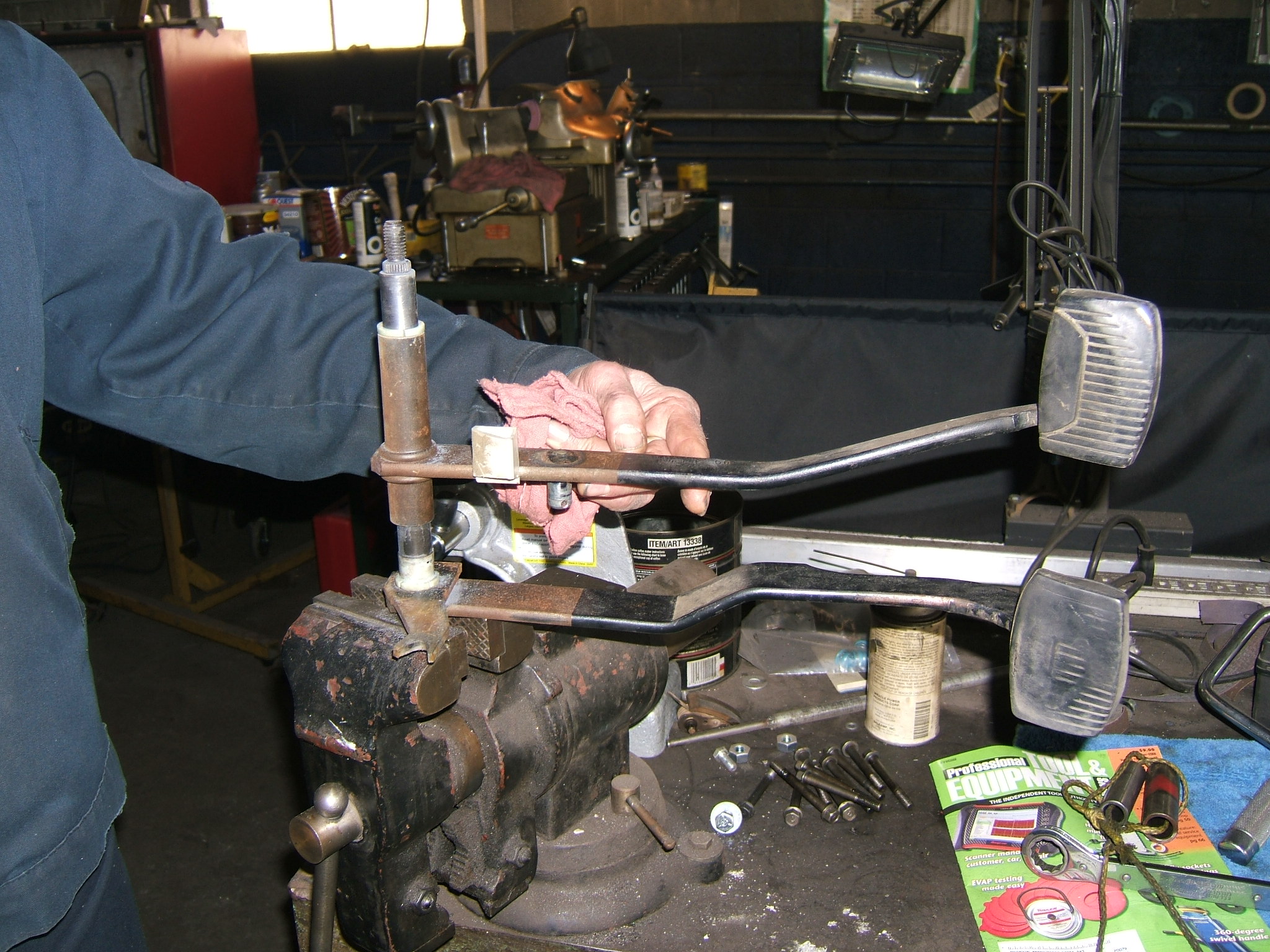 Clutch pedal assembly repair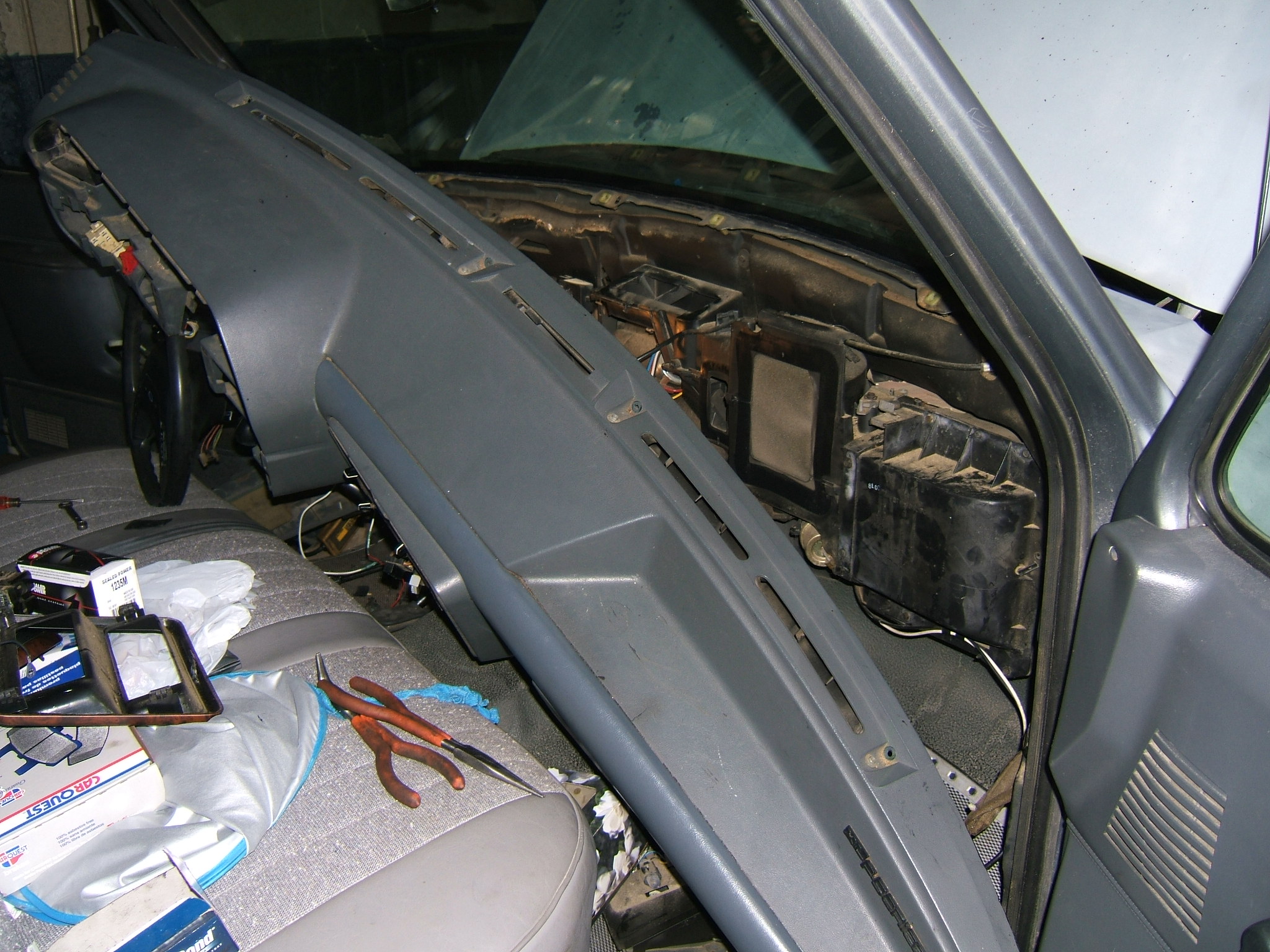 OK, so anyway, this is getting somewhat irritating. Incompetent or phony work by the ford mechanic before purchase, and incompetent work subsequently by "Big-O" has added substantially to the cost of getting this truck ready to use. All prior "work" from both the Ford mechanic and Big-O had to be re-done, or "actually done", as the case may be, during the engine rebuild.
The good news is that Chris is a machinist wizard with a lifetime of building engines for the rest of us to drool over, and Frank is also a highly experienced mechanic. Between them they are actually able to fix the problems which keep jumping out at them. I'm sure Chris is getting frustrated, maybe irritated. He schedules his shop work and my schedule was supposed to be a simple engine rebuild, not a complete truck rebuild. Frank is desperately holding onto his sanity because of all the surprises that keep jumping out at him. And the work I paid the Ford mechanic to do, and the work I paid Big-O to do, both of which either just plain didn't do the work, or the prior work was incompetent and now has to be done again, is irritating the devil out of me as well as frustrating Chris and Frank who have other pressing jobs waiting in line.

"Stay Tuned...",
I'm not going to update this anymore until Chris is able to rebuild the clutch/brake bracket and Frank gets it installed and the dash put back together. After that, the only thing left (Oh, really?) is checking the rear brakes. Chris wants to find out why the brake system warning light in the dash had been disconnected. Since "Big-O" screwed up the front brakes then the rear ones will probably need rebuilding also. But Frank can't find out about the rear brakes until the dash is put back together so the brake pedal works...

"OH, Yeah, just like I thought...",
"Big-O" has bit me again! This is really irritating because I counted the owners as friends, and one was actually a neighbor. Whatever the reason, the front brakes were improperly installed which had the front disks braking only on the bottom half of the pads. But the rear ones are, without a doubt, beyond description of ridiculous shop work that was billed but did not get done. Both rear brake cylinders were rusted solidly by rust and crud that was at least several years old. The Big-O "brake job" less than two years ago and less than a thousand miles ago accounted for over four hundred dollars of an eight-hundred-plus dollar invoice. They've spent the last dime I'll ever give them, for any mechnic work! Too bad. I used to think we were friends of a sort. Maybe they just did not know what was going on in the back room?
Let the photos speak for themselves, again!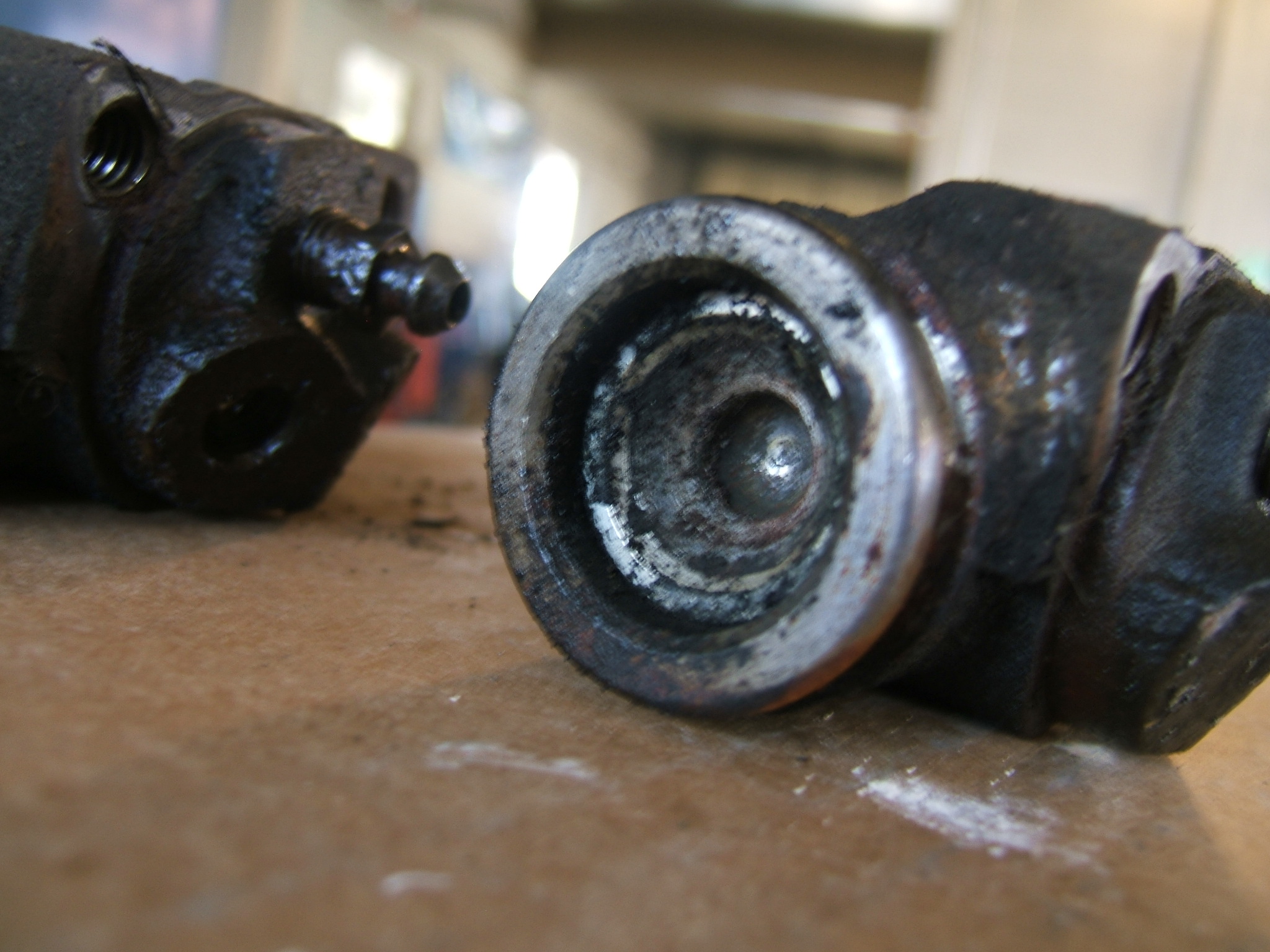 One view of rear brake cylinders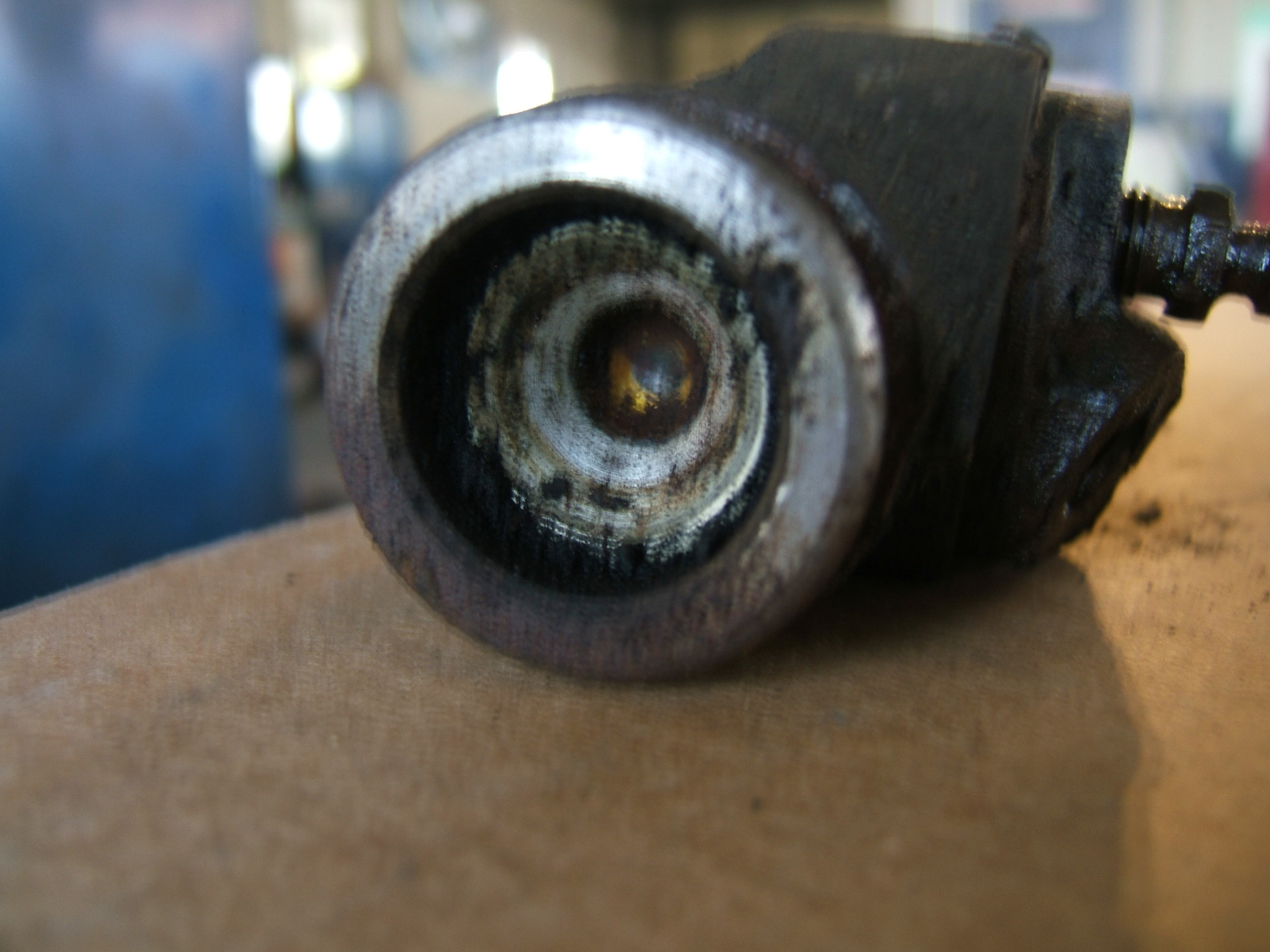 Another view of rear brake cylinders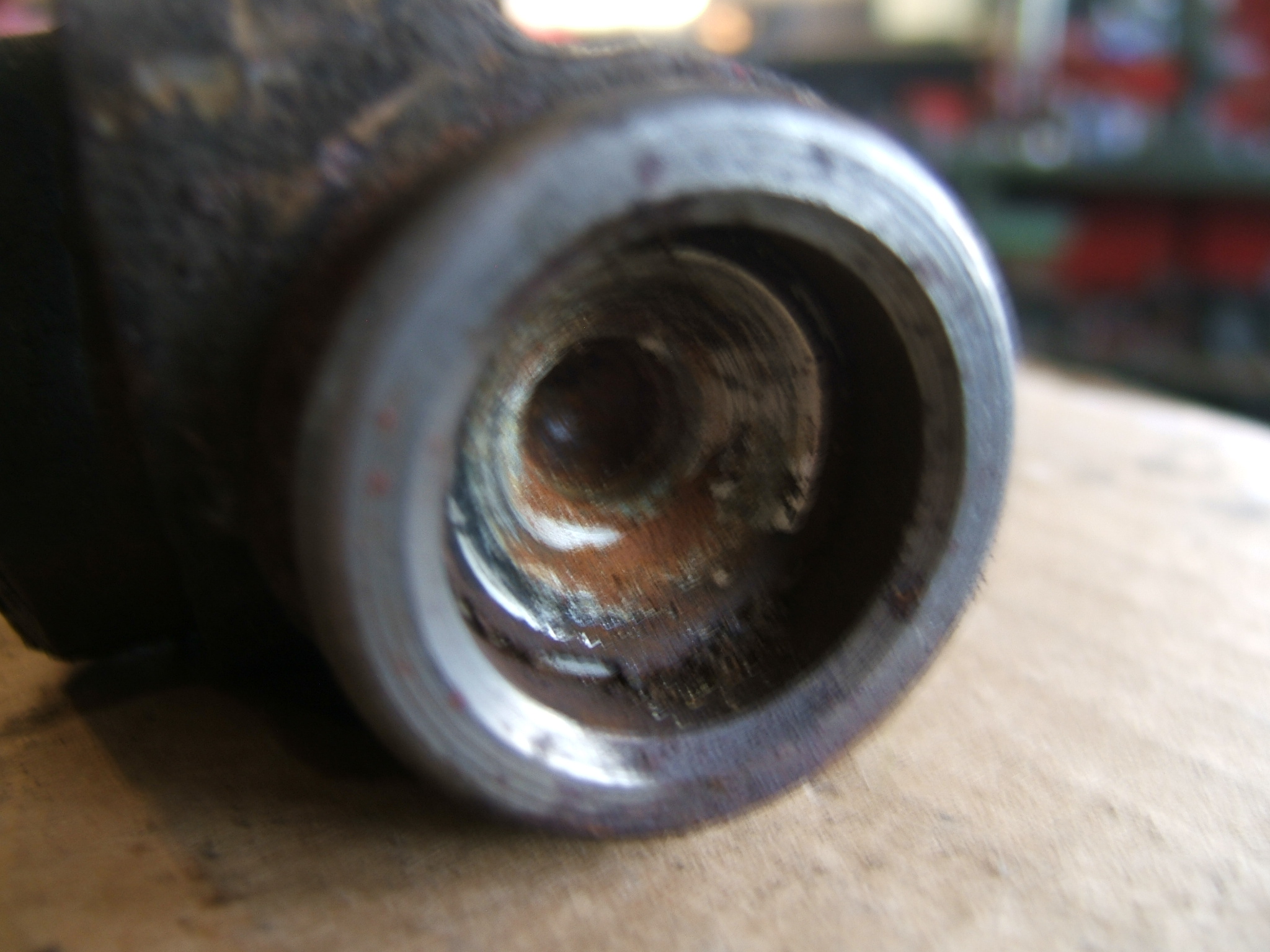 Another view of rear brake cylinders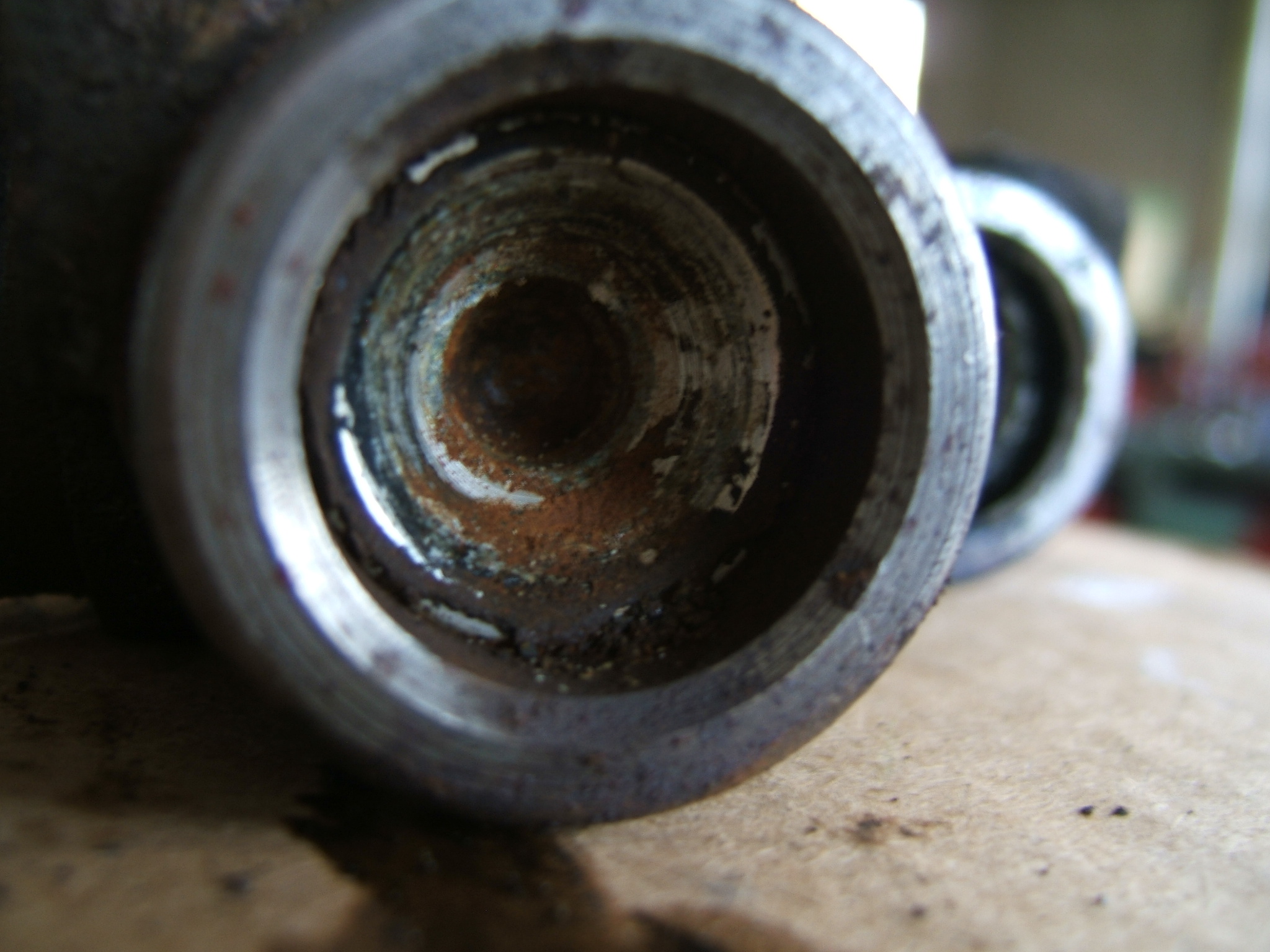 Another view of rear brake cylinders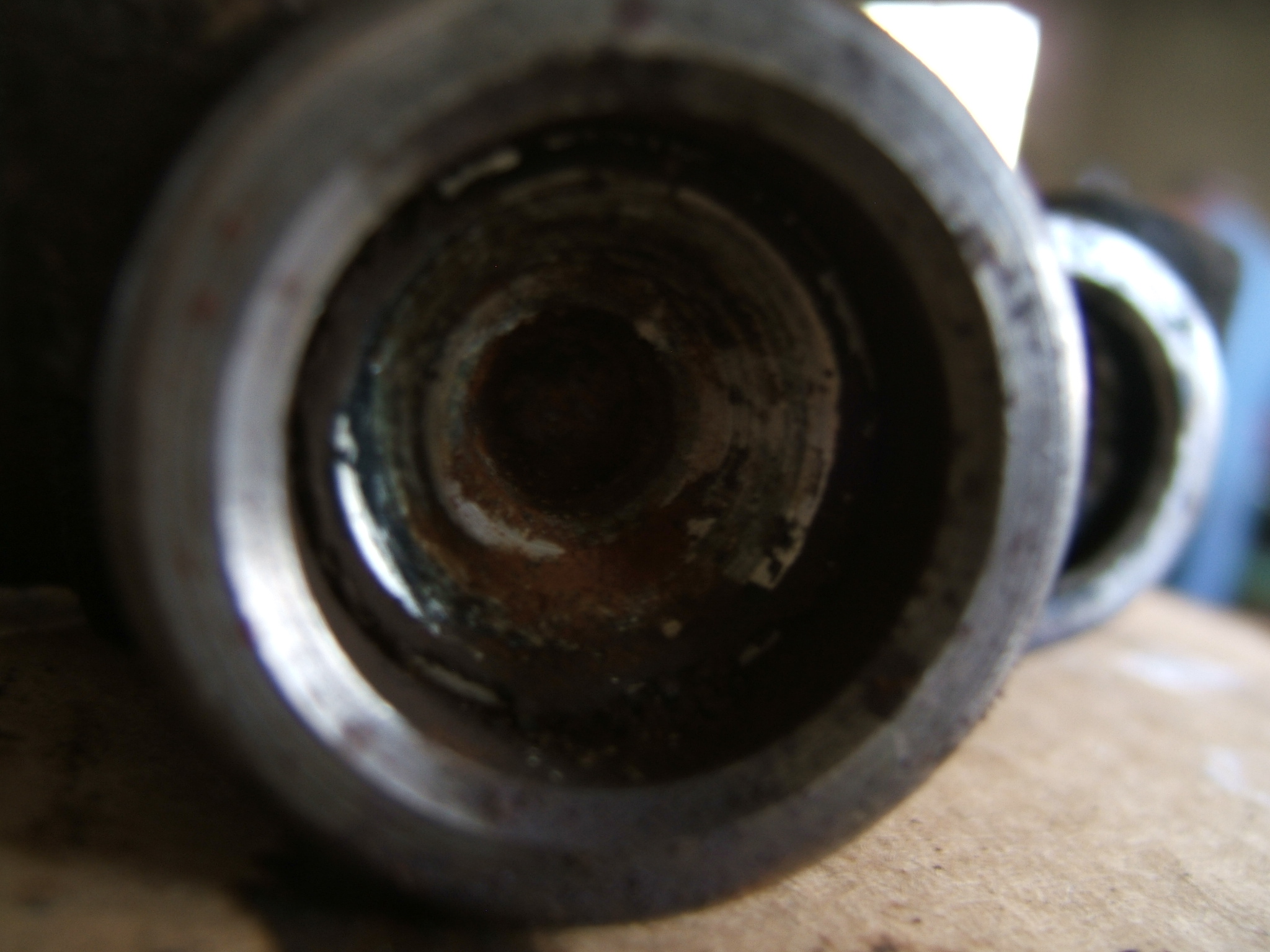 Another view of rear brake cylinders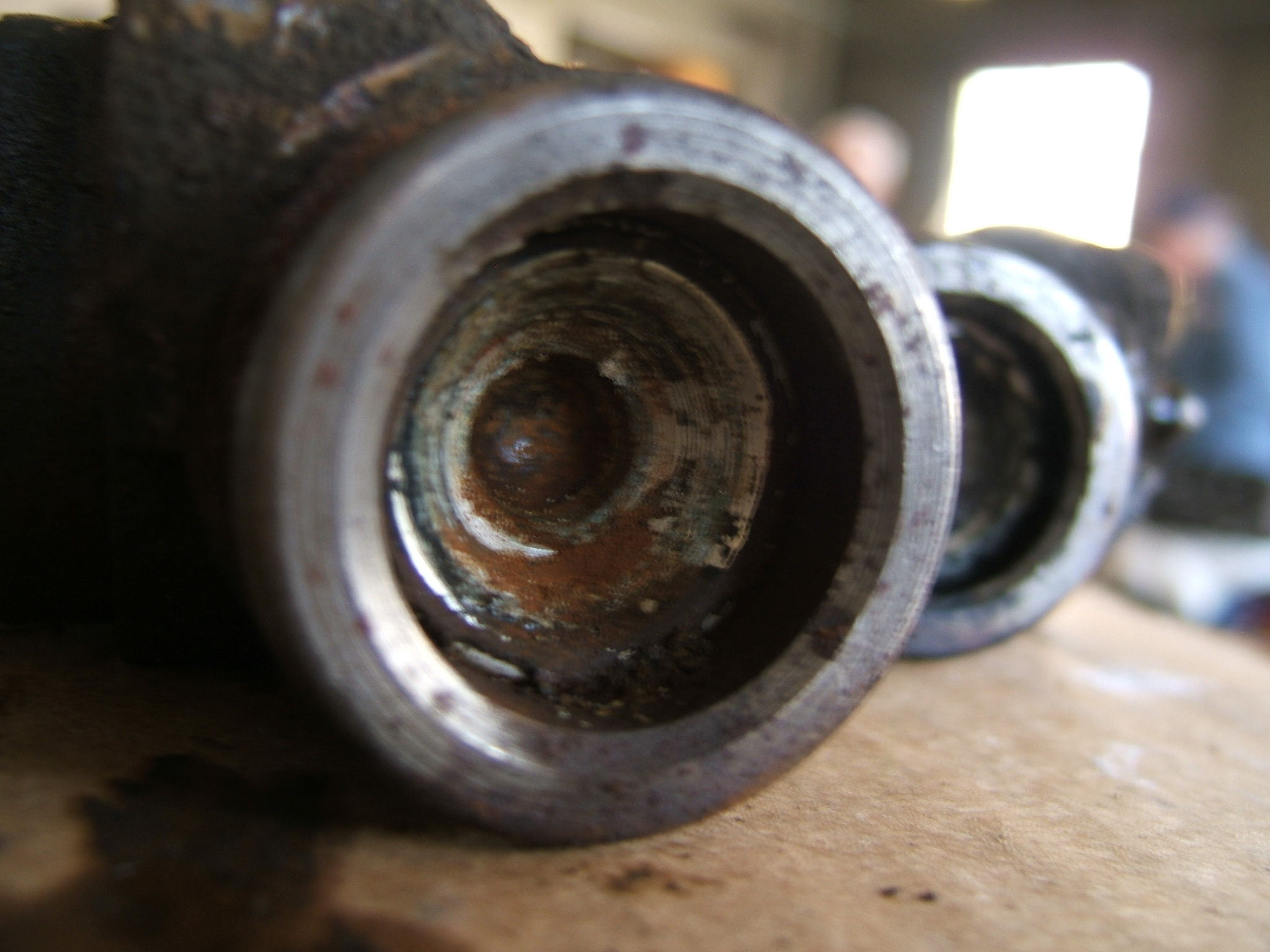 Frank replaced the cylinders, turned the drums, replaced the drum shoes with metallic like he did on the front disk brakes. I now have a complete, new, brake system from the pedal bracket and Master Cylinder clear down to all four wheels. Oh, yes, the front wheel bearings are now also properly packed, the old crusty grease gone, and the hubs turn in and out, engage and disengage like they were designed to do!

O.K.,
Chris rebuilt the clutch/brake pedal support bracket, Frank got the dash all put back together again, and guess what? The clutch-safety-start works now. That means the engine won't start without the clutch depressed, just like it was designed (a safety feature for manual transmissions). And, guess what? The rear brake system is actually "ABS" and both of the dash brake warning lights now work. Amazing! Chris had me take it out for a spin and it runs like a top but he wants to do some final tweaking on the engine. He said he'd plan on having it ready to go on Friday the 28th.
"Stay Tuned!"

Ask me if I'm glad...
That I took the little "T-Ruck" to Chris. You Bet I Am!
Chris fixed more damaged and worn out parts than most trucks even have damaged or worn out parts. And Frank hears, sees, feels, things that are wrong with a machine faster than anyone else I've ever seen.
The beauty of it is that I have close-up photos of the engine rebuild process, all the other repairs that were made, all the improperly installed or worn-out parts, all the neglected parts, all the parts that other people were paid to fix but didn't, which makes a very interesting record of the rebuild.
And the little truck? It runs solid, quiet, and strong, just like I asked for. Kind of like a 351ci V-8 on steroids, but smoother. And without the added front-end weight. It runs up Sardine Canyon in 5th Gear Overdrive at the speed limit, no strain. The cruise-control actually works, the dashboard lights for engine, parking brake, ABS system actually work. The clutch must be depressed to start the engine, just like it was designed to do for safety but never did before. The brake fluid looks like a clear honey now so I know the entire system was flushed by Frank when he replaced the rear cylinders, reground the drums, installed metallic shoes, and cleaned up the entire front system including the spindles, hubs and bearings. The front bearings have nice clean grease in them now, not the crusty worn-out stuff I saw when Frank opened up the wheel assemblies. The spindles are shiny and clean so the inside wheel seals can actually seal on the spindle now instead of being ground away on the hardened crud that was there. I watched Frank having to remove the spindles to get the caked-on crud chipped away, cleaned and polished. Chris and Frank either fixed or replaced every part that was even thinking of not being "reliable" in the outback, just like I asked them to do. And that makes me happy. And makes my wife happy too.
Yes, I'm very pleased with the work Chris and Frank did on the "Little T-Ruck" for me. But what they actually did, and all the worn out parts they replaced, and all the broken parts that are no longer available in the parts system, is actually too long of a list for right now. Later perhaps. The truck is better now than a new truck, and most probably more reliable than one. Just like I wanted.
And the best part? It now exceeds the goals that were on my original shopping list, and it's paid for!


The Test Drive
OK, I've put a few miles on it now (about 180 or so)run it up to freeway speeds, drove up Sardine Canyon, around town, gassed it up at 160 miles, so here's the preliminary report:
It starts, runs, handles, stops, and feels, better than a new truck! (O.K., so it has a few small body rattles, it's going to have more as soon as I get out on the desert!)
Just a few final notes here...
On the first gas-up after rebuild, it got just a tad under twenty MPG. Not bad at all for the break-in period. Chris said to burn at least mid-grade fuel, not "regular".
It starts S-O S-W-E-E-T, no hesitation, I can just barely detect the juice lifters for a fraction of a second before they are pumped up and totally quiet, the automatic choke kicks in within a second or two and runs the engine up to about 1200 RPM for a few minutes then it settles down to about 850, and after running a few minutes there it drops to a very smooth 750 RPM. The heater actually works and I don't have to inhale antifreeze fumes anymore or wipe the condensation from the windshield.
Oil pressure goes to 55+ lbs immediately after starting. It holds 55+ lbs anytime the engine is above an idle. After the engine warms up to temperature and you stop and idle for several minutes, It gradually drops to about 40 lbs for some time then eventually drops to 30+ lbs at the idle speed of 750 RPM .
The brakes are S-W-E-E-T! I had to get on them just a little the other day and that baby just squatted down and stopped so smooth and straight I couldn't believe it.
The front hubs (4WD manual hubs) now click in and back out properly, (just go forward after turning them to "LOCK", then after turning them back to "UNLOCK" just back up a couple of feet to disengage the hubs). The grease in the bearings is clean and good color, having been thouroughly cleaned then greased by hand, the old-fashioned, tried-and-true way. Very nice job, Frank!
This turned out to be a very good project after I took the truck over to Chris. If I would have listened to my wife a long time ago and took the truck to "A proper machine shop" at the start, I'd have saved three years pain and agony as well as several hundred dollars. And I would have had the little truck cruising the outback three years ago.

So, what's the bottom line here?
I've already had two guys excited enough with this project that they plan on bringing their favorite steeds up for the same treatment mine got. The bottom line is, when your truck or car, that you really do like, gets tired, worn, can't quite do the job anymore, you have two choices:
Trade it off for a new one for around 30-40 Grand, then go through all the de-bugging process and by the time you get all the bugs out of it, it's worn out also. But maybe not yet paid for.
...OR...
Do like I did; take it to a reliable, reputable, capable rebuilder like Chris who has his own machine shop (this point is very important!). Tell your machinist to go forth on the project like it was his own. Tell him what you want to accomplish, the goal of the rebuild. For me it was "total reliability in the outback". I told Chris to do the job like he would if it were his own. This is the agreement I had up front with Chris Sorensen and he absolutely outdid himself to give me an absolutely great product. It's much better and more reliable than a new truck. And it's paid for!
Just one more note here: You may have noticed when visiting car dealers they do not have their own machine shops anymore. Why? Probably because they can't afford the equipment or the talent to run it. Just like most also don't do their own exhaust system bending. Many dealers even send out their rebuild jobs to mexico, so that should tell you what level of quality comes back. Many other dealers just buy brand-x short blocks for their customers.
I'm glad my wife insisted that my "Little T-ruck" be taken to a "Real Machine Shop", and I'm very pleased that shop was Chris Sorensen's Soren Specialties in Tremonton, Utah!.
And the new 38-gallon fuel tank he installed takes the worry out of wondering where the next gas station might be when you've been wandering around in the outback...
Thanks, Chris, and Thanks Frank!
You just earned all of my future repair work!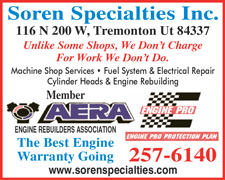 Next Item On This Project...
Video coming as soon as the paint job is finished!
So, where did I take the Little Truck for paint?...
To MAACO in Ogden, Utah. Todd, the Shop Manager, gave me the "January Special" prices and will use the original paint codes for color. Plus, he kindly volunteered to remove the topper, paint it the same color as the truck, and reinstall it with a rubber seal between the topper and bed (my seal), for a hundred and fifty bucks!
Stay Tuned, closeups and video will finish this project!

So, what did I Learn on this project?
I could have saved being lied to about the engine had I required the mechanic to take off the rocker arm cover while I was there and the engine was out of the truck. It might have helped if I had stopped the owner on one of his trips through the shop and asked about the truck. Probably not, though. Next, I could have asked to see a bill of materials for the "overhaul". But, being the trusting sort, I didn't.
Next, how could I have kept from paying for a non-brake-job from Big-O?. Beats me. I've patronized Big-O for tires since my first car in 1955. I've patronized Big-O here in town for both tires and repairs since 1983. Even counted them as friends and neighbors. But apparently the only way I could have avoided this brake non-job would have been by taking the truck somewhere else for the work. So, won't make that mistake again. Plus I didn't know there was an ABS brake system, nor a light for it in the dash because the light is invisible unless lighted up, but it had been disconnected under the dash. Probably by the Ford mechanic, since he was the Ford expert. I don't use brakes very often, and then only slightly, so I didn't notice the rear brakes weren't even working, neither before nor after Big-O did their particular brand of "brake non-job" on the truck.
And, yes, I could have called the UHP and reported the phoney safety inspection by the dealer's mechanic. But I didn't. And I could have reported Big-O for signing off a safety inspection on a brake job which had non-working, rust-frozen rear brake cylinders. But I didn't.
Just don't take anyone's word for the condition of something they are trying to sell you. Get proof of the condition if that is important in your decision to buy. Or get a written guarantee from the seller. And for repairs you can't do yourself make sure your mechanic is honest and professional.

Thanks for visiting...
I hope my mistakes, (and finally my good luck in finding Chris Sorensen), can give you some ideas that might help you. Times are tough, and it looks like folks like me are going to be repairing their gallant steeds more often than they will be trading them off. At least for awhile.